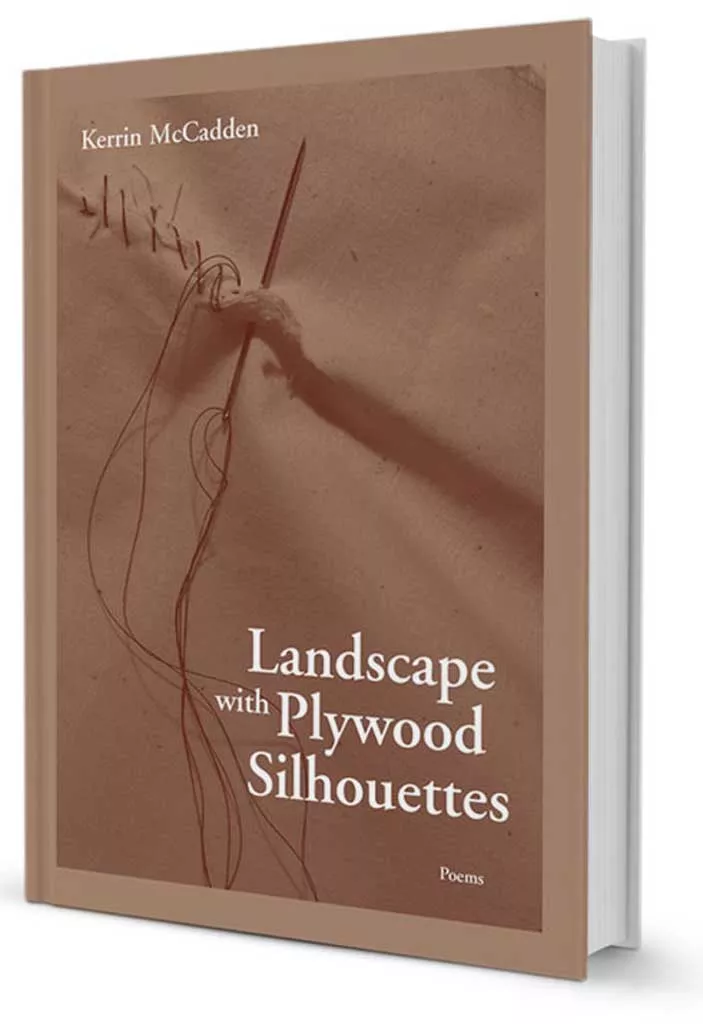 Landscape with Plywood Silhouettes: Poems by Kerrin McCadden, New Issues Press, 83 pages. $15.
An esteemed visiting poet at the Vermont Studio Center once told me that poems need to have people in them. Why? "Because we want to see ourselves," he said, "because we're the only creatures that can read poetry." Plainfield resident Kerrin McCadden's Landscape With Plywood Silhouettes defies this dictate. In fact, my favorite poem in the debut collection from this 2013 National Endowment for the Arts winner is virtually uninhabited.
It's actually the absence of somebody doing something in that poem, "Elegy For Some Beach Houses," that makes it so full of humanity. Mayhem is the protagonist in McCadden's description of beach houses spilling over eroded cliffs on Cape Cod. She evokes the collapse in images of tumbling "armoires and settees," "lobster trap / coffee tables, old letters, tattered rugs," with the attendant "tipping and buckling and the keening / of nails pulling out."
The catalog of destruction sometimes reads almost erotically, like a list of lovers' clothing strewn behind them on the way to the bedroom: "First the / buckle of underpinnings, then the hipbone joists ... the walls sighed." Other lines describe walls falling with their "photos of old dogs, children" amid the ruined rooms "full of argument" and "leftovers." With these inanimate objects, McCadden makes a stronger statement about the comedown of a family, a breakup and the almost sexual release of falling to pieces than she could have done by propping a human character on the cliff to sniffle about longing and loss.
As the book's title suggests, these poems are stuffed with foils, stand-ins and simulacra that ironically reveal a great deal about their beating-heart human counterparts.
In the title poem, these are the "plywood silhouettes" that often sit in people's yards, mimicking human forms. McCadden uses relaxed language and an in media res strategy to introduce us to these shady characters, caught in an eternal moment of their lives. "He leans against the trailer, head cocked down / under the shape of his cowboy hat, matte black, / like the woman across the lawn near a patch / of low growing annuals ... This is their courtship." With silhouette tongue placed firmly in silhouette cheek, McCadden plays for 30-plus lines with this conceit, treating a facsimile of reality like the real thing.
Honey,
what you know good? — which falls on deaf ears, like his
Darlin', where you been? Come on over and sit a spell,
which she cannot. They dream and dream, notwithstanding
the way the layers of plywood have gapped in the weather
over the years since they began trying to bridge the void
inside their outlines...
Perhaps this poem is a sly commentary on the poses we strike in relationships, the standoffs that go on and on. On another level, it reads as a fun update of Keats' "Ode on a Grecian Urn," in which the poet gazes at images of lovers frozen on an ancient vase. McCadden's lovers, by contrast, have been installed on the lawn as outside(r) art, and they have voices.
McCadden's fascination with real fakes takes another step forward in "The Domino's Pizza Gorilla," which concerns itself with the toy gorilla that Joe, the pizza franchise's owner, won at a fair. The gorilla becomes the store's de facto mascot until one day she goes missing.
McCadden introduces the toy as "googly-eyed and lumpy in the way of all cheap imitations" as she hunkers "in the corner under the fern." Yet she soon assumes a life of her own, serving as the unofficial chaperone of "the first time / you held my hand, she was right there, our gorilla." After the gorilla disappears, customers inquire about her whereabouts, building up lore so vital that it causes another customer to believe thieves have stolen a living ape. She supplies a possible lead: "There was an extra one / last weekend in the gorilla house."
The craze to regain the gorilla mounts "until we almost / believe we have lost something like a child." Here again, McCadden shows us how easily humans are duped into believing the lifelike has life, or become guilty of imbuing the former with the latter.
McCadden's poems cumulatively suggest this anthropomorphizing is a sort of misplaced grace. This phenomenon reaches its height in a poem called "At the Pennsylvania Grand Canyon." Here, beside the scenic wonder, the poet takes a series of selfies, posing with a bronze statue installed at the site as if it were her significant other. She describes herself as sharing "a moment of intimacy" with this tin (or bronze) man — yet, in the process of jokey nuzzling, she finds herself becoming more involved, wanting to "look into his eyes forever."
Not for nothing did McCadden's compelling book win the 2013 New Issues Poetry Prize, which led to this publication. (Elizabeth Powell, a Johnson State College professor and editor of Green Mountains Review, won the same award in 2000.) In a world where digital avatars and silky-voiced Siris compete for our hearts, McCadden explores with gentle humor and candor humans' complex relationships with one another — and their intimacy with the stuff of the modern world.
Elegy for Some Beach Houses
The break off Chatham broke and spilled
old homes into the sea, just spilled them
like dresser drawers pulled out too far,
quiet underthings sent flailing like old aunts
into the surf. Just seaside, just at the beach,
just where generations had combed for
jingle shells, whelks, the unrecognizable bones of fish.
Just there, the houses tumbled,
like only a house can, full of argument, debris
and leftovers. Just there, the houses groaned
like only a house can full of mouseshit, must,
armoires and settees, full of lobster trap
coffee tables, old letters, tattered rugs. First the
buckle of underpinnings, then the hipbone
joists, the planks, the studs. The walls sighed
like pages wanting to turn, illustrated with
photos of old dogs, children, words
like Beach, Happiness, Family painted on shingles.
There was tipping and buckling and keening
of nails pulling out. A roof wanted to slide, whole,
into the sea, but failed, the ridgepole splintering.
Its backbone broken and all the bits finished,
the houses were quiet. The old china floated
a bit, small boats. Newspaper books drifted.
Daily trappings went down fast — some lamps, buckets,
deck chairs. This is not to mention all that sinks
right off (a watch, jewelry still left on the sill). The fish
looked as curiously as fish can look, bumped cold noses
against dolls, mirrors, dishtowels like seaweed in the dusted light,
turned sideways, finned off. Little housed mollusks
made no notice. The ocean settled and
breathed wave, wave, wave.
McCadden will have several readings during National Poetry Month: Wednesday, April 2, 6 p.m., at the Fleming Museum, University of Vermont, in Burlington; Tuesday, April 8, 7 p.m., at Bear Pond Books in Montpelier; Thursday, April 10, 7 p.m., at Phoenix Books Burlington (with Leland Kinsey, Angela Patten and Daniel Lusk); and Tuesday, April 15, 6 p.m., at the Shelburne Town Hall (with Sydney Lea, Karin Gottshall and Geof Hewitt).
The original print version of this article was headlined "Almost Alive"