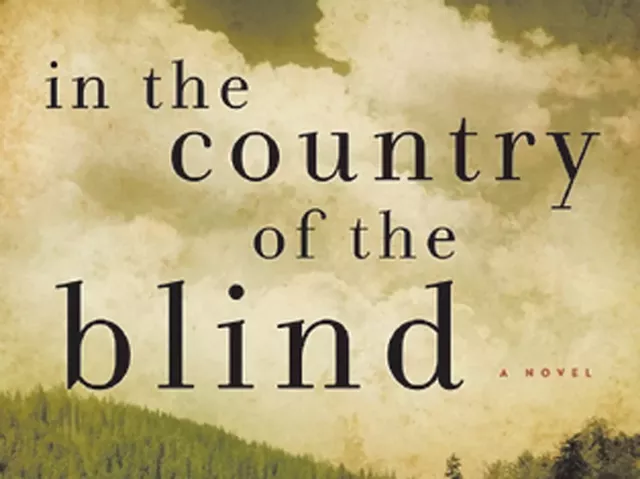 As one of America's most revered essayists, Edward Hoagland has crisscrossed the globe in pursuit of stories. In one essay from the 1990s, he described the elation he felt getting on an airplane with only a credit card, knowing he'd be able to pay for the trip by selling a piece to a magazine upon his return.
Since 1969, Hoagland has owned a home in Barton, which he has used as a foothold while adventuring hither and yon and teaching at a number of institutions, including Bennington College. Along the way, he has published two dozen books: literary natural histories, travel narratives, novels and memoirs.
His latest is a compressed, sensuous work of fiction set not in some faraway locale but close by, in the Northeast Kingdom, in the early 1970s.
Readers who love Hoagland's writing know its qualities: a headlong pace, startling and precise scrutiny of creature life, and sentences layered in syntactical chutes and eddies. He has written gorgeously about particular mountains and rivers, about wolves and mountain lions, ravens and turtles and cows, but also about men and women, circuses, and cities — and the best chronicle ever of Bread and Puppet Theater ("Gods, Masks, and Horses," included in Heart's Desire: The Best of Edward Hoagland: Essays From Twenty Years).
The title of his new novel reprises that of a chapter in Hoagland's 2001 memoir Compass Points: How I Lived. "In the Country of the Blind" gave a fearsome account of his spate of blindness in the late 1980s. The author was rescued by risky surgery, which left him "transcendently gleeful," he wrote, able to resume not only teaching and traveling but simply walking, the most basic of pleasures.
Prescott (or "Press"), the protagonist of his new novel In the Country of the Blind, is also suffering from blindness, a condition that is probably not transitory or curable. A doctor says his eyes are "like Swiss cheese," and he sees only "through the holes." This has ended Press' career as a stockbroker, and he's been ejected from a marriage and banished from his school-age children's daily lives in Connecticut. He has taken up residence in what had been a summer getaway, a ramshackle yet familiar cabin in northern Vermont, where neighbors look after him.
Only in his mid-forties, Press is adrift, childlike and seriously dependent. If he's frugal, he can live off what he's cached in a local bank, but he needs help constantly. Luckily, on one side of his property live the Swinnertons — Karl is the retired fire chief and a skilled hunter and trapper; Dorothy writes columns for the local paper — and on the other side are Avis and Darryl Clark, evangelicals who take Press along to the Solid Rock Gospel Church. Day after day, Press shakily rides his bicycle to one family's house or the other for lunch, which they amiably serve him.
Not far from Press' house is the Ten Mile Farm commune, home of a single mother named Carol whom Press befriends, hoping for romance. Via Carol, he gets to know other communards and makes himself useful in various ways, some of these rather surprising.
In the Country of the Blind by Edward Hoagland, Arcade Publishing, 204 pages. $22.99.
Hoagland offers delightfully quirky depictions of these characters and other citizens of the little town. We meet Benny the junkyard guy, Rog and Rupert the auctioneers, Al the cattle trucker, and Melba, a former horse trader who's moved back from out west and decides that Press needs a housekeeper, so she hires herself.
"Five dollars an hour." He heard her walk inside, open cupboards and drawers, tromp upstairs, then fill the sink. "Shall I plunge ahead? We're both straight shooters."
The "plot" of the novel is really more of an extended situation. Press cycles through a series of collisions that are more disconcerting than severe.
He takes a poignant trip back to Connecticut to see his ex-wife and their children but finds he misses his North Country friends. There's a little suspense caused by unidentifiable noises he hears at night. The adjacent swamp, close to the Canadian border, has been a route for generations of bootleggers. After the police raid Press' property and discover that someone has indeed been storing drugs in one of his sheds, Press wonders which of the people he's trusted has taken advantage of his blindness for illicit purposes.
Yet this is neither a crime thriller nor a divorce saga. In tone and manner, In the Country of the Blind is picaresque. Hoagland seems less concerned with the progression of events than with the human relationships that Press experiences as he finds his way into sightlessness. The postmistress reads him his mail, and a bank teller helps with paperwork. He wonders if he should move to a nursing home; he wonders if he should get a gun, but decides no. He feels well cared for.
Press is curious about everyone, and humans and animals are drawn to him:
Press looked forward to his wobbly bike rides — though the landscape had become impressionistic, eliding realistic detail — and being nuzzled by Sheila, their setter bitch, who unlike other hounds wasn't chained, and Dorothy's main flock of chickens clucking around the porch, a pet goat butting him deliberately, gently, and the two talkative pigs being raised for pork.
While publicity materials and a recent essay by Hoagland in the New York Times indicate that the author himself is again going blind, what's unexpected and affecting in the novel is how little self-pity or anxiety his protagonist evinces. Hardly able to see at all, Press is reliant on those who happen by, whose intentions he has to gauge by sounds. Yet Press is genial, taking solace in listening to birdcalls and his radio, exerting his curiosity by asking people questions about their lives, and slowly strolling in the woods or unsteadily riding his bike, trusting in goodwill.
Press' camaraderie with several women has a carnal insouciance that's unsettling at times, with a tinge of male fantasizing. On the topic of aging libido, Hoagland is reprising another theme from an earlier work: the title essay of his 2011 collection Sex and the River Styx. Yet his approach there was coarser, rougher and more cynical than the bawdy encounters in the new novel — which, while perplexing to Press, end up coming across as less lascivious than affable.
Although the book is set in the hippie era, with allusions to Richard Nixon and the Vietnam War, LSD and Dorothy Day, the story never feels like a period piece. While the Northeast Kingdom has changed drastically since the early 1970s, the people and place conjured here — in what the jacket summary calls Hoagland's "capstone novel" — are rendered convincing and immediate, intensely timely, in a great writer's celebratory prose.
From In the Country of the Blind
Dodging the bullet of loneliness this way and that, Press listened to the regulars morning and evening on the radio, including French DJs emanating from Quebec, conversed at normal voice with himself, his absent children and friends, and listened to the aviary of songs and sounds outside: owls, finches, loons, and wrens; a buddy having mailed him a bird tape. To lose one of your senses was a test of character. Could you grow a new limb? He felt undressed sometimes, semi-blind, as if he'd left off his shirt or pants. Though he didn't understand French, he tuned in a certain female classical music host every day for her comforting, wifely but seductive voice. A smart parishioner at the Clarks' Solid Rock Gospel Church loaned him a sizable sundial to read on good days instead of deciphering his clock. His ears, nose, and sense of touch felt alert to duties enhanced. Feeling the windchill, he gazed into the sky for a forecast, triangulating by the wind. He could hear rain and smell humidity.