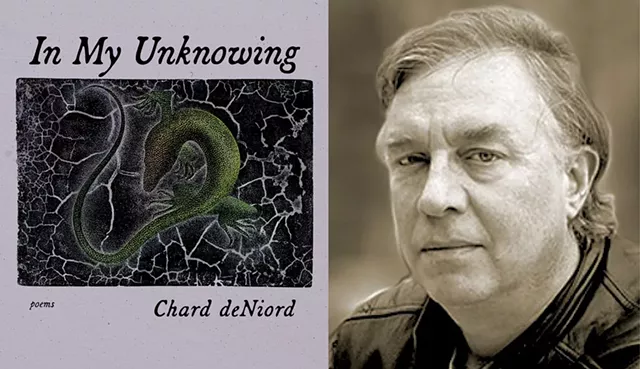 Courtesy Of Liz Deniord
Chard DeNiord
What happens as we reach closer to the veil and cross over? This question has tortured poets, philosophers and spiritual seekers for millennia. And while great thinkers and faithful devotees tend to use logical systems and religion to answer this eternal question, the poets revel in doubt and speculation.
Chard deNiord, Vermont's poet laureate from 2015 to 2019, is a writer whose poetic talents come with a healthy dose of philosophy and religious mysticism. A professor at Providence College and cofounder of New England College's MFA program in poetry, he also earned a master of divinity degree from Yale Divinity School. DeNiord's latest collection, In My Unknowing, confronts the terror, confusion and grace of mortality — but rather than prescribe answers, the poems ruminate on possible meanings, searching for signs.
At first, the book seems preoccupied with death and the possibility of an afterlife: "I was driving through the fields of Heaven when I realized I was still on Earth, because Earth was all I had ever known of Heaven and no other place would do for living forever," the title poem says as the book opens. "I / had reached so far beyond the pale and was reaching / still," he writes in "Then There" a few pages later.
Divided into seven sections, these wrenching and exquisitely wrought earlier poems show us a narrator visiting his father at his hospital deathbed, a husband who plants his wife's hair in the garden, a necromantic conversation with a deceased widow, and an encounter with a dying friend in which the narrator nearly greets him by saying, noli timere, the Irish poet Seamus Heaney's last words ("Don't be afraid").
During this "reaching beyond the pale," the narrator is also in constant search of signs and omens: "A cloud spelled out a rune I couldn't read / fast enough before it morphed into / another form that changed again," he writes in "Weatherman." More than simply a poet daydreaming, deNiord's speaker is engaged in a dead-serious act of divination. "The clouds are codes for reading / the blues," he tells us.
In the next poem, "Night Walk," the narrator's ruminations get dialed up to the level of a medieval Sufi mystic, praying nude in the wilderness and speaking to animals: "I prayed for luck with so little on the animals thought / I was one of them and talked to me in their fricative tongues."
Several of these motifs recur throughout the collection: shifting clouds that provide an ambiguous sign, the image of words being scratched into the dirt with a stick, and a hermit thrush announcing the twilight. Occasionally, deNiord's gorgeous lyricism gets bogged down in mythological references. One section of the book uses the Epic of Gilgamesh as a framework, which may puzzle readers without a working knowledge of ancient Sumerian literature.
Still, though more cryptic, these poems fit remarkably well within the book's aesthetic and are deftly woven in using the recurring motif of cloud divination: "The clouds were empty pages he couldn't read / then could as they turned in the wind," he writes in "Dumuzi in Bliss."
While the poems are mostly composed in free verse, internal and slant rhymes lend them a lush musicality. DeNiord also includes an excellent sonnet ("Swimming Hole"), and one of the most daring poems in the book, "Sex Is," is a rhyming villanelle, slyly alternating between iambic pentameter and a driving trochaic rhythm. It begins, "Sex is the nail that only drives part way." (You'll have to buy the book to see where it leads from there!)
Many of the poems are in conversation with other poets — which is fitting, because deNiord has published two collections of interviews with poets, usually near the end of their lives: Sad Friends, Drowned Lovers, Stapled Songs: Conversations and Reflections on 20th Century American Poets (Marick Press, 2011) and I Would Lie to You If I Could: Interviews With Ten American Poets (University of Pittsburgh Press, 2018). Dialogues with some of these poets find their way into his poems, particularly the late Goshen poet Ruth Stone.
In deNiord's "The Widow," Stone and the narrator elaborate on the question of heaven's existence that opens the book. It also delves into another theme: poetic "transmission" — that is, the phenomenon of poets acting as receivers of sorts, listening for a voice speaking from the ether and faithfully writing it down.
"The poems just come to me now from out of the blue / while I'm hanging laundry or planting flowers," Stone tells him. Clearly, deNiord is cut from the same mystical cloth: "All morning the air whispered things I might forget," he says a page earlier in "Dispatch from Putney," when a voice instructs him to "Put down your pen and pick up a stick. / See how clearly it writes in the dirt."
"The Widow" is a gorgeous piece that straddles the genres of poetry, interview, necromancy and theology: "You get what you get when you get it," Stone tells the narrator. "Not heaven, but the unity of knowing and feeling."
It's fitting somehow that the most assured statement in the book comes from a voice other than deNiord's. We don't get to hear his response; he's not interested in deciding whether she's "right" or "wrong." Her answer is just one more variable factored into the calculus of seeking — of unknowing.
Grief Is the River with a Foreign Name
My grief hath need of all the watery things...
—George Herbert
Grief is the river with a foreign name
that floods your heart with sodden things
that float away but then return, pulling you
in with a musical force you can't resist
for the songs inside the things that mean
everything to you but nothing
to anyone else—the ring, the wig,
the scarf: transformers each in a current
that runs between live and dead, shock
and numb, which is why you imagine Earth
as Heaven when you see her face
on the river's surface and think it's real,
although you know you're singing the same
old chorus Orpheus sang as he floated down
to Lesbos, although you weep the same
dark tears Gilgamesh wept at the gate
of the sacred forest, although you swear
at Kronos who leads you by the hand
into the water and squeezes your chest,
then threatens to drown you
if you can't say, "tomorrow."