At first glance, Northeast Kingdom writer Garret Keizer might appear to be a likelier advocate of "unschooling" than schooling. Eighteen years ago, he left a public school teaching career to homeschool his own young daughter. What followed was "one of the happiest years of my life," he writes in his new memoir, Getting Schooled: The Re-education of an American Teacher.
But this memoir, which first appeared in shorter form in Harper's, is not about that joyful school-free year. For Keizer and his wife, Kathy — also an educator — there was no question that their daughter would return to public school, "an institution we strongly believe in."
Keizer would also return to school, though it took him longer — 13 years of freelance writing longer, to be precise. (Among his recent books are Privacy and The Unwanted Sound of Everything We Want.) In 2010, Keizer re-entered the halls of the Northeast Kingdom's Lake Region Union High School in Orleans as a one-year sub for an English teacher on leave. It wasn't enduring love for the institution that drew him back, he confides to us; the family needed health insurance coverage while Kathy explored her own career options.
If Ben Hewitt makes the case against traditional schooling (see Kathryn Flagg's story on page 32), Keizer makes a passionate case for it — a case all the stronger for being fraught with, as he puts it, ambivalence. "To this day," he writes three pages in, "the mere act of entering a school — that first whiff of disinfectant, that crackling interplay of regimentation and anarchy — is enough to turn my stomach."
Pragmatic as his motive may have been for returning to that stomach-turning ambiance, Keizer didn't approach his year at Lake Region like a time server. On the contrary, he came with goals: to give his students a rich and rigorous education; to fight the alienation and disaffection of those disinfectant-scented hallways; to get a kid to pick up a book once in a while.
As he pursued those aims, Keizer learned what had changed about public schools since his departure: Standardized tests now determine a chunk of the curriculum; technology is inescapable; "texting in the boys' room is the new version of smoking in the boys' room."
This is no triumphalist self-portrait of a brilliant teacher winning the hearts of his impoverished rural students. Early in the book, Keizer articulates the "first great lesson of my teaching career": With all the will, preparation and elbow grease in the world, "you can still fail. What is more, you will fail."
In a nation where "failing" schools (as determined by those all-important standardized test scores) become defunded schools, and teachers often carry the burden of public blame, those words may sound like an admission of defeat. They aren't. If Getting Schooled demonstrates one thing to readers, it's that teaching and learning can't be reduced to test scores, bullet points, spreadsheets or problems solvable by software.
While many books about education hover in the safe realm of ideals and abstractions, Keizer details his war stories with fierce candor — and thus does an invaluable service to anyone who wants to know what American public school teaching is like today. His description of the workload, for instance, will be enlightening to those who think teachers have it easy.
Equally eye-opening are his accounts of interacting with teenage students who exhibit a "compulsive, almost uncontrollable communicativeness." Education, Keizer demonstrates in anecdote after anecdote, is a social transaction, not a robotic transmission of knowledge. Broken chalk, hurt feelings (on all sides), hundreds of separate explanations of a ridiculously simple assignment, intimate confessions, food used as bribery — all these may become part of the process, whether the teacher likes it or not.
In this sense, Keizer suggests, all schooling has elements of student-directed "unschooling." But he's not OK with giving over his whole class period to that free-form process — far from it. "[T]here are gains to be had by laying the plan aside and going with the flow of a class's sudden inspiration," he writes, "but show me a teacher who sees this as the norm, and I'll show you a teacher living in a pipe dream of delusional serendipity. In a word, I'll show you a slacker."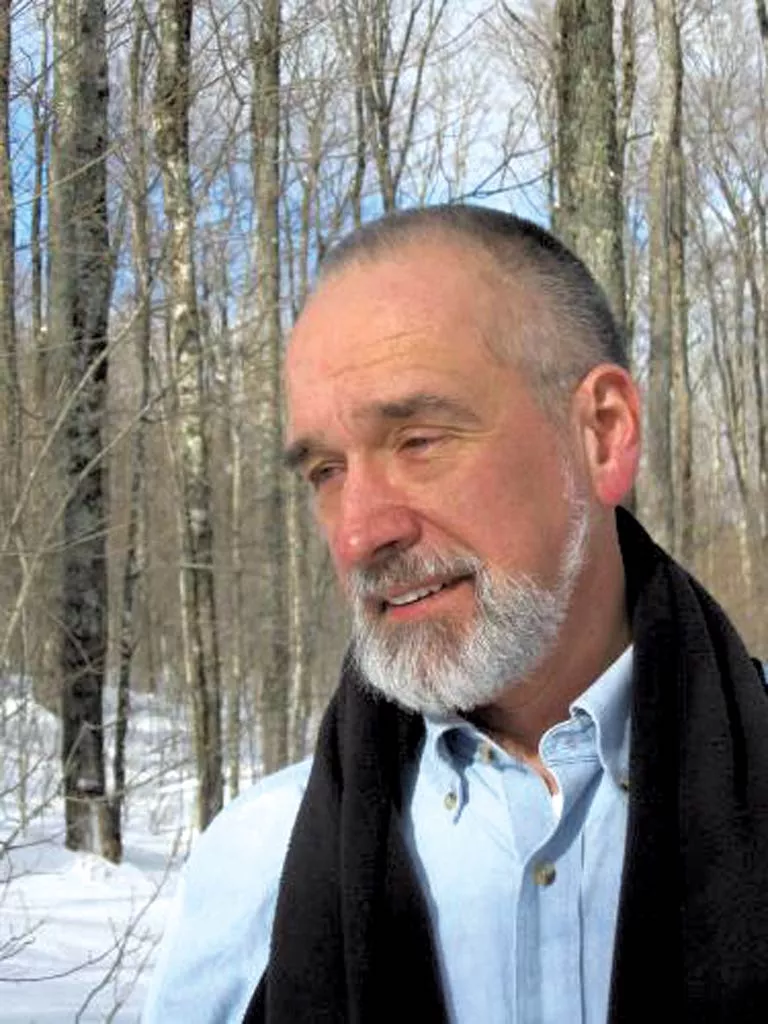 Courtesy Of Kathy Keizer
Garret Keizer
So, for instance, during his year at Lake Region, Keizer plays to his 10th graders' preference for hands-on learning by assigning them to create a project — such as a film or diorama — based on the books they've read. But he also insists that they read those classic novels cover to cover and write research papers, complete with old-school notecards.
If those sound like minimal requirements to adult readers, they aren't to many of Keizer's students, whose distaste for books — indeed, bemusement at the notion of reading anything longer than SparkNotes — stuns him again and again. These kids, he notes, are far less impressed by the volumes their teacher has authored than by his six-minute appearance on "The Colbert Report."
If these adolescents are showing the effects of another, culture-wide form of "unschooling," it's not a desirable one. Keizer's own blissful homeschooling experience demonstrates that he's not against parents' taking education into their own hands. (He had a silent retort for those who asked whether his daughter needed the "peer interaction" of school: "The inmates at Walla Walla state prison get peer interaction too.") But at Lake Region, Keizer sees a world where kids who aren't schooled in the classroom are likely to be schooled by TV and consumer culture, where working parents are too busy, distracted or themselves ignorant to facilitate learning. And these kids who refuse to read, he notes ominously, "are only two years away from voting."
For Keizer, then, schooling is far from rote memorization or "teaching to the test." And schooling remains paramount, whether it happens at home or in a classroom. Indeed, he suggests, school may be the only place where some students encounter the ideals of a democracy. "Letting students 'find their own way,'" Keizer writes, "is just a euphemism for abandonment." Both a lefty and an ordained minister — with a tendency to preach in his prose — he repeatedly negotiates an uneasy truce between anarchy and authority in his classroom.
Keizer's is no rosy vision of education. But those who have taught will find his commitment to students exemplary and his conflicts intimately familiar. The book is a treasure trove of provocative aphorisms about teaching (see sidebar), as well as a compelling, often funny narrative.
Keizer's one notable blind spot is his unqualified disdain for technology — or "digital bling," as he likes to call it — which is almost as absolute as his students' dread of the printed page. Yes, too many educational consultants have touted tech as a savior, and software solutions (such as handing out iPads to students) bring problems of their own. But wholesale rejection of the online culture where many students live today — and some thrive — doesn't seem like the answer. The author leaves it to others to figure out how to extend his ideals of schooling into that realm.
For all Keizer's ambivalence — and occasional curmudgeonliness — his heartfelt belief in the power of public schools to serve students is evident on every page. If there's one book that can cut through the haze of buzzwords surrounding educational policy and foster franker discussion of why teaching is both necessary and impossible, Getting Schooled is it.
INFO
Getting Schooled: The Re-education of an American Teacher by Garret Keizer, Metropolitan Books, 302 pages. $27. Keizer discusses the book on Thursday, September 11, 7 p.m., at Phoenix Books Burlington. phoenixbooks.biz
The original print version of this article was headlined "The Case for the Classroom"