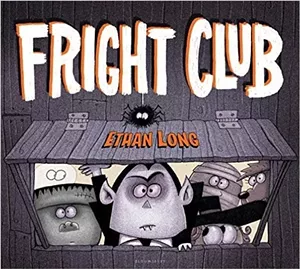 'Fright Club' by Ethan Long
This past weekend we celebrated my daughter Pippa's third birthday. We have several librarians and teachers in our family so we can always bet on receiving some pretty choice children's literature for gifts.
Through the craziness of the day, I didn't get a chance to check out the new books Pippa received until bedtime. But when I saw
Fright Club
by Ethan Long, I knew instantly it was from my sister-in-law, Laura, who's also a school librarian. The first clue was the quality of the illustrations: strictly black and white with only a little orange as a highlight. The characters on the cover, while traditional Halloween types — a vampire, a ghoul, Frankenstein — looked somehow more interesting.
"Did this come from Auntie L?" I asked my 5-year-old, Hadley. "This definitely looks like an Auntie L book." She nodded an enthusiastic confirmation. She knew what a book from Auntie L meant: a good read.
Reading a Halloween book at bedtime, particularly a new one, can be risky business. Even the most well-intentioned Halloween story can be super scary, especially if you're under five and tend to fixate on the pictures. But, despite its fearsome name,
Fright Club
was determined to call into question the reader's preconceptions about what "scary" means.
The story opens with a meeting of a ghost, a mummy, a spider and a witch, all commandeered by a vampire who is prepping them for "Operation Kiddie Scare." A persistent and sweet-looking bunny requests admittance into the group but is refused based upon its unassuming look. So the bunny and a few other seemingly pleasant protesters decide to take action. They surround the meeting and begin to terrify the group of haunts to show that they're scarier than those already in the club. As a result, the vampire and his crew learn a little lesson about making assumptions.
And so did the girls. People might not always be what they seem, so it's a good idea to follow the old adage, 'Don't judge a book by it's cover.'
Unless that book is from Auntie L.