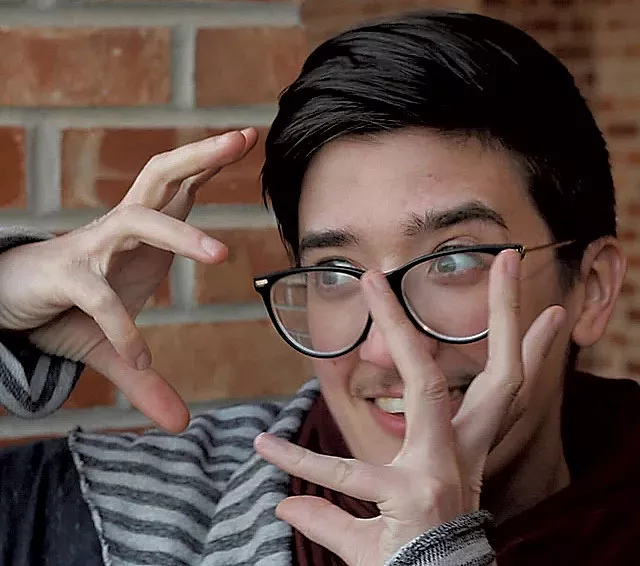 Courtesy Of Korbin Jones
Nino Cipri
Science fiction holds the promise of bringing readers to strange new worlds. The past couple of years have introduced a slew of stories about this very trope — portal fiction — in which intrepid heroes jump from one alternate world to another. TV shows such as "Fringe" and "Rick and Morty," as well as Alix E. Harrow's Vermont-set novel The Ten Thousand Doors of January and K. Chess' fabulous Famous Men Who Never Lived, use the device to hold up our world against a fantastical mirror. In the process, they point out our systemic flaws, or at the very least show how differently our lives might have turned out had we made a different decision or two.
Decisions are at the heart of Vermont author Nino Cipri's novella FINNA. Though a short read, it packs in quite a bit about the nature of queer relationships and box-store capitalism. It also depicts the fantastical monsters that lurk just beyond a portal to another world.
Ava is one of many hourly workers at a big-box store called LitenVärld — the "bastard offspring of more popular big box stores, hanging in the margins between home goods giants and minimalist furniture mavens." She's had a rough time recently. She broke up with her partner, Jules, days before the story begins. She's rearranged her work schedule to avoid them, only to be summoned to the store when another employee calls in sick. All Ava wants to do is avoid Jules, who also works at LitenVärld, until the end of her shift.
Fate has other plans. A customer tells Ava that her elderly grandmother has gone missing, and the employees proceed to comb the store for her. In the process, Ava and Jules discover something strange: a portal to another world, and another LitenVärld.
FINNA by Nino Cipri, Tor, 144 pages. $14.99 paperback; $3.99 ebook.
It turns out the company is well aware of this. Jules and Ava's manager plays them a company video explaining that what they've witnessed is a maskhål: a wormhole. A special division of the company, FINNA, has been tasked with tracking down lost customers such as the unfortunate Mrs. Ursula Nouri.
Cipri layers the novella with the absurdity that comes with working for major box retailers: LitenVärld's managers are bland automatons unwilling to deviate from company instructions. They announce that, because of corporate cutbacks, two of the minimum-wage employees must volunteer for FINNA (or be volunteered based on seniority, with the threat of being fired for noncompliance).
Ava and Jules are paired, handed a FINNA device and told to track down their missing customer. In lieu of overtime, their manager promises them a couple of Pasta and Friends gift cards.
What transpires is a hair-raising series of potentially deadly adventures as Ava and Jules track down Ursula. After working out the IKEA-like directions on their FINNA, they jump to another world, where they discover that a giant, fuzzy chair has eaten their quarry. When the FINNA tells them a suitable replacement for Ursula is out there, they go in search of her, encountering a creepy world with a murderous hive mind and an alternate, pulp-adventure-style Ursula.
At its core, FINNA examines how capitalism's sometimes-ridiculous tendencies filter down into box-store retail politics. Cipri's description is apt: "the box store stuck out like a giant square pimple on the landscape." As with Best Buy, JCPenney, IKEA, Walmart and the rest, LitenVärld is staffed with employees who struggle to get by on minimal wages while petty managers ask them to do the impossible.
By juxtaposing a one-size-fits-all mentality with an infinite number of alternate worlds, Cipri presents two possible extremes: a world dominated by a hive mind and a lone adventurer who realizes she can't make it alone forever.
Though a relative newcomer to the science-fiction publishing world, Cipri has a growing body of short fiction, appearing in outlets including Fireside Magazine, Pseudopod, Nightmare Magazine, Tor.com and others. FINNA is a breezy, accessible read brimming with sardonic humor. The speculative elements are light but effective: Alternate realities are the perfect way to juxtapose the "normal" world with the fantastical ones.
From Finna
The weirdest part about walking through the maskhål was that it wasn't weird at all. Ava had expected to feel something; a membrane, a temperature change, her ears to pop. They took half a dozen steps and were in another world. It took Ava a few minutes to notice the subtle differences. The world was warmer, a little more humid. The air was fresher in this LitenVärld than in her own. Pastels and paisley seemed to be in fashion in these showrooms, rather than the muted color palettes and natural prints that had dominated this year's catalogue. But there was nothing that screamed Alien planet! You don't belong here!
"I really thought another universe would look cooler." Jules sounded disappointed.
"I guess LitenVärld is the same everywhere," she said. "That's what people want, right? Familiarity?"
"Some people, sure," said Jules. They turned to her. "This place seems chill. You should stay here while I go find Ursula."
Ava rolled her eyes. "I'm coming with you."
"I told you, I can do this on my own," Jules said, frustration bleeding into their tone.
"I know you can!" Ava snapped. It was true. Jules was prepared for anything, everything. They could have been a Boy Scout, if the Boy Scouts weren't transphobic trash. They may have moved in a personal chaos field, but it made them more at ease with the unexpected and strange than anyone. At their best, Jules was good-hearted and calm in emergencies and tended to know what to do. Jules was the person you always, always wanted on your zombie apocalypse team.
"Of everyone in this stupid store," Ava said, "you're definitely the most capable of rescuing someone's grandma from a horde of spider-monsters or whatever were in that video."
"Then why—"
"Because I don't trust you to come back!" Ava hissed. "You always do this. You ignore inconvenient realities like your girlfriend is fucked up in the head and there are giant spiders in other worlds! Then when the problems get too big to ignore, you run."
"... You dumped me," Jules said numbly.
"Because you never would," Ava answered. "I would have just woken up and you'd be gone."