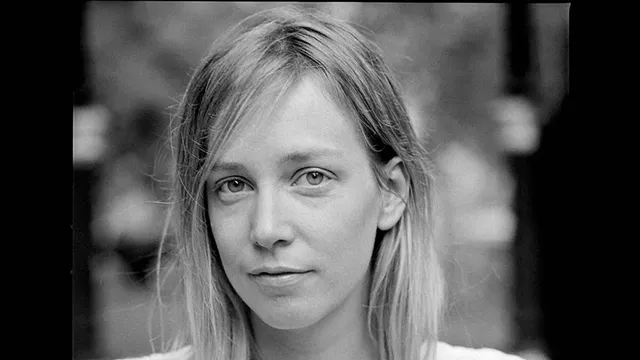 Courtesy Of Benjamin Stein
Alexandria Hall
Right out of the gate, Alexandria Hall's astonishing debut Field Music, winner of the $10,000 National Poetry Series, announces itself as a whole new kind of Vermont poetry. "Dad says he can sing like a Kawasaki. He says / he's got some good idears," Hall's narrator tells us in the title poem. A few lines later: "I know about sex. It's a not a cardinal / flying into the wrong window." The poem ends: "Dad hit / Grandpa till the state troopers strobed / the kitchen, staining my sweater. Grandma says / creek like crick and I wait for the violins. // If you keep kicking somebody, music / will come out eventually."
Hall's song is an unflinching and exquisitely lyrical depiction of growing up in working-class, rural Vermont. Absent are the pastoral clichés that have calcified over the past half-century, the flatlander gaze, the cardinal bearing a pat metaphor in its beak. Instead, Hall shows us a contemporary Vermont that's instantly recognizable to those who've grown up here: going muddin', virginity lost in cornfields, the kick of a .22, ticks, fertilizer runoff, and spitting dip.
These images come alive in part because of Hall's deft code-switching between poetic diction and rural Vermont syntax. "On Beauty," a prose poem, begins: "He run out of propane and the cold licked the trailer like a dog with a hurt paw. Pa, my brother would have called him, if I'd had a brother, if I'd a been him, had he been at all." Later on, this same voice splices Rainer Maria Rilke quotes with pop-music lyrics, all while flitting in and out of her grandmother's idiom and her own.
Hall uses startlingly fresh language to convey a complex range of emotions that travel far beyond the borders of a small town. Illnesses and accidents haunt the book, as do yearning, vulnerability and self-discovery. At one point the narrator admits, "I left home like a tick / leaves the tall grass"; several poems travel to Spain, Peru, Germany, and Brooklyn.
In "Travel Narrative" Hall writes, "Remember I wanted to go home, / which was a shadow, so I didn't." This narrator constantly circles back, searching for more precise means of expression. Often it is cryptic, but gorgeously so: "There was too much moon over the night in Middlebury / so I put a man's face in front of it, and then I loved / that man."
Sometimes Hall's search manifests in creating whole new forms, as in "Practice Test for Insatiable Loneliness" (one of several superbly original titles, along with "I Contain Myself Needfully" and "Something Important Put Clumsily Away"). Written in the form of an SAT exam, it begins:
1. Absence
a) makes the heart grow in vines up the latticework.
b) makes dinner and leaves the dishes.
c) makes change like the man at the laundromat, carefully on the wooden counter.
d) makes love cruelly.
Though never heavy-handed, certain poems in Field Music are acutely aware of class: "I used to hear it as, making ends meat." Halfway through the book, Hall's narrator says, "At the lake house I was strange, surrounded / by nice things, trying on fancy clothes or posing / nude before the grand bay windows." When she says, "Home is where the mail goes," it means something very different from the problems of owning two or three houses. These moments of class perspective heighten everything that surrounds them, adding an element of authenticity that's refreshingly free of masculine asceticism.
Courtesy
Field Music, by Alexandria Hall, Ecco, 96 pages. $16.99.
Hall grew up in Addison County. A first-generation college student, she studied with Major Jackson at the University of Vermont. Music scene cognoscenti will likely remember her not as a poet but as "Burlington's queen of woozy soul," as this paper put it in a 2010 feature, performing her original electronic music as tooth ache. and later as Beth Head. Father/Daughter Records released a 7-inch vinyl of her music, and Hall even filmed a music video at the legendary Shenanigans bowling alley/strip club in White River Junction.
For now, literature seems to be winning out in vying for Hall's creative energy. After UVM, she won a lucrative Beinecke Scholarship to attend New York University's master's program in poetry. Currently, she's pursuing a PhD in creative writing and literature at the University of Southern California, Los Angeles.
In Hall's closing piece, "People Fall All the Time," the strands of pain and intimacy that weave throughout the book are braided together, transmitting a vernacular music. The final stanza ends, "He said Manual labor. He said The fall / as something you can take. He suffered / a break in a lonely way. Lo hello high hay, / the words in the marrow, the sow and the mare, Oh— / what stays are the song and the crash / of the tractor, the trash compactor, the machines / full of love and the fields full of breaking, / the fields where the light slips out."
In Field Music, a meteoric young writer shrugs off decades of stale narrative tradition and subject matter. In its place come dazzling lyricism and innovation, and a glimpse of Vermont that has long deserved to have its story told in its own voice.
MY MOTHER THE ASTRONOMER
My mother the astronomer is sick.
They've sifted through the test results and found
nothing. She's seen the charts and diagrams,
the judgment on the doctor's face, when tired,
desperate, she maintains: In the beginning
there was so much pain. A drooping planet
rolled over in the night. It was my mother
the astronomer, who dreamed of pushing
a word, a wave, through the thickest layers
of darkness, who cast me like a fragment,
just a rock, before the whole Earth. I rise
and glide into the silent, black water
with my pants rolled to my knees, and I pan
and I pan for her impossible sign.