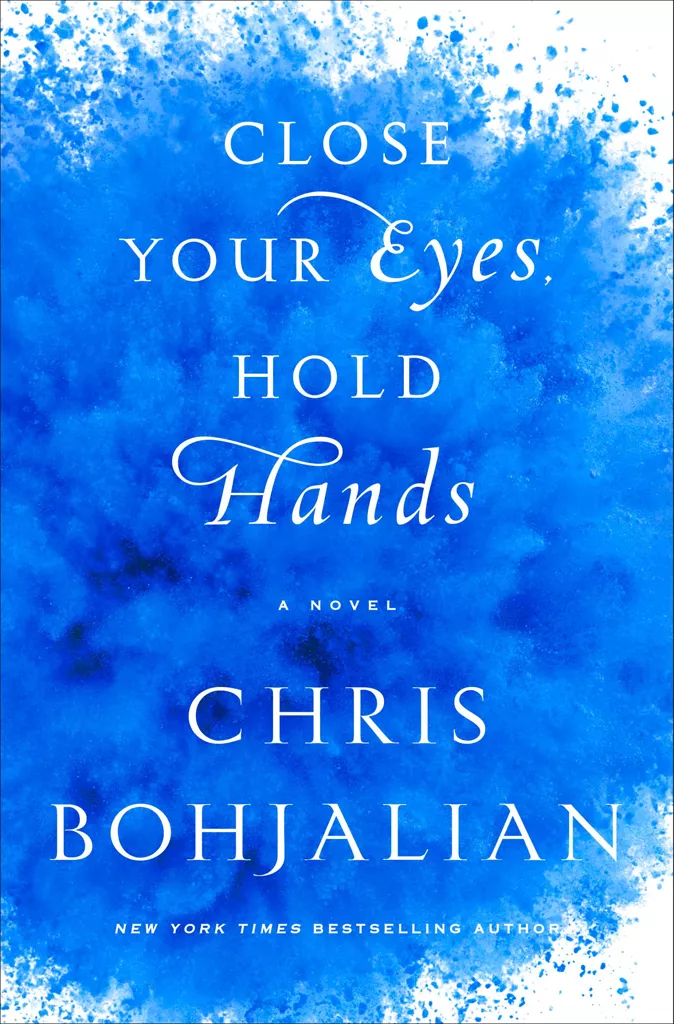 Close Your Eyes, Hold Hands by Chris Bohjalian, Doubleday, 288 pages. $25.95.
"Radioactive Boars Are Roaming Around Germany" reads a September 2 headline on Smithsonian.com. While the legacy of the disaster at Chernobyl has received much in the way of Hollywood treatment — flesh-hungry mutants and giant, scaly worms — the Geiger-inciting boars serve as a more acute reminder of human folly in the reality we all share. They really exist, whether or not we choose to acknowledge them.
Human error is a subject running deep through Close Your Eyes, Hold Hands, the latest from award-winning Vermont novelist Chris Bohjalian. A nuclear meltdown in the remotest reaches of the Northeast Kingdom, a teenage runaway with a penchant for self-harm and an obsession with the poetry of Emily Dickinson, an abandoned family dog: all this and more can be found in its pages.
Does the title sound familiar? It should. That's not a fragment of Dickinson but a quotation taken from considerably more recent events in New England (more on that to come).
Bohjalian's 16th novel boasts headline fluency in spades — although its protagonist herself, Emily Shepard, is not the boasting type. The opposite, actually: Her fragmented narration is a study in self-deprecation, suggesting Holden Caulfield in feminine form with only a kernel of his grandiosity, exhibited mainly in the Dickinson obsession. To provide a sample of her voice: "I did okay, I think, but who knows? Doesn't matter now and, to be honest, I really didn't care that much even then. Besides, I was going to be a poet and a novelist, if only because I figured poet and novelist was a career choice that meant little or no human interaction."
Emily is conscious of headlines, both serious and entertainment related — the 2011 Fukushima Daiichi disaster, the ongoing civil war in Syria, AMC's "The Walking Dead." Her father is head honcho at the fictional nuclear plant at Cape Abenaki, on the real shores of Lake Memphremagog; her mother is the plant's communications director. When a meltdown occurs and both the newspapers and the locals blame her parents, Emily cannot help going into full-on flight mode.
She steals a bike and wheels away from her private-school classmates into possibly radioactive rain — then disappears, with help from strangers, for points west. That leads to contamination-free Burlington, so crowded with refugees, or "walkers," that "if you didn't know the world was ending, you might have thought it was a Phish concert," Bohjalian writes. There Emily takes up residence in a den of lost youths where she assumes a new persona—Abby Bliss of Briarcliff, N.Y. — and begins cutting herself. Abby, the narrator informs her readers, was the name of Emily Dickinson's best friend.
Caulfield-inflected narrators have not been exactly rare (see CJ Hauser's The From-Aways for another recent spirited Caulfield exemplar). They are legion in young-adult fiction, whether well realized or not — but that is exactly the thing about Holden, isn't it? He's a character whose incarnations always were bound to multiply, his enduring popularity prefigured by his belief, similar to Jane Eyre's, in an audience who will see his actions and rationalizations as making perfect sense, the embodiment of a certain moral integrity widely extinguished from a fallen world. Well, Holden was right. Regardless of whether we conflate him with author J.D. Salinger (tempting but misguided), the number of people who saw themselves in the runaway teen was evinced by the near-constant stream of enraptured pilgrims to Salinger's wooded driveway, minds set aglow by the novel.
Bohjalian, writing in this tradition, develops the Caulfield archetype in interesting ways, invoking a character with a contemporary voice whose fate readers will care to follow. Close Your Eyes, Hold Hands proceeds like a mystery: We open with Emily in a hospital-like setting, at work on a memoir in response to the question of what exactly happened to her. "I seem to be jumping around a lot," she observes in a moment of lucidity. Through the winding and wending of her memories, we learn that this teen from privilege took to the streets and lived in a web of lies with her ward and quasi-baby brother, Cameron, over a Burlington winter: "You have no idea how good a peanut butter and jelly sandwich can taste until you've lived in an igloo made of trash bags."
Bohjalian tells Emily's vertiginous story, so riven by pain, with humor and insight. Yet it hinges on what reads like a device from fiction for younger readers: Known to be drinkers, her flatlander parents become scapegoats for the meltdown almost instantaneously. With events still unfolding, Emily encounters multiple bystanders who, transfixed by the horror, show no hesitation in cursing their names.
This is the sort of outsize fantasy of persecution that a teenager would cling to, and return to, as an explanation for subsequent choices. But Bohjalian removes it from the realm of Emily's particular psychology and nests the persecution in the otherwise realistic, headline-fluent exterior world he has created. No, he indicates, Emily isn't just fantasizing that the adult world has it in for her and her family. That world really does. "Pretty despicable, right? Whole family: fucking despicable," says a National Guardsman outside the gate of a temporary shelter, one of several bystanders who make similar remarks. As authorial choices go, this one feels noticeably manipulative and diminishes the authentic sense of Emily's plight in favor of an easy explanation for her behavior.
Much more meticulously observed are the mercurial swings in Emily's and her varied supporting cast's feelings as they continue along the fringes of civilized existence. If the relationship between Emily and Cameron is curiously hazy despite their reported time in close quarters (detailed in two or three conversations that exceed a couple of lines), Bohjalian never fails to keep the action crisp.
In the end, it may be Holden Caulfield-like for us to expect so much of a novel, and to call phony what are simply the mechanics of telling a story. Close Your Eyes, Holds Hands steps boldly into the swarm of contemporary headlines and, accordingly, seems to have raised the bar on the authenticity we expect from it.
The novel's most powerful sequence also contains its most flawed moment, the one from which Bohjalian derives his title: Emily returns to the near-deserted, still-radioactive Northeast Kingdom and walks the hallways of an empty school building. After everything that has happened, she conflates the catastrophe in her hometown with her mediated memory of the rampage in Newtown, Conn., where children were instructed to "Close your eyes, hold hands" as they left the building. Bohjalian goes so far as to have his narrator state the killer's name, a reach for resonance that feels uncomfortably close to sensationalism. And strange, somehow: It seems as if, were civilization ever to fall, the names of such people would be the first to disappear from collective memory.
The original print version of this article was headlined "Emotional Meltdown"