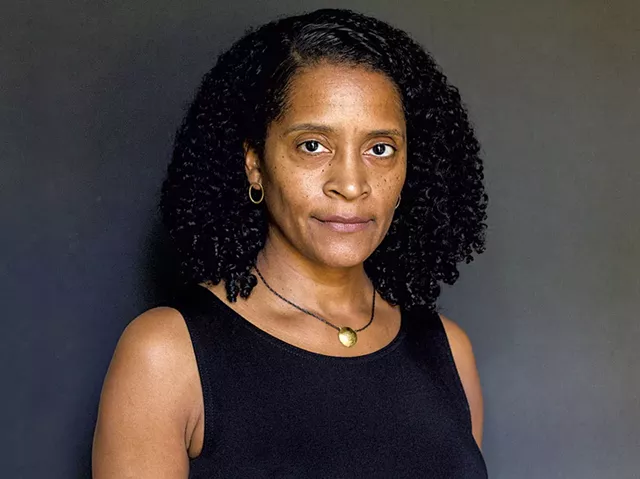 Courtesy of Stephanie Seguino
Emily Bernard
Emily Bernard's new collection of essays opens by confiding abruptly, "This book was conceived in a hospital. It was 2001, and I was recovering from surgery on my lower bowel, which had been damaged in a stabbing."
The event to which Bernard alludes — a random attack in a New Haven, Conn., coffee shop where she and six others were wounded by a knife-wielding stranger — isn't ultimately the focus of her book. But the scars from that nearly fatal assault are a touchstone to which she returns in the essays that follow. A writer with narrower horizons might have made that terrifying incident her book's whole subject. Instead, Bernard guides a reader from this starting point through a succession of increasingly thought-provoking encounters.
Each essay in the book is timely and satisfying, and many have been published individually in excellent magazines and awards volumes. Yet, beyond their separate impact, they comprise a widening chronicle that moves across time and geography. In the process, the author finds her own role in a family's multigenerational tradition of storytelling. As she says, "The hunger to tell is a drive I inherited from my maternal line."
It goes deep, beyond the skin, the organic racial romance that informs everything I do, and everything I write. I am black — and brown, too: Brown is the body I was born into. Black is the body of the stories I tell.
Bernard was born and grew up in Nashville, Tenn., with close relatives in Mississippi, and as a youth she saw herself as a Southerner longing to leave. She loved books authored by New Englanders, so she headed north for college and eventually earned a PhD in American Studies at Yale University. She now has an endowed professorship at the University of Vermont, where she teaches 20th-century American and African American literature, critical theory, race and ethnicity in literature, and women's studies.
In her work as a scholar and editor, one of Bernard's longtime themes has been alliances among Americans of differing backgrounds. Among her previous books are Remember Me to Harlem: The Letters of Langston Hughes and Carl Van Vechten and Some of My Best Friends: Writings on Interracial Friendships.
Black Is the Body: Stories from My Grandmother's Time, My Mother's Time, and Mine by Emily Bernard, Alfred A. Knopf, 240 pages. $25.95.
Black Is the Body incorporates broad learning and scholarship, but what makes the strongest impression is a quiet, steady personal candor. At various moments Bernard describes herself as "difficult," "unmoored" and a "troublemaker," but her narrator comes through as compassionate, wry and ever observant, with a penetrating curiosity about the people around her. The book's embracing warmth is particularly welcome given the difficulty of the issues it explores and the poisonous acrimony of so much of our public discourse about race relations.
After locating her readers in the immediate aftermath of her stabbing, Bernard describes how, during a slow recovery, she struggled "to find a language that would capture the totality of my experience, as a woman, a black American, a teacher, writer, mother, wife, and daughter."
She continues: "That desire evolved into this collection, which includes a story about adoption that is as pragmatic as it is romantic; a portrait of interracial marriage that is absent of hand-wringing; and a journey into the word 'nigger' that includes as much humor as grief. These narratives grew into an entire book meant to contribute something to the American racial drama besides the enduring narrative of black innocence and white guilt."
Summing up her goals, Bernard gives an accurate sense of her book's considerable success.
In sequence and structure, Black Is the Body doesn't proceed like a conventional autobiography, from childhood to the present. Instead, Bernard moves through a series of meditations that are bursting with ideas yet feel not like lectures but rather conversations filled with scenes and situations — stories.
Here's a classroom discussion, as described in the essay "Teaching the N-Word":
Nate jumps in.

"Don't you grant a word power by not saying it? Aren't we in some way amplifying its ugliness by avoiding it?" he asks.

"I am afraid of how I will be affected by saying it," Lauren says. "I just don't want that word in my mouth."

Tyler remembers a phrase attributed to Farai Chideya in Randall Kennedy's essay. He finds it and reads it to us. "She says that the n-word is the 'trump card, the nuclear bomb of racial epithets.'"
"Do you agree with that?" I ask.
br> Eleven heads nod vigorously.

"Nuclear bombs annihilate. What do you imagine will be destroyed if you guys use that word in here?"

Shyly, they look at me, all of them, and I understand. Me. It is my annihilation they imagine.
Bernard must be a marvelous teacher, and among this book's many pleasures is the impression of being in her company, as student and even as friend. Such intimacy requires tremendous artistry to achieve on the printed page. Bernard tells us how she grew up loving books, and she has made a book that many readers will love, with a subtlety and "naturalness" in the narration that invite us to come closer, approaching hard truths about our families, communities and nation.
The concluding three essays in Black Is the Body reach wider and further, drawing together the incidents and emotions of the preceding essays and attaining a kind of epic perspective.
"Going Home" is about Bernard returning to Mississippi after her grandmother's death, staying longer than expected when an ice storm separates her from job and family in Vermont.
"Motherland" is about the limbo Bernard and her husband endured in Ethiopia as they maneuvered through bureaucratic mazes amid dueling "helpers" to complete the adoption of their twin daughters.
"People Like Me" pairs her perception of being one of very few black people where she now lives with an extended reflection on what it might mean to be "a true Vermonter."
Like those that came before, these culminating essays abound in stories, awful and hilarious and tender by turns. Bernard quotes a childhood friend as saying, "Home is longevity." About Vermont, she keeps on asking, "Can I make a home here?"
Every day for the last seventeen years, the question has tagged along with me. My daughters' bus driver and I trade book recommendations in the morning as the girls clomp up the stairs to their seats: Stay. In the parking lot of the grocery store, a white man with a slick bald head looks at me, at my license plate, and then shakes his head in disgust: Leave. A thrilling early winter snowfall: Stay. A long, bitter spring of stomping through the slushy, dingy remains of that same snowfall and its successors: Leave. The tallying is continuous and exhausting. It is less a thought than a sensation. I hear it like the ticking of an old-fashioned scoreboard. Stay. Leave. Tick. Tick.
We can only hope Bernard decides to stay.
From Black Is the Body
I can't help it, or so it appears. I carry the trove of my mother's stories inside me, like an organ. I adorn myself with them, like jewels or thorns on a crown. Stories of her rage, pain, and bewilderment over what she had witnessed and experienced as a black girl growing up in the Jim Crow South. Because she was a skilled narrator, I felt my mother's stories as much as I heard them. Now I tell them myself, because they are interesting, because I can't resist stories that can be felt as well as heard, and because I feel a need, both obligation and urge, to keep them alive. My mother felt the same need; the stories did not belong to her exclusively. Some of them she had inherited from her mother and grandmother just as plainly as she had inherited from them the shape of her legs and the moles on her neck. My mother's family had no money. Their name was inherited from a white man. Am I maintaining our only legacy, or am I perpetuating the pain of the past? Is the telling the salve or the wound?