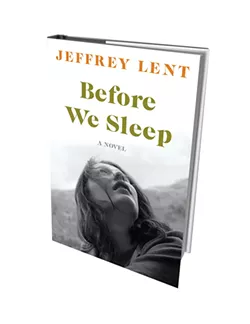 Before We Sleep by Jeffrey Lent, Bloomsbury USA, 400 pages. $28.
Let me be frank: It took me forever to read Before We Sleep. That's not a criticism. It has to do with how Vermont author Jeffrey Lent writes and what he wants to spend his pages dwelling on.
The shortest answer to the latter point is family — that is, the ties and struggles between generations. Just as important to the author is place. But Lent is so averse to brevity in his detailed, extended observations of the fictional world he creates that it seems inappropriate, perhaps even rude, to summarize in such a fashion.
We might begin instead with structure. (Plot, in the sense of a series of occurrences that careen toward an end, is not Lent's main concern in this nearly 400-page novel.) Chapters alternate between the stories and backstories of 17-year-old Katey Snow and her mother, Ruth. The two live with Oliver, Ruth's husband and Katey's father, in central Vermont. Oliver, like Ruth, grew up in Vermont, but he fought in the Second World War after high school and came home changed forever.
One night in 1967, Katey slips the family truck out of the driveway and sets out on a quest that leads her from Maine to Virginia. Its purpose isn't fully revealed to readers until more than halfway through the book. Even Katey, a teenager still trying to work things out, isn't sure what her purpose is until close to the end.
Katey's quest has to do with a secret her mother has been keeping from her. In the "Ruth" chapters, readers gradually learn the context of that secret through stories of Ruth's past and that of her parents, Jo and Nate Hale, and of Oliver's background and that of his parents, Ed and Jenny Snow.
In tracing these two families' histories, Lent incorporates a thicket of details about Vermont history. Consider this evocation of hill families in the late 1930s and early '40s, when Jo, as the well-off wife of the county's superintendent of schools, dedicates herself to charitable causes:
In the fall [Jo] paid out pennies to the pound to the poor and often illiterate girls from Kings Valley, the backways of Brocklebank, who hauled to town in wagons or hand-sledges the large old burlap wool-sacks stuffed with milkweed down pulled from the cracked pods, girls, always, each with their wretched clothes and downcast eyes, reddened and split fingers who came down skittish as wild creatures from the swaybacked ruined farms without electricity or telephone..."
I interrupt this sentence halfway through — yes, it's that long — to point out Lent's method of narration, which draws on the colloquialisms of his characters. These girls come from "the backways" of a place; milkweed is "down pulled." At times the rhythm of Lent's sentences reminded me of Cormac McCarthy's: long and almost fatalistic, though without the arcane vocabulary and breathtaking violence. Now, returning to our sentence in progress:
...children who'd left school well before the eighth grade to stump along best they could with their families until one way or another they became pregnant and one way or another among their own kind but not kin a husband, a man-child like themselves was found — not a few of those girls married much older men also, ones who'd buried two or three wives but needed someone to keep house, cook as could be done, warm their old bones in cold beds."
That turn in the sentence's direction, toward the sad inevitability of pregnancy among poor Vermont hill girls, is not accidental. Lent's book focuses on the women: strong Jo, who was known to clean her house before the cleaning woman came; even stronger Ruth, who endures a marriage with a silent husband wracked with PTSD, yet still loves him; and determined Katey, unafraid to leave home to pursue her quest without a word to her parents.
The experience of reading Before We Sleep is one of immersion in multiple connected worlds. Lent brings readers directly into the postwar world of iceboxes and new Frigidaires and the late 1960s world of impoverished Southern black tenant-farmer families. There are realistic glimpses of American soldiers' trek through Germany in pursuit of the fleeing Nazi army. There is even a geodesic dome constructed by a group of student hippies.
And, always, there is the land: Katey's awed first glimpse of the ocean from Maine's rocky coast, the lay of the fields and woods on the drive between two Vermont towns. Sampling another passage having to do with land, and the light falling on it, would mean using up the rest of this page. Lent's previous novel was titled A Slant of Light. His first, In the Fall (2000), was a New York Times Book Review Notable Book. Before We Sleep is his sixth.
Occasionally, this reviewer longed for the unending river of description to be reduced to a single, telling detail or for a new character's essence to be conveyed in a brief turn of phrase. But this is not where the author's interest lies. Lent, shall we say, is not a short story writer — though it would be interesting to see him try. Until then, give yourself plenty of time for reading.
From Before We Sleep
Late afternoon she pulled off onto a dirt track just east of Jefferson with Mount Washington behind and south of her, lost in clouds, lightning bursts around the peak, a violent storm up there but on the dirt road found a log-truck pull-off under faded sunshine and she left the windows cracked and stretched out on the bench seat and slept.
She woke to pelting rain and jabs of lightning in a shimmering twilight, her ankles and hair wet from the rain through the windows and a mild panic but the truck cranked and she sloughed her way out through the sticky mud of the track back onto the highway and the storm was gone and she rolled down the windows as the twilight turned golden behind her and then all around as she passed a black-and-white metal sign with the legend MAINE upon it.
The land was more level though she sensed hills in the distance and roadside were stands of big paper birches, now and then an ash or maple but crowded close were towering hemlocks and tamaracks. It was a land new and strange, on a scale of wildness unlike home.
She filled the truck with gas in Bethel and then stopped at a small Red & White store. An older woman sat behind the counter working a crossword puzzle from a rag-paper book of them, the woman in a sleeveless yellow floral print dress with an open white cardigan over it, her hair in a severe bun that seemed to stretch taut her otherwise plump face. Katey got a can of Vienna sausages, a tin of sardines, a box of crackers and asked the woman to cut a piece of cheese from the wheel under a glass dome beside the cash register.
"How much?" the woman asked.
"Bout like this." She held up a thumb and finger an inch apart. The woman cut the wedge and wrapped it in paper and tied brown twine around it. While the woman was doing this she went to a red soda cooler and lifted the lid, reached down into the zinc-lined case and the ice water and lifted out a bottle of Coca-Cola and set it on the counter next to her purchases.
The woman said, "A dime and nineteen and nineteen again, thirty-two cents for the cheese and the crackers is fifteen. Ninety-five cents, the best part of a dollar." She snapped open a small paper bag. "Where you headed?"