For nearly a decade, my book club — a group of about 10 women — has been meeting monthly to chat about what we've read, catch up on each other's lives and quaff wine. When the club first formed, we were all childless. Now, there are over a dozen kids between us, ranging from newborn to age 7.
We've established a tradition over the years when a "book club baby" comes into the world. In lieu of gifting moms-to-be with onesies and baby blankets, each book club member picks out a children's book for the little one.
It's a great way to help moms build up their children's book libraries. And it's fun to see what everyone else picks out.
Last weekend, we gathered to celebrate not one, not two, but three book club babies. Two beautiful boys had been born the previous month — these cuties both made cameo appearances at the get-together. Another little guy was scheduled for arrival the following week.
It was great fun picking out books for each new baby. Since two of them had older siblings already, I decided to select books that the older kids could enjoy now and the newborns would grow into.
Read on to find out about my "book club baby" picks. [jump]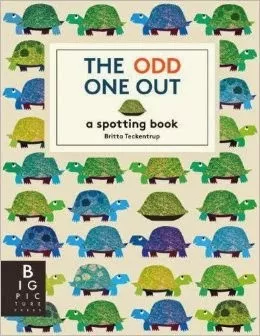 The Odd One Out: A Spotting Book
By Brittany Teckentrup
The hip graphic image of repeating turtles on its cover drew my eye to this book. When I cracked it open, I discovered it was a cross between the ever-popular
I Spy
series of books for older kids and the beloved Sesame Street segment of my youth, "One of these things (is not like the others)."
On each spread, there's a different image of repeating animals — flamingos, pandas, rhinos, bats and more. The reader's job is to spot the one that's slightly different from the rest. On one spread, the text reads, "A troop of young lemurs/ enjoying the day,/ hear a sudden strange sound/ and are startled from play./ Stopping and staring,/ they strike the same pose./ But which silly lemur/ looks at its own nose?" Small sleuths have to pick out the one cross-eyed creature from the ring-tailed bunch. It takes a little bit of looking to find the odd animal out on each spread but it's not too tricky, which makes this a perfect book for the preschool set.
Mister Seahorse
By Eric Carle
Carle is best known for his beloved tale of
The Very Hungry Caterpillar,
but the author and illustrator has penned more than 40 other books filled with engaging stories and his signature eye-catching paper collages.
Mister Seahorse
is a particularly fitting selection for a baby shower because it shows the interesting ways sea creatures give birth to their young. Mr. Tilapia carries eggs in his mouth, Mr. Stickleback builds a nest and the title character carries Mrs. Seahorse's eggs in a pouch in his belly.
Clear acrylic overlays interspersed among the pages, printed with plants that camouflage the creatures underneath, make this book a fun, interactive read for little ones. At the end of the story, when the baby seahorses are born and one tries to return to its father's pouch, Mister Seahorse says, "I do love you, but now you are ready to be on your own." It's a bittersweet message that will resonate with parents who can't shake the feeling that their kids are growing up too fast.
The Day the Crayons Quit
By Drew Daywalt
Illustrated by Oliver Jeffers
This best seller is built on a wacky and clever premise — what if all the crayons in the box quit in protest and wrote letters outlining their complaints? In this story, red crayon vents to its owner, Duncan, that it needs a rest after being worn down from coloring fire engines, strawberries, hearts and Santas. Pink, meanwhile, is upset for being labeled a girl color and not being used enough. Orange and yellow squabble over which one is
really
the color of the sun.
At the end of the story, Duncan gets an idea that will make
all
the crayons happy. He creates a picture using all of them, a whimsical illustration depicting a hippo in a blue bus, an orange whale, a princess flying a pink plane and more. This playful book is one kids will ask for again and again — and it's clever enough to please the adults, too.
Kids VT wants to know: What's your go-to gift book for new babies?