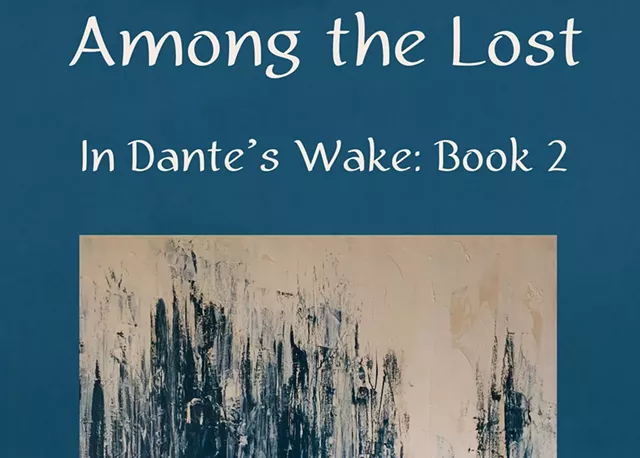 For South Burlington author Seth Steinzor, Dante is "that poet for whom love was the / power that moved the sun." Or so proclaims Seth, the protagonist of Steinzor's new book-length poem Among the Lost. The work both revisits Dante's Purgatorio and meditates on its relevance for today's secular world.
The latter is itself a labor of love, for, as another character says ruefully of the 14th-century poet, "[T]he professors have / laid their claim and fenced him off. / Nobody goes near him without they've got a string of letters after their name."
Steinzor's book, the second in a planned trilogy inspired by Dante's Divine Comedy, may help correct that perception by sending readers who pick up his accessible work, set in the 21st century, back to the original for comparison. Steinzor recommends John Ciardi's translation of Dante for its poetry, and Robert and Jean Hollander's for accuracy of meaning.
But only part of the pleasure of reading Among the Lost comes from seeing how it simultaneously echoes and modernizes the urtext of the poet of love. Steinzor's poem, written in 10-line stanzas, is also a story, a continuation of Seth's tour of the modern afterlife that began in hell with To Join the Lost. Based on Inferno, that book was published six years ago by a Connecticut press. Among the Lost has been issued by the Burlington press Fomite, which will reissue Steinzor's first book, as well.
Among the Lost: In Dante's Wake Book 2 by Seth Steinzor, Fomite Press, 240 pages. $15.
Written in 33 cantos, like Purgatorio, Among the Lost portrays purgatory not as the tiered mountain of Dante's imagining but as a flat, urban expanse beset by smog, a "muted industrial landscape of livid parking lots" and endless commuter traffic. As in To Join the Lost, Seth's guide in this book is Dante, the author. Through him, Seth hopes to find Victoria, his first love, who died as a teenager 33 years before — just as Dante, in The Divine Comedy, looked to his guide, Virgil, to lead him to Beatrice.
But Steinzor's Dante has become less attentive since leading his charge out of hell. For the most part, he leaves Seth, perceived as a bum during this part of his journey, to find his own way through the urban jungle.
Along the way, echoing Dante's lambasting of his native Florence, Seth muses on the failings of politicians and America's general disregard for the poor and disenfranchised. Several of the characters he meets — formerly unionized factory workers now out of work, boys with indifferent fathers, a pregnant girl entering an abortion clinic under police escort — may have been drawn from people in Steinzor's working life. He's an attorney for the State of Vermont, currently in the Department for Children and Families.
Occasionally, Dante reappears to point Seth vaguely forward. Once he directs him to look for a clue to his destination in the next day's headlines; another time he calls "Vieni!" from inside the belly of a horse statue at the center of a traffic circle. Seth gradually loses his way until a whirling mass of particles called Statius Sneath shows up to lead him to Dante.
In the parallel Canto in Purgatorio, Statius is the first-century Roman poet who worships Virgil and is overcome by meeting him. Statius Sneath, by contrast, is an alcoholic baby boomer who once wrote advertising copy. Despite his own faults, it's he who diagnoses Seth's problem. Because of the latter's journey through hell, says Statius, "The cords that bind your little bundle of self / have loosened. It's kind of like compassion."
A greater transformation awaits Seth, who has yet to meet Victoria. But the kernel of his journey in this installment seems to lie in that goal of feeling love toward others. Only when one goes among the lost can one feel compassion toward them, Steinzor's poem suggests.
After listening to two boys enviously compare their fathers — one caring but divorced and mostly absent, the other present but uninterested — Seth says, "A feeling of brotherhood sweeps me, and I chuckle / to think how the boys would recoil in horror / if they knew my urge to hug them."
Steinzor's language swings from crass to philosophical to tendentious, and it's often beautiful. A chickadee is seen "zipping away in scalloped flight"; the exit from hell is a hospital "through which we are a moving absence." The author is also not above poking fun at himself: "My son," says Dante to Seth, "you think so much to remarkably little effect."
That thinking makes for some absorbing passages and images, including a presidential library that materializes at dusk from "the rooms of night [that] surround me." Within resides an Abe Lincoln who ponders, "Should I have let the South secede?"
Overall, however, Among the Lost seems bleaker than its predecessor because it is more familiar: the crumbling rust-belt city, the empty factories, the homeless group gathered around a barrel fire. As Seth tells a former brother of Local 75, "I'm just passing through here on my way to heaven."
"Ain't we all" is the answer.