courtesy of dana walrath/penn state university press
"Aliceheimer's found me, not the other way around." So begins Dana Walrath's "graphic medicine memoir," in which she uses text and drawings to chronicle the magical thinking and images of a trip down Alzheimer's memory-stealing lane. The Alice of the title, and the one taking that trip, is her mother. Anyone caring for a loved one with the disease — or anyone with a mother — would be well served to get a copy of Aliceheimer's: Alzheimer's Through the Looking Glass in their hands.
Walrath's book offers a unique, even refreshing, perspective on one of the world's most perplexing diseases, which now affects more than 12,000 people in Vermont and nearly 44 million globally. A quick scan of Amazon shows evidence of more than 400 books on the subject. Clearly, there is much to say about the only one of the top five causes of death in the United States that cannot be treated, slowed or cured.
One of the reasons Aliceheimer's stands out in the field of medicine and memoir is that the author stands out in both. Walrath was an associate professor of medical anthropology at the University of Vermont College of Medicine before taking a leave of absence to earn an MFA in writing from Vermont College of Fine Arts. At UVM, she taught medical students to bear witness to patients' stories. As a writing student, she learned to tell her own.
Worlds collided when Alice's dementia appeared. Walrath moved her mother from Manhattan to her Green Mountain farmhouse, despite past tension in their relationship. Walrath was the daughter (of two) who got on her mother's nerves, she writes, and the feeling was mutual.
Yet, over two years, mother and daughter bonded through Alice's ailment. In Lewis Carroll terms, their pool of tears gave way to a mad tea party — including run-ins with pirates and men perched in trees.
Refusing to accept the dominant narrative of Alzheimer's disease as a horror story, Walrath rewrote it as Aliceheimer's, which consists of stories and drawings about living with Alice and her fleeting memories. The final product is an 80-page, 35-picture tribute to her mother's animated mind — a wonderland, not a graveyard. Alice is still very much alive in real life as well as in the book, but she now resides in a memory care facility.
"People with Alzheimer's are perceived as zombies, bodies without minds, waiting for valiant researchers to find a cure," Walrath explains in the introduction to her book. "For Alice and me, the story was different. Alzheimer's was a time of healing and magic."
Walrath uses "graphic medicine," a form of witnessing akin to her work as a medical anthropologist, to reveal the heart behind her mother's brain disease and to heal old wounds between them. By depicting Alzheimer's in a style associated with comics, she flips the long-standing narrative about the disease on its head. The effect is a much-needed respite from the abundance of grim stories on the market.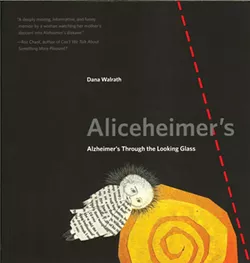 Aliceheimer's: Alzheimer's Through the Looking Glass by Dana Walrath, Penn State University Press, 80 pages. $19.95.
The author tests the idea that Alzheimer's might be mind-expanding as well as -contracting. Using words and pictures to cross boundaries, she arrives at new ways of thinking about living with the disease.
"Around the world, comic artists, caretakers, parents and assorted onlookers are taking up their drawing tools, pens, papers, scissors and computers to depict illnesses and ways of being human that have been stigmatized," Walrath writes in the intro. "The images and words of a graphic narrative bring back the humanity of a person with dementia."
In Aliceheimer's, Walrath draws her mother in the dreamlike ways in which Alice talks about herself: wondering if she's grown hoofs and horns, or if broccoli is growing out of her ears. Each charming image of Alice — always wearing a bathrobe decorated with cutout words from Lewis Carroll's book — is accompanied by a heartwarming tale of her adventures.
In "Fairy Pirates," Walrath tells us that Alice "escapes the captivity of Alzheimer's through story" and that "pirates, the ultimate hostage takers, often lend her a hand." Alice is drawn back on shore, hungry for ice cream, after a stint with the swashbucklers. Walrath writes:
I haven't seen these pirates myself, but it's clear they are pirates with a dashing Johnny Depp-ness, or the crimson glow of the young Burt Lancaster. Alice sings with them. They laugh together on the ship or the island.
In "Flight," we learn that Alice possessed a "double dose of authority and confidence" as a mother and biology teacher; she retained those traits in her illness. Walrath says her mom was as certain of the truth of her hallucinations as she had once been of her lesson plans. She depicts Alice in midair reaching for the sun, writing:
A mother and teacher myself, I've used this same voice to make her stories and hallucinations safe, normal, not something to challenge. When she was certain that her own mother, who died in 1954, had just been sitting on the sofa ... she would say, "You see her, don't you?" I'd say, "I can't see her but I'm sure you can. You have special powers."
Walrath explains in the introduction that the words and images in Aliceheimer's can be viewed in any number of ways:
Page through to feel the storyline as it exists in the drawings on their own; read it from cover to cover, feeling the long narrative carried in the text that was inspired by the images and written over several years; and finally, when your attention is short, as it is for anyone with memory challenges or simply pressed for time, leaf through the book to any page and take in a single vignette along with the images that set that story into motion.
However readers decide to approach and interpret Aliceheimer's, the book offers a brand-new looking glass into Alzheimer's — one that, like Carroll's mirror, displays a parallel world rather than our own. Walrath dared to follow Alice down the rabbit hole of the disease and emerged with a courageous depiction of a fascinating world below.