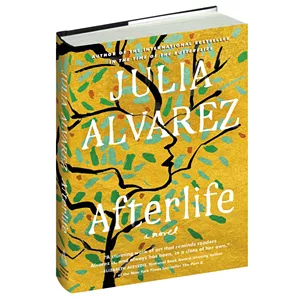 Afterlife by Julia Alvarez, Algonquin Books, 272 pages. $25.95 hardcover; $12.99 ebook.
How responsible is any one of us for easing or solving the problems of others? Especially when they might have brought on those difficulties by their own bad choices — and we have a load of troubles of our own?
The main character of Julia Alvarez's novel Afterlife is newly a widow, deeply grief-struck. Though she repeats to herself a self-help mantra that it's always best to put her own ease and well-being first, she's unable to shrug off the urgent needs of other people, including her neighbors and relatives.
Alvarez is the author of 21 previous books: fiction for adult and young people, poetry, essays, and memoir. She is writer-in-residence emerita in the Department of English and American Literatures at Middlebury College, where she has taught since 1988. Alvarez and her husband, Middlebury ophthalmologist William Eichner, are the cofounders of Alta Gracia, an ecological coffee farm and literacy center in the Dominican Republic, where Alvarez was born.
Her first novel for adults in 14 years, Afterlife offers two stories, entwined.
Antonia, the novel's protagonist, has recently retired from teaching literature at a Vermont college; she is also less than a year into the still strange and precarious experience of bereavement. Her seemingly healthy husband, Sam, died of a heart attack while driving to meet her at their favorite restaurant.
Antonia lives next door to a dairy farm where two undocumented young men from Mexico work for a growly farmer; he's ambivalent about hiring and lodging migrants yet sorely in need of their labor. Mario and Juan ask Antonia, who is fluent in Spanish, for help dealing with the imminent arrival of Mario's novia, or fiancée. When Estela arrives, she is very (and unexpectedly) pregnant.
Antonia is the second sister in a thorny foursome of immigrants from the Dominican Republic, who are spread out around the U.S. but remain powerfully connected. The sisters (Izzy, Antonia, Tilly and Mona) were born in quick succession, 11 months apart, which makes them almost twins: For a month every year, each is the same age as the one who preceded or succeeded her.
Yet the sisters differ passionately from one another, and among the wonders of Afterlife is how Alvarez stages the specifics of their personalities while also conveying the high-intensity magnetism of siblings' two-way and four-way relationships.
"Sometimes it feels as if only together are they a whole person — referred to reverentially as 'the sisterhood,'" she writes.
To extricate herself from the tense situation of the migrants next door, Antonia accepts an invitation to celebrate her birthday with a sisters' reunion in Chicago, but the eldest sister never arrives. The other three end up hiring a couple of private investigators to try to find Izzy, missing somewhere between Massachusetts and Illinois.
Readers who loved Alvarez's splendid first novel, How the García Girls Lost Their Accents (1991), will recall a constellation of four young immigrant sisters in that book, as well. The Afterlife sisters are older, bickering constantly, cajoling for favors, and kibitzing over romances, professions and money. They share memories of Mami and Papi and keep always in play a particular pride in their Dominican American lineage.
Alvarez also used a parallel structure in her 2006 novel Saving the World. There, a present-day Vermont couple, writer Alma and her husband, Richard, are sucked into disaster in the Dominican Republic, where they've gone with "Help International" in response to the AIDS crisis. Their story alternates with sections of the historical novel Alma is writing, a chronicle of an experiment to deliver smallpox vaccines to the Caribbean using young boys as "carriers." With its two deadly contagions, Saving the World is freshly timely in the current pandemic.
While that novel used a story-within-a-story structure, the two narratives in Afterlife are concurrent, with Antonia moving back and forth between her home in Vermont and the search for her lost sister. Either plot alone would suffice for an engaging story, but combined they multiply the emotional force of Antonia's predicament.
In places, Alvarez's writing here seems chatty, as allusions to the "narrow path" of mourning, good cop/bad copy dichotomies, and the need to face "dragons" seem too-often repeated. Yet this may be intentional to convey how Antonia's mind roams, circles and doubles back. Alvarez uses a "close" third-person narration, gliding closely beside what in another writer's hands would be a more ordinary first-person point of view.
By contrast, Antonia's sister Tilly has a marvelous way of upending clichés by mangling them as she talks: "We have more churches per square root than anywhere" ... "a pigment of my imagination" ... and "that bitch was a wolf in cheap clothing."
Also at odds with the sometimes-shopworn chestnuts of Antonia's inner monologue is her ardent, evocative way of quoting poems and stories she has loved and taught for decades. These lines — from T.S. Eliot, Wallace Stevens, Rainer Maria Rilke, Basho, Emily Dickinson and others — arise as she searches for her bearings, inseparable from her mental texture and persuasively rooted in her long devotion to teaching.
Antonia endlessly interrogates her role and place in the world. Three questions drawn from a Leo Tolstoy story are her compass points: "What is the best time to do things? Who is the most important one? What is the right thing to do?"
A stylistic choice that works exceedingly well in Afterlife is Alvarez's layering of dialogue into the narrative without quotation marks. While the technique might sound confusing, it never is, keeping the prose fleet and immediate, like flowing thoughts. Alvarez also skillfully embeds Spanish words and expressions in ways that feel natural and inevitable. Our language, like our society, is metamorphic, transforming as we speak.
Antonia's empathy for everyone she encounters, though at first tempered with wary self-protectiveness, is the great gift of Afterlife.
One of the novel's paired stories ends in catastrophe, while the other has a complicated but more joyous outcome. Ultimately, Antonia embraces the credo her husband inherited from his mother: When called on by people in trouble, "Well, let's see what love can do."
From Afterlife
When no one answers her knock at the trailer, Antonia heads for the barn, where she finds Mario shoveling fresh sawdust from a wheelbarrow into each stall. In the milking parlor, José is manning the machines, softly cursing at the cows.
Antonia remembers overhearing some farmers who had brought in their workers at the Open Door Clinic. She'd been called in to translate that night. Both the hospital and the clinic were seeing an increase in Spanish-speaking cases, but unlike the hospital, the clinic couldn't afford off-site interpreting services. The farmers were talking among themselves about how they preferred women milkers to men. Antonia had dismissed them as sexist comments, until she realized their point was that the women were gentler with the animals. The cows actually give more milk. The little calves thrive.
Psst! Mario! She calls to him, startling him. Is el patron around? He shakes his head.
Your novia called again. The coyotes are threatening her. Who are these people you hired? she asks, as if Mario should have checked references first, done his due diligence.
Ay, doñita, ay. The young man clutches his head. What is he to do? The coyotes are insisting on the dropoff fee to Burlington even if they put la novia on a bus in Denver. He has sent those chingados all the savings he had, borrowed the rest. The paisanos all pitched in. That's how they work it. First, I bring my novia or wife or sister or little brother with your help. Then I help you bring yours. Slowly and all together, we rebuild our lives here. A nest, a home, not just a trailer on shifting sand.