Librarian: Anne Hawley, youth librarian, Deborah Rawson Memorial Library, Jericho
Book: A Season of Gifts by Richard Peck
Age range: 10 and up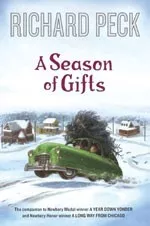 Hawley's summary: In A Season of Gifts, Newbery Medal-winning author Richard Peck takes readers back to 1958 through the eyes of 12-year-old Bob Barnhart. Bob's father is a Methodist preacher who has just been given a new assignment in a rural Illinois town. When Bob and his family move in, they meet their new neighbor, Grandma Dowdel, a nearly 90-year-old woman who also appeared in Peck's A Long Way From Chicago and A Year Down Yonder.
Independent and sometimes ornery, Grandma Dowdel is a force to be reckoned with. She knows everything that happens in her town and dispenses her own form of justice. Despite her rough exterior, she has a heart of gold and gives the best kind of gifts — those that don't come in boxes.
Who will like it: This book is a wonderful family read-aloud. It has warmth, wisdom, heaps of humor and is a great choice for the holiday season. This story is also available on CD and would make for entertaining audio on a road trip.