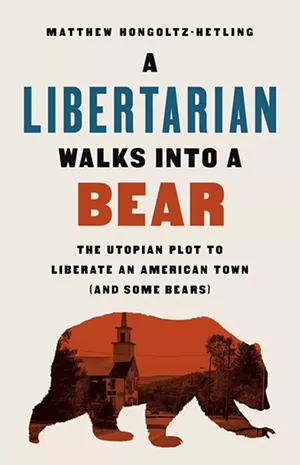 Courtesy
A Libertarian Walks Into a Bear: The Utopian Plot to Liberate an American Town (And Some Bears) by Matthew Hongoltz-Hetling, PublicAffairs, 288 pages. $28.
Many volumes have been written about the back-to-the-landers who flooded into Vermont in the 1960s and '70s, chronicling their colorful experiments with communes and other new forms of community. Even as we celebrate our own quirky utopians, however, Vermonters may know considerably less about a back-to-the-land movement of more recent vintage that happened right next door to us in the Granite State.
Unlike those older experiments, the Free Town Project was a movement of libertarians who organized to free themselves from the shackles of government. And Vermont journalist Matthew Hongoltz-Hetling, a contributor to the Valley Reporter, Foreign Policy, USA Today and more, is here to tell us all about it in an eminently readable, frequently hilarious book with the meme-able title A Libertarian Walks Into a Bear: The Utopian Plot to Liberate an American Town (And Some Bears).
On one level, the book is a history of the Free Town Project, which kicked off in 2004. That's when a vanload of libertarians arrived in Grafton, N.H., a spread-out rural community with just 800 registered voters, dreaming of a "naked power grab of the town government," Hongoltz-Hetling writes.
The newcomers counted on Grafton's dearth of civic institutions and proud tradition of tax resistance, dating back to the Revolutionary War era, to sell their cause to the locals at town meeting. But they met with more opposition than they expected — Graftonites liked their public library — and sometimes with dissension in their own ranks.
Seventeen years later, the Free Town Project might seem like a historical footnote, subsumed by the like-minded Free State Project, which led to the 2017 rise of a libertarian caucus in New Hampshire's legislature. In the book, even one of the Free Town Project's founders refers to it as "a blip on the radar."
But Hongoltz-Hetling has bigger concerns than that blip. On another level, he uses the Free Town Project as a case study in what happens when lofty political theories meet brute realities — the latter embodied by Grafton's burgeoning population of hungry, human-habituated bears.
If you're wondering whether the punny title promises a scene in which a libertarian literally ends up inside a bear, the answer's no. Hongoltz-Hetling, who started reporting from Grafton in 2016 in response to various bruin-related complaints, chronicles a series of sadly predictable incidents of carnage: bear on house pet; occasional bear on human; more frequently, gun-toting human on bear. (If you shun tales of violence committed to and by animals, this book will test you.)
While the bears were just busy being bears, Grafton's human population exhibited a baffling array of sympathies and follies. Spotlighting anecdotes within a roughly chronological framework, the author introduces us to a highly entertaining cast. There's Free Towner John Babiarz (see excerpt), whose role as a volunteer firefighter led to a clash with his fellow libertarians; and John Connell, a religious free spirit who bought the town's historic church but refused to pay taxes on it or request an exemption from the hated IRS.
Unification Church devotee Jessica Soule, who loved her isolated home until bears besieged her there, stands in stark contrast to the anonymous "Doughnut Lady," who flouted wildlife regulations by feeding the bears a daily spread of ... you can guess.
Courtesy Of Kimberly Hongoltz-hetling
Matthew Hongoltz-Hetling
From the reporter's encounters with Grafton's motley residents a humble thesis emerges: Like it or not, we're all connected. While government may not be the panacea for all ills, it beats a free-for-all in which some people wantonly court bears, creating a nuisance to which other people respond with equally wanton bear slaughter.
As Hongoltz-Hetling puts it, "Graftonites may have thought they had a bear problem, but you could equally say it was a problem caused by the retreat of their sworn enemy: taxes." In a chapter called "A Bureaucracy of Bears," he places that problem in the context of New Hampshire's "cash-starved Fish and Game Department," which "has developed a budget-friendly stance on bear conflicts: it's not him [the bear], it's you." While high-taxing Vermont has a comparable acreage and bear population, the author claims, it "has about half the number of bear complaints."
Vermonters who are tempted to be smug about that figure perhaps shouldn't be, given that they, no less than their libertarian neighbors, stand a good chance of having their supposedly free will hijacked by tiny parasites, such as Toxoplasma gondii, which can infect bears and humans alike. Hongoltz-Hetling devotes an entire chapter to this favorite topos of pop science; it's tangential at best to the Grafton story, but it does allow him to set up an outrageous pun involving a certain Professor Butt.
That digression is a bit of a misfire; a bigger one is an offhand reference to Sen. Bernie Sanders as "the socialist governor of Vermont" (one hopes future editions will correct the gaffe). Overall, though, Hongoltz-Hetling deserves ample praise for the book's menu of information, entertainment and Swiftian humor. As much satirist as reporter, he seems fascinated and bemused by the complicated schemes that humans of all ideological persuasions dream up to justify and aggrandize themselves.
In the wake of the January 6 attack on the U.S. Capitol, some readers may understandably feel disinclined to have a lighthearted laugh at anti-government activism. But Hongoltz-Hetling's humor is always tinged with dismay, not least at how American radicals evoke their own dubiously glorious history. Just as dreams of reviving a preindustrial past motivated many early back-to-the-landers, so the Free Town Project was a crew of suburbanites who set out to tame the wild frontier all over again — and found out the frontier sometimes bites back.
From A Libertarian Walks Into a Bear: The Utopian Plot to Liberate an American Town (And Some Bears)
When I visited [John] Babiarz on a Saturday morning in 2017, he invited me into his home, an 1848 one-room schoolhouse that he'd renovated and outfitted with solar panels. Amid the potted plants and political detritus that cluttered the small kitchen, a lawn sign urged me to elect Harry Browne president in 1996.
Babiarz had run for public office himself, several times. He was a politician, and I was a journalist. We'd both learned that smiling while talking can patch over vast political differences, and so there we stood, smiling and nodding at each other while he explained how the libertarian philosophy of unfettered personal and property rights intersects with the issue of bear management. He told me the town's bear problems were just the natural result of an incompetent government.
"If the government won't do its job, the people will," he said, chuckling.
Babiarz had a very distinctive laugh, one that I slowly realized reminded me of Krusty, the clown from The Simpsons. It was very disarming; I soon found myself agreeing with him. Dang government!
Babiarz was shot once, not during his tenure with the US Air Force, but in his own front yard. A confused pheasant hunter shot him in the ass.
"Did that hurt? Oh Jesus, the guy is lucky I didn't pull out my gun," he said, referring to one of the many guns he had cached throughout his property.
More smiling. I was really getting to like Babiarz. Dang pheasant hunter!
Finally, Babiarz got around to the topic of the bear that had been watching him. During the summer of 2016, the two had a disagreement that defied easy compromise: Could the bear eat all of his chickens? Or none of them?