Librarian: Mary Graf, youth services librarian, Brownell Library, Essex Junction
Book: A Chair for my Mother, written by Vera B. Williams
Age range: 3 to 7
Graf's summary: This Caldecott Honor Book offers lessons in saving and working together as a family. Readers see the story from a young girl's point of view — a girl who sometimes helps her waitress mother by wiping salt and pepper shakers and filling ketchup bottles. Half of her pay, and all of her mother's tips, go into a big jar at home.
What are they saving for? A big, soft chair for Mama to rest in after a long day's work.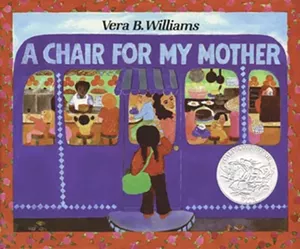 The previous year, they had lost all their belongings in a fire. Their neighbors helped them furnish a new apartment, but they are still without a sofa and a comfy chair. When the jar fills up, the family rolls up the coins and brings them to the bank to exchange for bills. On the mother's day off, they finally go shopping for their dream: a rose-colored velvet armchair.
Why it's memorable: Vibrant illustrations convey the warmth of this family and the generosity of the neighborhood in which they live. Reminiscent of the response to Irene's devastation here in Vermont, the book offers hope through hard work, fiscal discipline and a caring community.