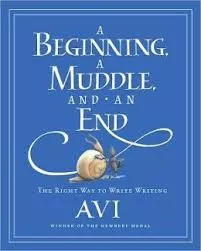 Recommended for ages 8 and up.
Several years ago, when my 11-year-old daughter, Kate, and I began writing stories together, I perused the Fletcher Free Library for a good resource for teaching kids to write. That's when I discovered this terrific book.
A Beginning, A Muddle and an End: The Right Way to Write Writing
by Avi is the story of Avon, a snail, and his friend Edward, an ant. Delightful silliness ensues as Avon attempts to become an author. Things don't always go smoothly, such as in this interaction between the two characters:
"Wait a minute!" cried Edward. "We've talked a whole lot about writing, but we've said nothing about your grammar."
"She was a very nice creature."
"What about your grandpa?"
"He was nice, too."
Edward nodded. "I suppose one's grammar is always relative."
[jump] The book isn't short — 176 pages — but I've read and reread it to Kate and her 12-year-old brother, Thomas, several times. It never fails to get us giggling.
When I first read it, I gave Edward an Irish accent. The book doesn't say anything about him being Irish, but it just seemed to fit. Now my kids won't let me read it any other way.
I'm not sure how much Kate has learned about writing from Avon and Edward, but I do know that she's developed a subtle sense of humor in her stories. I can't help think that Avi's way with words has rubbed off on her a little.
If you have a child who wants to become an author — or if you just want a fun read — pick up this book the next time you're at the library or bookstore. And don't forget to try it with an accent!