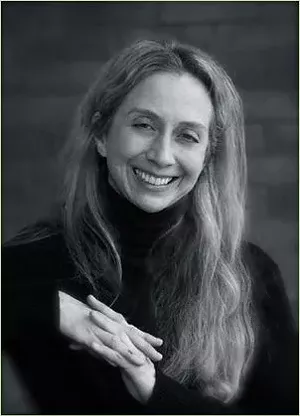 Bonnie Christensen, a Burlington author and illustrator whose award-winning children's books illuminated the lives of such cultural icons as Elvis Presley, Andy Warhol, and Woody Guthrie for young readers, died on January 12 at the Vermont Respite House in Williston. She was 63.
Of her more than 20 titles, the most acclaimed was Woodie Guthrie: Poet of the People (Alfred A. Knopf), whose images Booklist described as "sinewy and emotionally compelling." It won the Horn Book - Boston Globe Honor Award and was named a Publishers Weekly's Best Book of 2001 and a New York Times Notable Book.
Neal Porter, her editor at Macmillan, said she "infused all her books with wit, a keen intelligence, and unbridled beauty."
Besides biographies, she produced vividly-hued picture books on such topics as medieval bookmaking, grandmothers, and the invention of the printing press, as well as a light-hearted tome on borscht, and in 1998, a Folio collector's edition of John Steinbeck's The Grapes of Wrath. Paintings from Fabulous!, her portrait of Andy Warhol, were purchased by the Library of Congress. Her book on the life of Elvis Presley was still in production at the time of her death.
She was born in 1951 in Saranac Lake, N.Y., the older of two daughters of forest economist Wallace Christensen and his wife, Theo (Cole) Christensen, a grocer's daughter. The family moved seven times before she was 16. In Burlington, Bonnie studied theater and film at the University of Vermont, then moved to Manhattan to work at Joseph Papp's New York Shakespeare Festival. She built props and wrote one-act plays for Off-Off Broadway theaters, taking jobs at the Actor's Studio, the Screen Actors Guild, and Paramount Pictures.
After studying with master wood-engraver John Depol, she abandoned theater and returned to Vermont to make prints. Her first book-illustrating contract, for Joseph Citro's Green Mountain Ghosts, Ghouls, and Unsolved Mysteries (Chapters Publishing), came in 1994.
A year later she began teaching art at St. Michael's College. She exhibited in local galleries, made frequent school visits, and worked on the nearby sets of two Hollywood films, Sweetheart's Dance and The Spitfire Grill.
In 2008, lured by warm temperatures and a beckoning artistic community that included whirligig-builder Vollis Simpson, she moved to Wilson, North Carolina. While renovating her Arts & Crafts bungalow there in 2013, she was diagnosed with ovarian cancer.
Though undergoing treatment, she traveled twice yearly to Montpelier to meet with students at the Vermont College of Fine Arts, where in 2010 she had joined the faculty of the low-residency children's writing program. During her final visit in July, she won a standing ovation after delivering a speech in which she revealed that she was battling cancer.
She excelled at whatever she did. Whether painting frescos or plumbing her house, she did it with panache and a playful irreverence. Fiercely self-disciplined, she went underground for days and even weeks when deadlines loomed, and always welcomed challenges. She taught herself Italian and tackled the violin while in her fifties.
She will be remembered most for her wit. She wore a pink wig to her final medical consultation, jolting her doctors, and her self-illustrated blog, Chemo Chick, dripped with black humor.
Survivors include a daughter, Emily Herder, Emily's partner, Bren Gaesser, a sister, Tina Christensen, Tina's husband, Michael Sevy, numerous cousins, and her beloved pets, Miss Kitty and Chester. A memorial service is planned for March 21 at the All Souls Interfaith Gathering center at 291 Bostwick Farm Road in Shelburne. The time of the service will be announced.