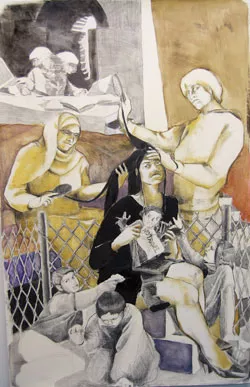 In one of Valerie Hird's large, untitled drawings, five women inhabit the paper like uneasy roommates. Each woman's gaze guides the viewer's eye through the picture. Each individual refers to the others while remaining distinct. This sense of separate yet shared experience permeates Hird's exhibition of "The Maiden Voyages Project" at the Flynn Center's Amy E. Tarrant Gallery, where her ambitious combination of reportage and art is on view through January 2.
The project follows the diaries of five women of different nationalities, religions and circumstances through one year. On the first day of every month, each woman wrote in her diary, and they eventually shared these entries with Burlington artist Hird. The result is a cross-cultural personal news ticker for each recorded day. Hird spent three years assembling the project; she first found the participants (all of whom wrote in English), then translated the journals into visual narratives, and finally completed the large drawings and the website. As one of the five women keeping a journal for the project, Hird is both participant and cultural translator.
Upon entering the gallery, one finds information about the women represented in Hird's works, including nationality, religion and profession. They remain otherwise anonymous, even to the artist. On the gallery's west wall hang Hird's illustrations of each diary. Her facility as a graphic novelist is remarkable; unctuous graphite lines transform these stories into stylized comic strips. Hird creates drama as she draws a storyline from each woman's journal. Her artistic tale telling is so clever, it nearly steals the show.
Across from the diaries hang the six large, untitled drawings. They show the diary-writing women in a single Escher-like room, stacked in uncomfortable quadrants. Certain themes in each woman's life are recognizable from the journals, while others remain obscure and are hence disorienting. To shield the women's identities, Hird imagined their physical forms based on their writings, perhaps blurring even her own sense of reality. The paradox of deep knowledge and anonymity is a recurring tension in the project.
Long fascinated by the Middle East, which she calls her "creative home," Hird went to great lengths to create an accurate yet nuanced interpretation of the women's diaries. She traveled to her collaborators' countries — Egypt, Jordan, Israel and Iran — collecting every scrap of information she could about daily life. Hird was appropriately concerned about the Western propensity to stereotype Middle Eastern women and attempts to give viewers an honest glimpse of their very different lives.
On her website, Hird writes, "I'm repeatedly asked to summarize the commonalities and differences I found among the women..." She writes of the surprising similarities, and discrepancies, she observed during her immersion in these women's diaries, concluding, "I hope the drawings communicate the range of personalities involved and how individually human they are."
Given Hird's total engagement with this project, she has risked overwhelming viewers with its complexity. Entering the exhibition is akin to walking into a conversation among close friends. Yet, despite the intricacy of the subject matter, Hird makes good on her stated resolution to report on women in complex, embattled regions of the world in a way that "escapes from the predictable reportage of Western media."
Some of Hird's larger pieces truly hit their mark. Her drawing of herself and another woman brushing a third woman's long hair is intimate and surprisingly direct. In the foreground, Hird cocks her head sideways, jaw set, like a sister who mutters disapproval while helping. The second woman, wearing a head scarf, brushes with a thoughtful expression, while the third woman clutches to her chest a doll emblazoned "No Travel." Children play around her feet.
With this piece, Hird achieves her goal of illustrating the "shared virtual space" the women inhabited during the project. This sort of interconnected yet detached experience echoes profoundly through her works.