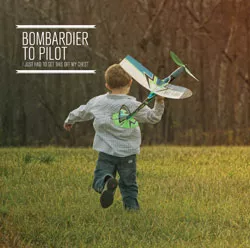 (Self-released, CD, digital download)
Of all the many splendored offshoots of punk rock, pop punk and its moody cousin, emo, are typically its most confessional. In the case of the latter particularly, it's practically the entire point of the genre — as if heartache, injustice and pain came into existence only when some disillusioned teenagers started fucking around with power chords in between bouts of drying their mascara-clad eyes with Hot Topic T-shirts. But I digress.
On their debut EP, the aptly named I Just Had to Get This Off My Chest, Burlington's Bombardier to Pilot — not be confused with Seattle's Pilot to Bombardier — generally tiptoe the line between confessional, emotional punch and whiny, self-absorbed anguish. It's a daring high-wire act that few pop-punk bands have managed without falling to their doom. And to the group's credit, Bombardier to Pilot do so without a net, combining sharp musicianship with clever writing and punchy hooks.
In the pop-punk diaspora, BTP exist more on the early Jimmy Eat World end of the spectrum than the Fall Out Boy side — for the latter of which, any era sucked, present rebirth included. BTP's songs are melodic and angsty but tempered with enough grit to avoid maudlin sentimentality. It's a neat trick, and one that serves the band well throughout the EP.
"Strike Three" sets the tone early with punishing drums that propel Tony Murphy and John Donahue's dual guitar crunch and Duncan Barchard's soaring vocals. The song's late-half-time breakdown, a punk and hardcore staple, is intricate, expertly led by the combo of bassist Beau Barton and drummer Ruston Fettig. It simmers with dark tension before exploding in a hooky climax.
Barchard shines on the following track, "Part 1." He has a classically snotty, pop-punk whine, aged — teenaged? — to angst-ridden perfection.
"Twice in One Year" is the album's literal and figurative centerpiece. It's an ambitious cut with all manner of unpredictable twists and hairpin turns. Its twitchy complexities and bracing energy recall another local pop-punk outfit, the late, great In Memory of Pluto.
"Idle Hands" is a smart, driving cut that might be the band's most radio-ready. It's followed by their least commercially viable, but perhaps best, song, "The Ostrich Syndrome." It's a fearsome, witty track that closes the EP with a vigorous flourish and suggests intriguing things to come from this talented young outfit.
I Just Had to Get This Off My Chest by Bombardier to Pilot is available at bombardiertopilot.bandcamp.com. Bombardier to Pilot play the Higher Ground Showcase Lounge in South Burlington this Thursday, May 9.