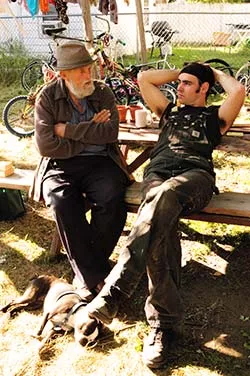 Matthew Thorsen
Poppa Neutrino and Lee Anderson in Burlington
Last summer, Lee Anderson hit a raccoon while driving through a patch of fog on 22A. He could not shake the animal's ghost from his thoughts for six months.
The raccoon thing passed, but six months later, Anderson had a new obsession: owls. Having obtained an owl T-shirt, an owl keychain and owl crafts, the 30-year-old Burlington poet thought, Maybe this is the new animal that is, like, guiding me?
It was — and proved prescient. In June, a man whom Anderson thought wore an owl-like expression entered the studios of The Radiator, a low-power FM station Anderson co-founded last year to complement his hipster-friendly Radio Bean Coffeehouse. The man was Poppa Neutrino, a San Francisco native who, for the last 3-and-a-half decades, has been building rafts out of trash and sailing them to such destinations as Texas, Maine, Mississippi, Mexico, Canada, Cuba and Ireland.
"I've heard so much about you," Anderson said before Neutrino launched into the jazz standard "Pennies from Heaven" — on the air.
"I've heard a lot about you," replied Neutrino, who had come to Burlington in May to stay with a friend and recover from two recent heart attacks. Upon his arrival in the Queen City, Neutrino had gotten wind of Anderson through Tom Beale, a former Vermonter who runs a Manhattan art gallery.
The next day, Neutrino, a gray-bearded 75-year-old who usually wears oversized blue pants and lace-less leather shoes, met Anderson at the Radio Bean. During a 6-hour conversation, Neutrino explained that he wanted to start a political party, named the oWL PaRTY (and spelled that way), and that he wanted to build a 16-foot — no, make that a 30-foot — raft. The mobile vessel would serve as a party headquarters, or a vehicle for adventure, depending on their mood.
Anderson thought the idea sounded pretty good. Even when Neutrino called a week later to say that the oWL raft should be 100 feet long and capable of navigating Arctic waters, Anderson still thought it was doable. But how, he wondered, would they find volunteers to build it?
Neutrino suggested that Anderson give away food. So, on a balmy mid-summer evening, the oWL PaRTY was born over homebrew and spaghetti in a grassy courtyard behind the Radio Bean. More than 20 young people stuck around past sunset to ask Neutrino questions and listen to his yarns. One of them, Jon Williams, owner of the South Burlington-based Pine Computers, offered to design a website and host raft-building sessions in his Old North End backyard.
By last Wednesday, at a session held outside Williams' Decatur Street house, Anderson said the 125-by-28-foot raft will include 30 bedrooms, a bowling alley and a two-story "grand ballroom" for performances, educational workshops, lectures and even ballroom dancing.
"It's going to be wild, and people are going to have to take notice," he predicts. "It's going to be a huge spectacle like Lake Champlain hasn't seen since Samuel de Champlain came, and all the fresh-water seals [were], like, Who the hell is this guy? It's like the new age of exploration."
******
Poppa Neutrino — a.k.a. David Pearlman — knows a thing or two about exploration. You might say it is the guiding principle of his life. His father was a Navy sailor who left port shortly after Neutrino's birth in 1933 and never returned. His mother — an alleged descendent of the bronco-bucking cowboy depicted on Wyoming license plates — was a chronic gambler who had enrolled her son in as many as 50 schools before he joined the Army at the age of 15.
In 1949, 16-year-old Neutrino left the service and flexed his thumb on Route 66. By the mid-1950s, after playing cards for high stakes, dating the Montana governor's daughter, selling postcards in Mexico, and discovering religious truths in Texas ("Hell isn't literal, it's a metaphor"), young Neutrino landed at San Francisco's Vesuvio Café. There he talked life and literature with Jack Kerouac and learned about Buddhism from Allen Ginsberg.
In last year's The Happiest Man in the World, an eloquent, 320-page biography, New Yorker writer Alec Wilkinson described Neutrino as "profoundly responsive to impulse. He does not always appear to have a reason for what he does, and sometimes he goes about things so awkwardly, even ineptly, that he brings on himself and the people around him difficulties that might not otherwise have arisen, but he has ardently imagined who he might be, and he has fearlessly embodied what he imagined. His past is one long poem to the random life."
The randomness of Neutrino's Beatnik odyssey took him to such far-flung locales as Tulsa, Tijuana and the Bronx, where he managed an apartment building. By the mid-1970s, Neutrino had tired of "solitary wandering," according to Wilkinson, so he founded the "Salvation Navy," a band of spiritual souls attempting to live in accordance with teachings of the Middle Eastern mystic and spiritual teacher G.I. Gurdjieff, who introduced a set of principles called "The Work" — meaning work on oneself.
Gurdjieff often wrote in triads — pithy, philosophical triumvirates that attempt to inform daily life, Neutrino says, in a similar way that musical triads underlie music. Triads such as "participate/redirect/leave," "float/go/stop" and "give/take/share," have inspired Neutrino to live by what he calls "simple active reasoning." For example, the writings helped him see the virtue in turning garbage into a raft and sailing it, Huck Finn-style, down the Mississippi.
Neutrino did just that in 1974, after a factory owner in Sioux City, Iowa, gave his "Navy" 14 300-gallon barrels. After converting the barrels into a 39-by-16-foot raft, Neutrino and crew piloted them to Mobile, Alabama, where the makeshift raft fell apart. Neutrino has since built more than a dozen other vessels from recycled parts, including one he helped sail across the Atlantic in 1998. Asked by an Irish official why he'd ridden rubbish across the ocean, Neutrino replied, "We're into scrap art."
Since his successful Atlantic voyage, Neutrino has continued to sail garbage rafts and inspire related voyages. Last month, a flotilla of seven handcrafted vessels sailed from Troy, New York, to Queens. Also this summer, two "eco-mariners" sailed a Neutrino-esque vessel called "JUNK" from Southern California to Honolulu. Subsidized by a marine foundation, JUNK was built from 15,000 plastic bottles and a Cessna airplane to raise awareness about oceanic pollution.
Neutrino himself is attracting his share of media buzz. Months after Wilkinson's biography was reviewed by critics in London and New York, a documentary film, called Random Lunacy, is showing at theaters and independent film festivals across the nation. Random Lunacy — "an astonishing portrait of survival outside of conventional society, in a self-created universe with a value system all its own," according to an official teaser — is not coming to Vermont, but Neutrino says he wants to stage a screening while he's in Burlington.
******
Lee Anderson, a skinny, black-haired hipster and unofficial prince of the Queen City's nouveau-bohème scene, only met Neutrino recently. But you might say he has been operating on the raft-builder's wavelength for years.
In 2000, for example, Anderson bought a space on North Winooski Avenue and decorated it with found objects. His wine rack is a mattress frame from around the corner; his countertop slate came free from a Rutland quarry. About a hundred volunteers helped Anderson sand and lay tile for the Radio Bean, so when the establishment opened that fall, he recalls, "We already had these people who felt like the café was theirs."
By the following summer, Radio Bean was hosting live music every night. About three years later, Anderson claims, the Bean shed its "hipster front" and became a welcoming space for all shades of creative types. Now the Radio Bean and its 105.9 FM cousin, The Radiator, are all-ages beacons of creativity and civic engagement.
Poppa Neutrino, Anderson says, is the "vessel" that Burlington's creative scene has been waiting for. Indeed, since his arrival in June, Neutrino has amassed what seems like a quasi-religious following. On warm evenings this summer, he and his comically petite Boston terrier held court outside the Bean, talking for hours about rafts and waxing on the theories of Gurdjieff.
Anderson and his fellow oWL PaRTY members appear to be way into Gurdjieff, too. They have adopted a Gurdjieff-styled triad — "eye contact/courtesy/due process" — as their party motto. Triads are also the chief topic of conversation on "Lee and Poppa," a radio show that runs every Monday at 5 p.m. on The Radiator.
"Triads are really the basis of the oWL PaRTY," Neutrino says. "People are getting into them, and it's super-exciting."
******
On a recent Wednesday afternoon, a fusion of Neutrino's and Anderson's worlds is on display in the Old North End. As the elder man, seated at a faded red picnic table, pets his dog, Anderson and some 10 furry-faced men unload wooden planks from a flatbed truck. Late-season tomatoes droop in a nearby garden as a slight breeze blows pastel T-shirts back and forth on a clothesline. Behind the picnic table, other pieces of junk are arranged in piles according to weight and texture.
"Door frames and miscellaneous wood?" a man asks on his way to the junk heap. "It looks clean," Neutrino replies. "Put it in the clean pile."
Their wood unloaded, oWL PaRTY members sit in the grass around Neutrino. Ten more show up. Someone breaks up a loaf of crusty bread and passes it around. Between this unassuming setting and the way these oWL raft-builders are clad — in soiled canvas and denim, sans logos — a visitor could almost mistake today's setting for Beat-era San Francisco.
Just as Beats like Kerouac and Ginsberg wrote poetry in response to nuclear holocaust, Anderson suggests, Burlington bohèmes are fashioning creative responses to pollution and war by building a "nuclear bomb" of hope. If and when their raft hits Champlain during Burlington's 2009 quadricentennial lake celebration, Anderson says, "Particles will hit other particles, and we're all going to explode with incredible joy."
Ethan Ohara, a goateed 24-year-old wearing tight jeans, suggests that Burlington's Radio Bean-inspired bohemianism rivals not just Beatnik Frisco but old-school New York or Paris. "I know that in 40 years, we're going to look back and talk about coffee shops like [Radio Bean]," Ohara says. "It's so exciting to feel like . . . we're in a place where ideas are coming from."
Notes "Da-vé," a sturdy guy with a bushy beard and overalls, the oWL PaRTY isn't meant to be exclusive — its Wednesday potlucks are open to the public. "It's not just coffeehouse culture," he insists. "That's what draws me to it: There's no board of trustees."
"I tried to create one," Neutrino recalls with a laugh. "But it was shut down."
As it turns out, he is happy to learn from his young comrades. In fact, Neutrino bristles at any suggestion that he is in charge of the oWL PaRTY raft project. "All I'm interested in is starting something and then being part of where it goes," he explains. "But it's not going to go where I want it to go; it's going to go where the community wants to go."
******
Fuzzy vibes notwithstanding, it's unclear how the oWL PaRTY raft will be received by the City of Burlington. "I can't say I've come across that before," said Erin Moreau, of the city-owned Burlington Community Boathouse. "We would have to go to our charter."
A spokesperson for the Coast Guard, which has ultimate jurisdiction over Lake Champlain, is similarly unfamiliar with garbage-based seafaring vessels. Ed Green, a marine-safety specialist at the Coast Guard station on Depot Street, adds that while he has never heard of Poppa Neutrino, he is "excited to see how [the raft project] plays out."
According to Green, a central question facing any prospective boater is: Are you recreational or commercial? There's a big difference. Recreational vessels aren't subject to routine inspections, whereas commercial ones are, and then some. If the oWL PaRTY is planning to charge passengers for services, Green points out, its raft would have to pass inspection before setting sail.
Neutrino says that since rafts break the "bondage" of landlord-tenant arrangements, the only people who really oppose them are realtors. That said, he isn't sure what category of sea-going vessel the raft fits into, but the party isn't planning to sidestep any regulations. Either way, Neutrino assures, the 125-foot "mothership" will have marine toilets, a sprinkler system and escape passages in accordance with federal safety and sewage regulations. If the craft is deemed commercial, Neutrino says he would "welcome" Coast Guard inspection and consider hiring a licensed captain.
"There's nothing to hide," he adds. "All they can say is that it's manifestly unsafe."
Neutrino's comrades assert that their raft-building process will be successful no matter what happens. As Ethan Ohara explains at the Decatur Street raft-building session, "The raft isn't the point . . . it's a tangential byproduct of us having potlucks, going skinny-dipping, deconstructing barns and playing music together."
Lee Anderson reports having "out-of-body experiences" this summer in response to raft-related acts of kindness. A buoyant sense of common purpose, he says, has prompted some oWL PaRTYers to transcend personal differences.
Anderson concedes, however, that interpersonal conflicts may arise during the construction process. (Neutrino cautions oWLers that living in close quarters on a raft can strain even the healthiest friendships.) But at this juncture, the project, and the spirit of the oWL potlucks, make Anderson think: "This is the bohemians' shot at world conquest!"
By the time he makes this pronouncement, it's almost 4, leaving him just a few hours to put together tonight's potluck behind the Radio Bean. When he had first sat down, the grass was littered with twigs; now Anderson is toying with a miniature raft he made from them.
A ray of light brushes across the yard, and Neutrino shifts on his bench. Someone eats another hunk of bread. Others fall into quiet side conversations. Meanwhile, Anderson's voice is rising:
"Doors in people's minds will open in rooms they didn't even know existed!" he says. "People are going to start building rafts we don't even know about."