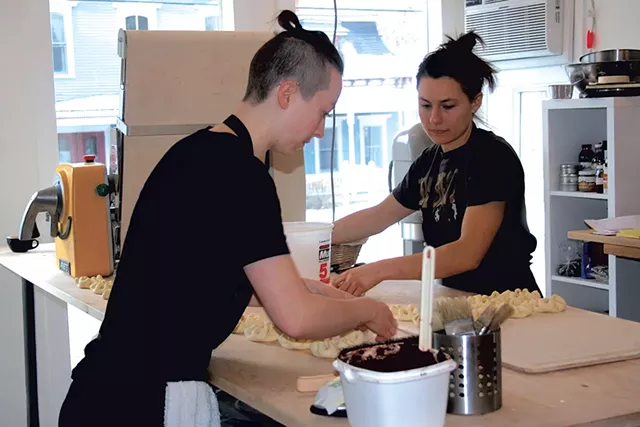 Suzanne Podhaizer
Chelsea Brochu and Neillea Dee at Bohemian Bakery
This week, Annie Bakst and Robert Hunt opened a "European-style" bakery and café in a storefront at 78 Barre Street in Montpelier. It's the second incarnation of Bohemian Bakery.
In 2010, the couple behind Bohemian Bread began inviting the community to their East Calais home-cum-bakery for Sunday coffee and pastries. Cars arrived in droves, bearing chefs, novelists and other lovers of buttery, flaky treats, and long lines formed at the door.
At the new spot, where Bakst and Hunt serve pastries and coffee Wednesday through Sunday, customers can try the sorts of treats that drew those crowds to their home: apricot tarts, perfectly crisp croissants, and turkey-and-avocado sandwiches on tender bread.
Why the move? "Basically, it got too successful at the house," said Hunt. "People loved it, it was a lot of fun, but the line was too long." And, he added, the couple has always wanted to have a shop in the "giant metropolis of Montpelier." When the Barre Street spot opened up, they jumped.
Is there room in town for another bakery? Hunt is sure of it. "We're all doing different things," he said. Bohemian focuses on pastries that are fat-forward and satisfying rather than sugary, plus a small selection of sandwiches and quiches. Customers can hang out as they eat and sip espresso, but it's not a sit-down spot.
Airy and light, with a bar looking onto the street and an open bakery in the back, the new business is inviting and elegant, thanks to Bakst's design work. "This is her little masterpiece," said Hunt.