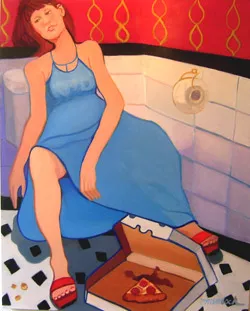 Murdoch's solo exhibition of primarily new work delves into harsh subjects with hues that seem almost cheerful — an effective juxtaposition.
Charlotte painter Alice Murdoch has long been known for her witty, brightly colored figurative works, but her latest collection suggests her paintings are getting conceptually darker even if the colors remain vibrant. Murdoch's solo exhibition of primarily new work at the Flynn Center's Amy E. Tarrant Gallery delves into harsh subjects with hues that seem almost cheerful — an effective juxtaposition. The 17 canvases in "Private Pleasures" make the suggested struggles and peccadillos of their subjects very public indeed.
"At the Ritz" — also titled "Rehab at the Ritz" on one of Murdoch's websites — is the oldest piece in the exhibit, and its inclusion illustrates how her work has evolved. The satirical 30-by-40-inch canvas dated 2005 skewers the affluent, as much of her previous work did. It's a poolside scene focused on a stylish woman in a lounge chair who is reading a magazine called Less — a jab at the glossy journal More, whose haughty motto is "for women of style & substance." A dapper waiter seems to rush along the purple edges of the pool, while the background wall contrasts in pale orange and salmon. Incongruous tropical birds perch around the scene, and a distant potted plant is trimmed like the tail of a poodle.
Murdoch's most recent works usually forgo such slyness. In an email about the current show, she writes, "I've always coated my issues with humor in my paintings, but can't do that anymore when I find the truth of some subjects stark."
A dominant theme is the relation of food to our lives, and Murdoch's women in particular struggle with body image. Their "private pleasures" are embroiled with the tortures of bulimia and anorexia on one side and morbid obesity on the other.
In "Secret Rendezvous," a fairly normal-looking young woman in a blue dress has just devoured most of a pepperoni pizza. The rendezvous has taken place in the bathroom, and the woman sits, glassy eyed, on the toilet. It's the troubled portrait of a woman suffering from bulimia. Murdoch also fills the scene with Matissian patterning in the tile floor and repeated curvy lines in the red wallpaper that echo the woman's queasiness.
"Gorgeous" depicts a rickety, skeletal girl posed against an empty, gray background. Murdoch has placed her subject on a vertical axis pushed a little left of center. The girl's skin is a sickly yellow and hangs unnaturally on her protruding bones; her expression is haggard. She seems on the verge of death.
Obesity appears less debilitating than emaciation but still cruel in Murdoch's paintings. In the 24-by-30-inch "Lunch," a very fat woman in a strange string bikini is peeking at a doorway, her eager demeanor implying that food is nearby. Murdoch's composition is simplified, emphasizing the figure leaning toward the door at the end of the shallow hallway. Her pink Caucasian color contrasts with a bright-green floor and aqua-colored walls.
"Coconut Cake" is focused on another corpulent figure. The subject is a woman reclining on a bed beside a white cake, her rotund shape repeated in undulating forms on the quilt and headboard of the bed. A male figure in the background seems of less interest to the woman than her cake. The painting has an intriguing gold background, like an icon of excess.
Food and body image are not the only issues in this show. The 36-by-36-inch "Vicki" is the poignant portrait of a cross- dresser. Murdoch placed her awkward figure against a stark gray background, similar to that of "Gorgeous," and collaged jewelry onto the painting. The man's big hands are in white gloves, his body clad in a red dress. Ultimately, he is quite alone.
Much of Murdoch's older work is fairly flat, but these more recent figures have greater dimensionality, just as she is addressing more difficult subjects. To do so, she seems to be moving in the direction that painter Arshile Gorky once advised when he said, "Art must be serious, no sarcasm, comedy. One does not laugh at a loved one."