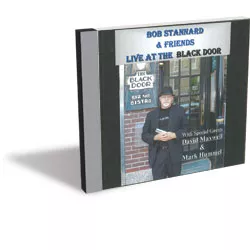 (Self-released, CD)
The front page of Bob Stannard's bare-bones website features a portrait of the local harp player as a young man. Framed by distant Green Mountains, he is coaxing a tone from his instrument, clad in a porkpie hat and dark aviator sunglasses — the picture of rootsy, bluesy cool. Beside the image is a quote from the man himself. "Over the past 35 years I have had the privilege of playing some wonderful shows," he writes. Then, after an ellipsis, "some better than others."
One such wonderful show happened last year at Montpelier's Black Door Bar and Bistro, which Stannard recorded and released as Live at The Black Door. The (mostly) live album is a raucous collection of blues classics — some more classic than others — and transports the listener to a boozy night at the capital-city hotspot.
The disc gets under way with "Down Home Blues" by George Jackson. As Stannard whips through a gusty opening lick, you can hear his toe tapping out the beat on the floor. Revved up and ready for bear, his crack backing band jumps in, with veteran drummer Jason Corbiere leading the way and (slightly) pushing the beat.
Jimmy Reed's "Honest I Do" is next. Stannard moans and howls with anguished abandon, while guitarists Dennis Willmott and Billy "Silvertone" Carruth muscle for space behind him. But ultimately, keyboardist Nick Sherman wins out, blazing a vigorous call and response with Stannard and his wailing harp.
Rod Piazza's "Honey Bee" and "Everything's Gonna Be Alright" by Little Walter Jacobs continue the record's energetic, immediate feel. Unfortunately, the band stumbles on a painfully jammy reggae-blues rendition of Bob Dylan's "Long Distance Operator."
The record's middle third finds Stannard removed from the cozy confines of The Black Door and in a studio exploring acoustic numbers with Grammy-winning harp player Mark Hummel and noted pianist David Maxwell. The contrast between Stannard's unbuttoned stage persona and his focused musicianship in the studio is striking, suggesting a wealth and depth of experience — particularly on the cheeky "3 O'Clock in the Morning," the album's only original.
To close the record, Stannard takes us back to The Black Door, which is positively jumping on "Little Car Blues" by Magic Dick and Jay Geils, and turns nearly apoplectic on Willie Dixon's "I Ain't Superstitious." All bets are off when the curtain finally drops on Gary Moore's "Further On Up the Road." This show is most certainly better than the others.
Bob Stannard plays the On Tap Bar & Grill in Essex Junction this Thursday, June 24.