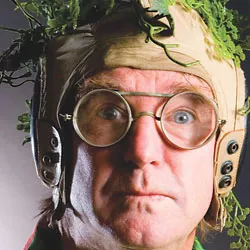 Courtesy of Kingdom County Productions
Bob Berky is often billed as a "clown," but that's not the whole picture. He's a funny guy, to be sure, but in his act, Berky — who bears a passing resemblance to fellow comic Robin Williams — eschews such trappings as bulbous red noses and seltzer bottles. He's a master of comedic gesture and movement, and has directed shows and performed for audiences all over the world. The recipient of a fellowship from the National Endowment for the Arts as well as an Obie Award, Berky will bring his solo show A Fool's Feast to the St. Johnsbury School on December 7.
Much of Berky's best work evokes that of the silent-film comedians whom he admires — he names Buster Keaton, Charlie Chaplin and French star Max Linder, and he has been compared to Jacques Tati, whose comedy was often wordless. But that doesn't mean Berky is not quick with a joke. Speaking by phone from his home in Jackson Hole, Wyo., he deploys genial wisecracks as he discusses his performance style, the cultural value of clowns and the genius of Oscar Levant.
SEVEN DAYS: How did you get started in your profession?
BOB BERKY: I started out as a musician — a trumpeter. In seventh grade, when my beautiful music teacher said that we needed a French horn player, I, of course, immediately leapt at the opportunity to ingratiate myself with her. In college, I started doing some theater. I was an athlete at the time, and I did some physical theater and really enjoyed it. Later, I studied with a very wonderful [mime and performance] teacher, Tony Montanaro, who was famous in his day. I went to Maine to take a three-week workshop with him and stayed almost four years.
SD: You perform, write, direct, teach and, you know, you're a clown. How do you describe yourself?
BB: I don't! That's really not for me to do. The word "clown," especially in this country, has a relatively narrow definition, and often has to do with circuses. I've always seen clowns in a much different light. Our laughter is a way that we approach truth. Clowns or fools have always been, societally, those individuals that have tried to explore what the truth is.
SD: Which comedians have influenced you?
BB: I was very much influenced by Buster Keaton and Charlie Chaplin. And Oscar Levant in particular. His acerbic wit and his famed cynicism was a way of him really exploring and telling you to cut the bullshit.
On the other hand, I was also a musician, and I equate everything with music. Words are music; movement is music; everything I see is music. The way comic moments are structured is musical for me. That's why stillness is important, as well as asymmetrical movement.
SD: What do you do when there are kids in your audience who are afraid of clowns?
BB: They have good reason to be frightened. Clowns have embodied grotesqueness throughout history — that's their reason for being there. I find [the heavily made-up, red-nosed] clown face very frightening. Yet if you go back to earlier societies, clowns wore masks, or their faces were adorned or manipulated to indicate an entrance into some kind of spiritual state.
Part of what happens is that we lose contact with why it happened before. It can become very two-dimensional — it doesn't resonate anymore. The performers themselves may not even know what they're doing. It's like carrying a gun and not knowing how to use it. You need to create an empathic bond. You have to find a way, as a performer, of creating that. Or at least allowing the audience to know you're not gonna bite them.
SD: What are you working on now, besides the Fool's Feast tour?
BB: I direct for [the Pink Garter Theatre in Jackson Hole] occasionally. And I do some teaching here and there, and still tour a little bit. I'm directing a new show in New York, immigration stories written and performed by a former student of mine and three hip-hop musicians. I'm doing a lot of writing — all of my plays have been performed somewhere. Right now, I'm writing a novel. I play banjo and concertina, and ride my road bike, and ski and snowboard.
SD: I want to issue you a challenge. Use your skills at pantomime to tell me a joke over the phone.
BB: (pause) Did you get it?
Bob Berky performs his one-man show A Fool's Feast on Saturday, December 7, 4:30 p.m., at the St. Johnsbury School. All ages. $10-25. kingdomcounty.org