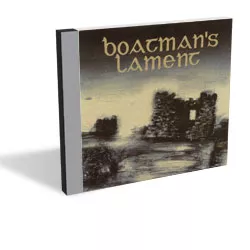 (Self-released, CD)
Man, it's gotta be tough to be the Boatman, spending eternity ferrying lost souls across the river Styx. Nobody is happy to be on that boat. The conversations must be positively dreadful — "Can you believe I'm dead? Like, what the fuck?" And the scenery can't be all that great, either. Plus, the Boatman has to charge for the privilege of delivering passengers to eternal damnation. How often do you think he gets a tip for that? He's the cabbie on the highway to hell, and the meter is always running.
On their self-titled debut, Ferrisburgh-based quintet Boatman's Lament offer Charon a little commiseration as well as something for the ol' CD changer — Sirius' signal presumably doesn't reach Hades. The band delivers a sulfur-y maelstrom of self-described "Green Mountain progressive alterna-sludge." Or, for the layperson, melodic metal and hard rock with sinister prog leanings. With six songs clocking in at a combined 53 minutes, the album is a fitting soundtrack for those long, slow paddles to purgatory, which in this case is largely a compliment.
The darkly hypnotic quality of Boatman's Lament is both an asset and a hindrance. On one hand, the band's crawling pace lends itself to murky, well, lamentation. From the menacing opening strains of "La Kah Teh Drahl," the band sets a hopeless tone. That's presumably the intent, so job well done there. But it's almost too easy to lose oneself in the album's malignance, which is a shame, as there are intriguing performances throughout the record — especially from lead shredder Chris Brownell.
The primary culprit is vocalist Matt Schoop, whose delivery recalls late Alice in Chains front man Layne Staley. And I don't mean when Staley was alive. I mean zombie Staley. Schoop's anguished drone is the perfect vocal complement to his band's bruising, brooding aesthetic. But at times his near-monotone and occasionally pitch-challenged delivery is subsumed by the cacophony around him.
Perhaps that, too, is partly the point. Boatman's Lament is drenched in the same sense of detached doom that one imagines must surround Charon, condemned to an eternity of monotonous labor. Even in the album's louder, more dramatic moments — the screeching second half of closer "Strange Roux," for instance — there's a chilling sense of impending dread. That'll be one obolus, please.