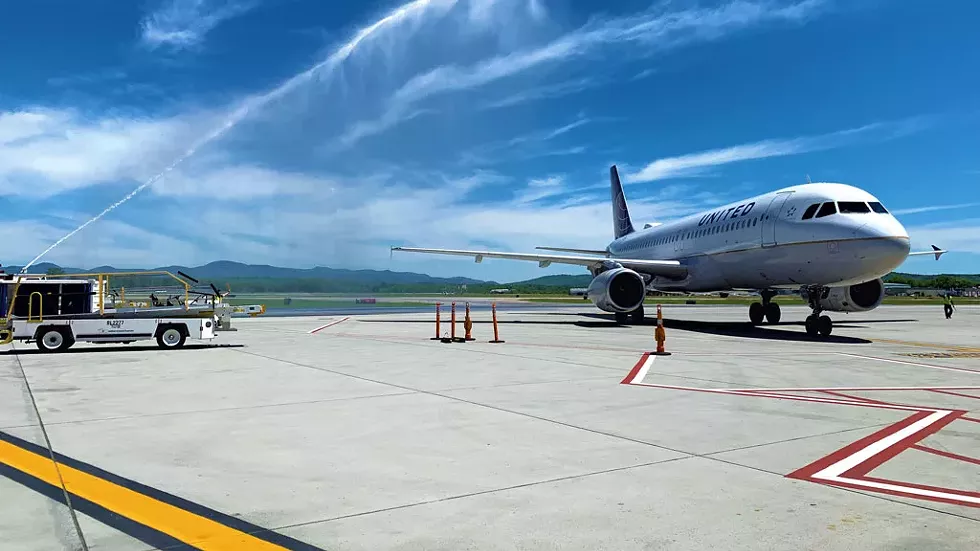 Courtesy Photo
The runway at Burlington International Airport
Good news: Those who have been fully vaccinated for COVID-19 can now enter and leave Vermont without quarantining. In other words, it's almost time to start planning vacations again.
For many Vermont residents, that will mean returning to Burlington International Airport, known by its three-letter airport code, BTV. The number of passengers flying into and out of Burlington plummeted during the coronavirus pandemic. So how is Vermont's largest airport faring now?
Turns out things are going "amazingly well" at BTV, says aviation director Gene Richards. In fact, given the circumstances, "we couldn't be doing any better."
Richards and his team have managed to stabilize the airport's finances over the last few years, even through the pandemic, thanks in part to federal COVID-19 relief funds. They've also improved efficiency, sanitation and safety and enhanced traveler amenities at the airport, which observed its 100th anniversary in 2020. The team also has strengthened the airport's interdependence on local businesses and organizations, so that it both reflects and benefits the community it serves.
When Vermonters return, says Richards, "You're going to feel like this is your airport."
Richards and his crew have compiled a progress report touting recent improvements. Here are a few highlights and hidden gems.
Finances
Courtesy Photo
From left: Nic Longo and Gene Richards, BTV; Blain Newton and Kyle Clark, Beta; Shelby Losier, BTV; Erin Desautels, Vermont Small Business Accelerators
According to Richards, the No. 1 thing to notice about the airport is something that passengers may not even consider — its financial health. Though BTV is owned by the City of Burlington, it can't tap into taxpayer funds. That means it has to pay for itself. The operation hit some turbulence in that regard a decade ago, causing bond ratings agencies to downgrade its status. When Richards took over as aviation director in 2012, he made some course corrections. Since then, BTV has gone from not much cash on hand to more than 400 days' worth. The ratings agencies have upgraded the airport's status accordingly.
Infrastructure
Courtesy Photo
Solar panels at BTV
BTV's improved financial outlook is partly due to its team's success at attracting federal funds. Money from the Federal Aviation Administration enabled the airport to upgrade its stormwater management and security systems, and to invest in sound mitigation in surrounding communities. The FAA also has funded some major projects, including:
A new 1.7-mile taxiway. This full-length taxiway, which opened in December, runs parallel to the main runway; it allows planes to line up while waiting their turn to take off and to exit the runway quickly once they've landed. Not only is it "so much more efficient," says Richards, it's safer, too. The project took 10 years of planning and construction and cost a whopping $35.4 million — 90 percent of which came from the FAA. Nic Longo, deputy director of aviation, points out that BTV competes with 50 other airports in the Northeast for these funds. Landing this kind of investment is a huge win.
A rehabbed "apron." This is the paved area where planes are parked. The old one needed 600 patches a year. The new 35,000-square-foot space, a $13 million investment, includes new pavement markings and drainage improvements.
A terminal integration. After years of planning, BTV is about to merge its North and South terminals into a single entity. This will make the airport more efficient to operate; Richards estimates that consolidating the two security checkpoints will reduce TSA costs by 30 percent. It will also be easier for passengers to navigate. The project, which will take 12 to 18 months to complete, will be paid for by a $14.5 million FAA grant.
Community
Courtesy Photo
The Flynn display inside BTV
Fly into BTV, and you'll know as soon as you walk off the plane that you've arrived in Vermont, and not just because of the majestic mountain views. Visitors can buy products, eat food and enjoy art produced locally; they also can learn a bit about Vermont companies and culture.
Since 2013, BTV's airport concessions have been managed by Burlington-based Skinny Pancake, which sources food from local farmers. It has increased annual sales from $500,000 to more than $3 million — pre-pandemic — and has invested $1 million in outfitting its airport facilities.
When Hudson News opened its BTV gift shops in 2018, the airport required that 50 percent of the products it carried be Vermont-made; customer demand has pushed that percentage even higher. In 2019, Hudson News sales at BTV topped $2.4 million a year.
Iconic Vermont brands have paid BTV for displays on walls and digital signage, including Burton Snowboards, Vermont Flannel, Dealer.com, the Flynn and the Town of Stowe.
Burlington City Arts curates the airport's rotating selection of local art.
Innovation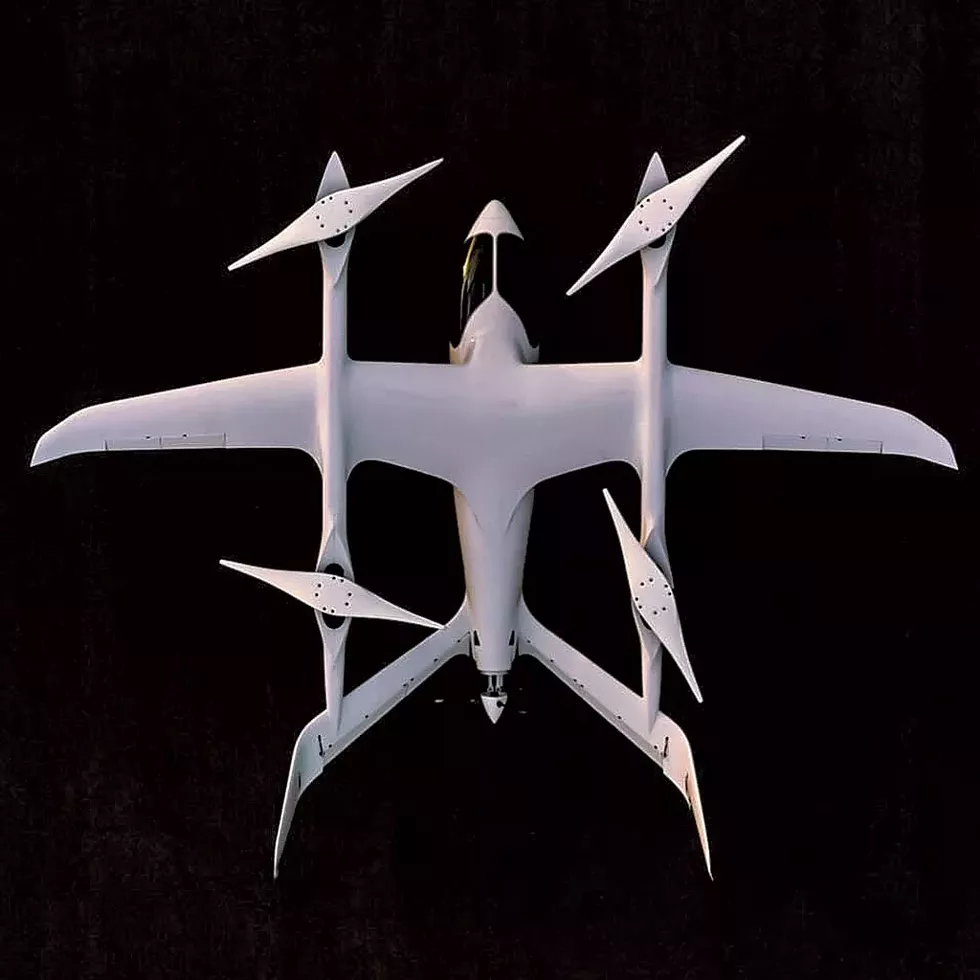 Courtesy Photo
Beta Technologies is developing a fleet of rechargeable electric aircraft at BTV.
BTV's creative and entrepreneurial management team has transformed airport properties into commercial space for beloved local businesses, as well as cutting-edge startups. Some generate revenue for BTV; others help drive economic activity in the region.
Businesses such as Mirabelles Bakery and Queen City Kombucha are now operating from an airport-owned space on Williston Road, providing rental income.
BTV worked with local health care company Garnet Health to turn the old Park & Shuttle building on White Street into a COVID-19 testing site.
One of the airport's hangars is now occupied by Beta Technologies, which is racing to develop a fleet of rechargeable electric aircraft. Its prototypes can occasionally be spotted on the tarmac and in the air. Before Beta moved in, Richards says, the space needed about $80,000 worth of improvements. He offered it to the company rent-free; in exchange, Beta poured $6 million into outfitting the space, which is now the home base for its 180 employees. Says Richards, "That was what we call a win-win."
Amenities
BTV has long been known for its passenger-friendly amenities, including free access to baggage carts, free Wi-Fi and a quiet yoga room. Other recent additions:
Two Mamava "nursing pods" and a nursing room for breastfeeding moms. Burlington-based Mamava has installed nursing pods at dozens of airports around the world. "We were the first airport to have one," boasts Richards.
18 free electric vehicle charging stations, which BTV obtained free of charge from Tesla. There are 12 in the main garage and six at the Beta Technologies facility.
A new pet relief area inside the security checkpoint, for those who travel with pets or service animals.
Touchless restroom facilities.
Free hand sanitizer and cloth face masks. BTV is believed to be the first airport in the country to offer branded face masks.
This article was commissioned and paid for by Pomerleau Real Estate.