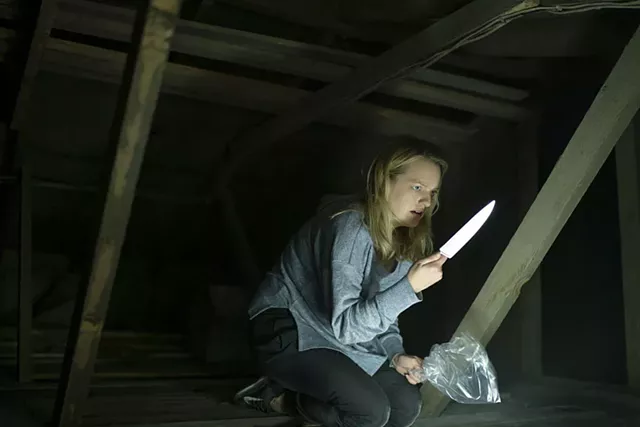 KNIFE FRIGHT No one who sees Whannell's update is likely to look at kitchen blades in quite the same way ever again
A while back, Tom Cruise met with executives at Universal Pictures to brainstorm a way to breathe new life into the studio's venerable but dusty catalog of horror properties. They came up with a plan for a shared "Dark Universe" that would include a Bride of Frankenstein remake starring Angelina Jolie, an updated Dr. Jekyll and Mr. Hyde featuring Russell Crowe, Javier Bardem as Frankenstein's monster, and remakes of The Wolf Man, Creature From the Black Lagoon and more. Regrettably for that team of deep thinkers, the master plan's kickoff was The Mummy (2017). You didn't have to call a coroner to see that the reboot-athon was dead on arrival.
When it comes to cutting-edge scares, any number of names should come to mind before Cruise's, and two of the biggest are behind this reimagining of The Invisible Man. Jason Blum produced. Leigh Whannell (Upgrade) wrote and directed. The result is nothing short of remarkable and easily ranks as the finest film of 2020 so far.
Elisabeth Moss stars as Cecilia. That's right. The Invisible Man isn't about him this time around. It's about his significant other, a woman who's suffered physical and psychological abuse at his hands for years. The picture opens with a terrifically suspenseful sequence in which she barely escapes from their oceanfront mansion in the middle of the night. If you're not on the edge of your seat by the time she does, you really need to think about leaving your phone at home.
Whannell's script is exceptionally clever. As we learn, Adrian (Oliver Jackson-Cohen) is some sort of tech billionaire and optics whiz. As Cecilia flees the home, we catch a glimpse of a basement space that looks like a cross between a man cave and Dr. Evil's lab. Nothing's said about it. The filmmaker knows we know.
Paralyzed by PTSD, Cecilia takes refuge at the house of an old friend, a cop named James (Aldis Hodge), and his teenage daughter. There she is shortly informed that her ex has committed suicide. "He said that wherever I went, he would find me, walk right up to me, and I wouldn't be able to see him," Cecilia responds with delicious prescience. This is where the real fun begins — for the audience, not for Cecilia. Definitely not for Cecilia.
Because, of course, Adrian isn't dead. He's just really, really pissed. And invisible. Throughout the rest of the film, Whannell does wonderfully intuitive things with his camera, using movements and angles to make sure we know just as surely as Cecilia knows that her stalker is nearby, even when he's nowhere to be seen. The effect is unnerving.
The movie has so much going for it. The score by Benjamin Wallfisch brings to mind the best of Bernard Herrmann; it's practically a character on its own. The camerawork by Stefan Duscio is as elegant as it is mischievously unsettling. Dan Oliver's special effects bring big-screen invisibility into the 21st century. And Moss is just amazing. She gives an electric performance, her most impressive to date in my book.
Movie critic law prohibits revealing more of the story, but I have to add: I admire the choice never to explain Adrian's scientific breakthrough. Made for roughly $7 million, this movie has zero budget for small talk or faux techno-exposition. Every cent was put on the screen. Consequently, The Invisible Man is something to see.