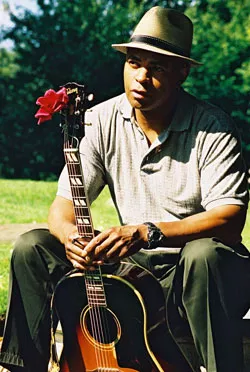 Guy Davis, 61, wears a lot of hats. He is a well-regarded actor, writer, composer and director. But first and foremost, Davis is a blues man.
Blues music and all its attendant traditions are at the core of everything Davis does, from writing and performing his own stage plays to recording each of his 15 albums, including his most recent, Juba Dance. That features several Davis originals along with classic acoustic blues songs by seminal artists such as Blind Lemon Jefferson and Bertha "Chippie" Hill, among others. Davis' versions of songs such as "See That My Grave Is Kept Clean" and "Some Cold Rainy Day" help to draw a line from early acoustic blues music and his own works, collectively illustrating why Davis is widely regarded as a torchbearer for both blues tradition and innovation.
In advance of his show at the Tunbridge Town Hall this Sunday, January 19, as part of the ongoing MountainFolk Concert series, Seven Days spoke with Davis by phone, one day after he gave a concert at a North Carolina prison.
SEVEN DAYS: You have a significant connection to Vermont. You went to summer camp here, correct?
GUY DAVIS: Oh, yes. That was decades ago. A summer camp called Killooleet. I can only spell it if I sing the song. I can't spell it straight out. I went from the ages of 8 to about 13. But that's where I first saw hands-on guitar playing and five-string banjo playing.
SD: And Pete Seeger's brother ran the camp, right?
GD: Yes, Pete's brother, John. He was the head of the camp.
SD: And you have a connection to [Vermont folk singer] Rik Palieri?
GD: I've known him for years. I met him through Pete Seeger back in 1976 in New Jersey. We were in a group together called the Sloop Singers. Since that time, I've known him mostly through Pete and through gatherings that had to do with the Clearwater [Hudson River Sloop]. He had me up in Vermont a few years ago for a gig at the Champlain Valley Folk Festival; I stayed with Rik and his wife. He was very good friends with Utah Phillips. And when he asked if I would play the folk festival, I told him yes, but that he had to pay me one dollar less than he paid Utah.
SD:You've pursued acting alongside your music career. What were some of your acting highlights?
GD: Oh, let's see. I was in a movie called Beat Street in the '80s. And I was on the soap opera "One Life to Live."
SD: Wait … really?
GD: [laughs] Yes. I played a doctor.
SD: Well, of course.
GD: Most of my acting has been onstage. I've been in about five different theater companies. But the highlight of my acting career has to do with a piece that I wrote called The Adventures of Fishy Waters: In Bed with the Blues. It's the story of a hobo. And he sits on a porch, drinking cider or beer, telling stories, tall tales. The most significant story is how he leaves home and finds a hobo camp and how it changes his life. But it can be presented in a lot of different ways — one act, several acts. It's breathable, it expands and contracts.
SD: You just performed at a prison in North Carolina. How did it go?
GD: It went well. There were about 200 prisoners there from a population of about 400. It was a good thing, if only for me to be able to let them know that I care. I think they appreciated it.
SD: Why was playing a prison important to you?
GD: It's important because these people are shut away from society, regardless of what they have or have not done. There are certain things that are very human that I'm trying to appeal to. I'm hoping that people come away from my shows feeling good, uplifted in some way, and feeling that whatever need to stand up is in me, they have the same creative spirit in them. I may have more musical skills or performing skills, but those are malleable. You can get more, you can get less. But there is a creative spirit that lives in all of us. And I want those folks to see that, because they might need to see it more than anyone.
SD: On your latest record, Juba Dance, you paired your original songs with some classic old blues tunes. How did you decide which covers fit best alongside your own music?
GD: I approached the record very freely. I don't constrain myself, I just do what feels good. So some of those songs were ones that I loved but maybe had never dared to do before, like "Some Cold Rainy Day" and "See That My Grave Is Kept Clean." I want the world to hear me doing them, to a degree. But really I want enough of the quality of the song itself to come through so that someone might say, "Well, how does Blind Lemon Jefferson sound when he sings it?" "How does Bertha 'Chippie' Hill sound when she sings 'Some Cold Rainy Day?'" So I think that me placing covers alongside my own music tells people that I claim the blues. I've decided I don't need to ask anyone's permission to put my songs with older, maybe even classic songs. I just hope it works.