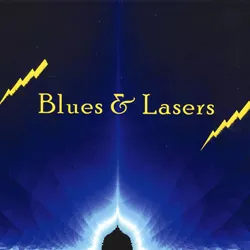 (Self-released, EP)
The propagation of rock bands is a natural evolution. Whether for rejuvenation or exploration, it is an unmistakable element of all musical landscapes, however compelling, nettlesome or pointless some offshoots can become. Burlington's Blues & Lasers is the collective and creative redeployment of Vermont darlings Grace Potter & The Nocturnals. Faithful legions of the starlet beware: The metamorphosis is unrecognizably whole and Potter's honeyed lull is nowhere to be found on the group's self-titled EP. The disc is a succinct and bruising exercise in dirty, lo-fi blues, a cumulative creative retroaction to the trappings of big-label pomp and studio finesse so often endured by those "cursed" successful acts.
If it could be said that esteemed Nocturnals Scott Tournet, Matt Burr and Bryan Dondero — as well as Turkey Bouillon Mafia's Benny Yurco and The Leaves' Steve Sharon — are skilled musical vampires, then Blues & Lasers is what they do during the day. And it's interesting to hear them in the sunlight.
"W.N.W.G.D," complete with a handclap time signature and cracked lyrical chants, captured on tape — like the entire release — in a room (Club Metronome) by two microphones with volumes perilously high, is a highlight of the EP's core. Tournet and Yurco's furious, jostling guitar work is set to a backdrop of chunky baselines and bashed cymbals.
With its plentiful offering of distorted guitar, the record is more blues and phasers than blues and lasers. There is some appreciable melodic wandering here, too. But the release is sometimes a victim of the primitive recording technique it so attempts to embrace.
The more pristine mixes of these talented musicians working together in their "day jobs" already spoil us. And try as they might, it's impossible to completely forget the less sullied cohesion that has made them so renowned — even in Blues & Lasers more raucous moments. Fans of Ms. Potter herself may take solace in her lush, if oft-buried B-3 organ work on the EP's epic 12-minute final track, "Devil Wrapped Around Me."
The record is strong, but it's easy to consider Blues & Lasers a different result of the same equation. It is refreshingly different and revealing, yes. But it is all the while disappointingly familial. However, it could be unfair to fault Tournet and company for attempting such profound evolution in Burlington's small musical pond.
All requests for the collective's other incarnations will be kept to a whisper when Blues & Lasers take the stage with the notorious Lez Zeppelin at the Higher Ground Ballroom this Friday, September 19.