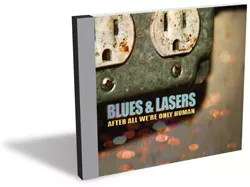 (Self-released, CD, digital download)
With their sophomore effort, After All We're Only Human, Nocturnals offshoot Blues & Lasers have seemingly grown up. The Scott Tournet-led project continues to marry blues and classic-rock aesthetics with modern technological savvy, as they did on their self-titled 2008 debut. But this time around, notable attention paid to melody and composition reveals a rapidly maturing group. Thankfully, despite the increased polish, they do manage to retain the hairy, reckless charm that has endeared them to local audiences.
Tournet's low-simmering "Give It a Try" opens the record in a steamy haze of electric guitar with dueling drummers Matt Burr and Steve Sharon plodding through the sludge. Unlike all too many incarnations of the two-drummer gimmick, which generally do little more than clog up the rhythm section, B&L's deployment of Burr and Sharon is meant only to add horsepower. In lockstep with bassist John Rogone, their playing is lean and muscular, the backbeat pinning the listener to the seat off the line.
"Fallen Friend" is next and showcases Benny Yurco as a vocalist and songwriter. The former Turkey Bouillon Mafia guitarist and current Nocturnal wrote four of the album's nine tracks. Here he displays a natural, if slightly derivative, knack for mining classic Southern-rock archetypes. He's not breaking any molds, nor do we need him to. What he does, he does well.
"Breakin' My Heart" finds Tournet back in the driver's seat. It's a slow-burning blues-rock elegy lamenting the supposed death of, um, blues-rock. "They say it's not cool, to play electric guitar," sings Tournet. "They call me a fool, say I'm trying too hard. / And no one plays the blues anymore. / It won't make you a star." It would be a fine sentiment, were it coming from anyone but a guy whose day job involves touring the world playing blues-rock riffs on the electric guitar. Breakin' my heart, indeed.
"After All" gives us the record's title. It's fluff, lyrically, boasting all the profundity of a rhyming dictionary. But any songwriting miscues are waylaid by the band's vigorous instrumental attacks and swooning vocal harmony. It's a melodically adventurous tune bearing watery shades of early My Morning Jacket.
The album closes on "Take You Down." It is the record's defining track, combining the band's finest elements into a roiling bundle of steamy guitar, ethereal vocals and inventive compositional turns. The song is gritty and dense, but strangely refined. Or in other words, it is just like Blues & Lasers.
Blues & Lasers celebrate After All We're Only Human with a release party this Sunday at Club Metronome.