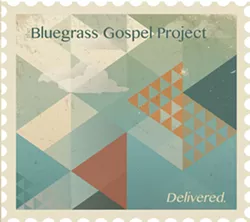 Bluegrass Gospel Project, Delivered.
(Vital Records, CD, digital download)
Bluegrass Gospel Project began with a one-off show for a First Night celebration in Burlington back in 2001. Throughout the years — and lineup changes — since, they've built an ironclad reputation for pure, unvarnished traditional music. BGP's latest album, Delivered., is unfortunately their last. But it's a fitting capstone for such a carefully cultivated legacy.
As with their previous albums, Delivered. consists entirely of live recordings. That might be a problem for less polished ensembles, but every note and nuance here shines. The sound quality is transparent and consistent — especially considering that the record is stitched together from two years' worth of performances.
This spartan approach spotlights the band's distinctive blend of bluegrass and ... well, almost everything but rap and EDM. Early on, BGP expanded their repertoire beyond the deep roots of bluegrass and gospel, converting even rock and reggae tunes into stark acoustic arrangements. Yet it's never a gimmick. Anything they touch, these musicians transform.
Midway through the album, BGP reinterpret Jimmy Cliff's classic "Many Rivers to Cross," and it's a seamless fit. Opening with a mournful fiddle solo before swaying into a lush ballad, the standout track is perfectly paced.
"For us, it's all about the song," said BGP founder and musical director Gene White in these pages back in 2012. The band has never deviated from that ethos, and every track on Delivered. clearly belongs.
The center of BGP's sound is lead vocalist Colby Crehan, who joined the group in 2007 after the departure of Vermont folk legend Patti Casey. Crehan is a gem, blessed with a remarkable tone that's equal parts Iris DeMent and Alison Krauss. She's understated but powerful and completely inhabits every song.
The layers of accompaniment are seamless and spare, although White's lyrical fiddle work and the multi-instrumental talents of Steve Light are equally capable of commanding center stage. Song after song, Delivered. sounds better the more you turn it up.
Audience participation is mostly in the margins, alternating between rapt hush and wild cheering. In fact, "Precious Memories," a warm a cappella rendition of a traditional song, sounds like it was recorded in an empty room — until it's over.
BGP members contribute several originals to Delivered. It's a credit to their collective talent how well compositions such as Crehan's "Time Is Gonna Lose" and Light's "Mobius Breakdown" stand up alongside the classics.
The album closes with Billy Joe Shaver's "I'm Just an Old Chunk of Coal," which kicks off with a scorching fingerstyle blues solo. It's a humble, simple song and a perfect note on which to exit.
Bluegrass Gospel Project end their journey with a truly remarkable body of work — some seven indispensible albums. This is a band that started strong and kept getting better, a notion punctuated perfectly by Delivered.
Delivered. by Bluegrass Gospel Project is available at bluegrassgospelproject.com.