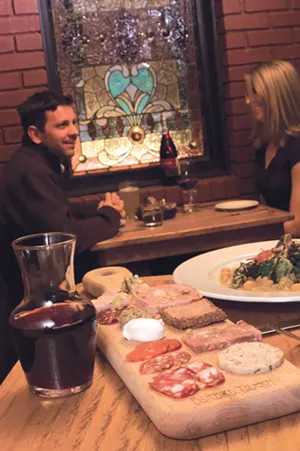 File: Matthew Thorsen
Bluebird Tavern in 2010
Saturday night dinner was the final service for Bluebird Tavern. "It's not a complete surprise," says Nicole Ravlin of People Making Good PR. "It's certainly unfortunate for all the people who have enjoyed Bluebird Tavern for so long."
In a statement, owner Sue Bette disclosed, "I am extremely proud of all that we have accomplished over the past six years and very grateful for both the support we have enjoyed from our community as well as the amazing work of all of our team members and alumni."
Bluebird Barbecue and both Coffee Stop locations will remain intact. According to Ravlin, so will the management team. Besides the restaurant, the group's catering service will also continue at full steam. Ravlin added that some popular dishes and favorite cocktails might end up on the Barbecue menu.
In her statement, Bette hinted at future projects in the works. Ravlin says that they're still in development. "They're exciting, but they're not immediate," she says.
---
Buddha bowls, jerk-chicken-filled burritos and rose-scented smoothies are now things of the past for Shelburne diners. The Open Arms Food & Juice Shop has closed. The reasons were "financial and also very personal," says Acoy Cofiño, who opened the restaurant with his wife, Samantha, in 2008. They closed it in 2010 when Samantha was diagnosed with breast cancer, then made a seemingly triumphant return last year.
In his typical laid-back style, Cofiño isn't sweating the change too much. When the Inn at Shelburne Farms opens this weekend, he'll be cooking as the new breakfast chef. "The ramps are out, baby!" he says of his plans for debut-week dishes. He also anticipates introducing his signature Latin flavors to the mix. Diners may even see his sought-after Cubano appear at breakfast or brunch in Benedict form.