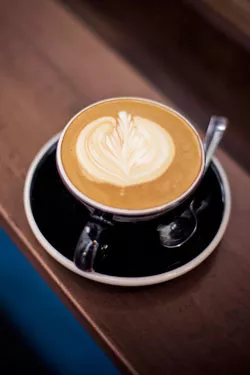 Sue Bette is talking big. She's all set for the soft opening of the new Bluebird Coffee Stop at the Innovation Center, beginning later this week or early next week, and Bette says the chocolate-chip cookies there will be good enough to fill the void left by the South End's Fresh Market. Burlington's chocolate-chip-cookie lovers have been pining ever since that grocery closed.
With Bluebird Tavern, Bluebird Barbecue and the original Bluebird Coffee Stop downtown, the new café at 128 Lakeside Avenue will be Bette's fourth eatery opened in as many years. "We're taking the Bluebird Coffee Stop concept and expanding it a little bit," she explains. "We absolutely love the Church Street location, but we're limited in what we can do [there] because of the space constraints. This allows us to be a little more of a café."
The LEED-certified Innovation Center has a recently redone café space and a built-in population of hundreds of office workers, making it a natural fit for Bluebird. The 30-seat resto will also be open to the public, with starting hours on weekdays from 8 a.m. to 3 p.m. Bette says she'll also use the space for private parties and special events, such as her popular oyster nights and beer and wine events.
The menu showcases a wide range of breakfast and lunch dishes, aimed at everyone from the hungry worker to the gourmet looking for a palate tickling.
Homemade breakfast sandwiches and bagels from Myer's Bagel Bakery (with Bluebird-made cream cheeses) will be available for breakfast, along with muffins in flavors including candied-bacon-and-peanut-butter and chocolate-espresso. Lunch will focus on sandwiches and salads.
Espresso and coffee will be available, and Bette says she and chef Michael Clauss have designed a number of new desserts. Slices of whole cakes — including red velvet and cheesecake — and milk-chocolate and honey-vanilla puddings will be sweet ways to end a workday meal.
This article was headlined "South End Snacks" in print.