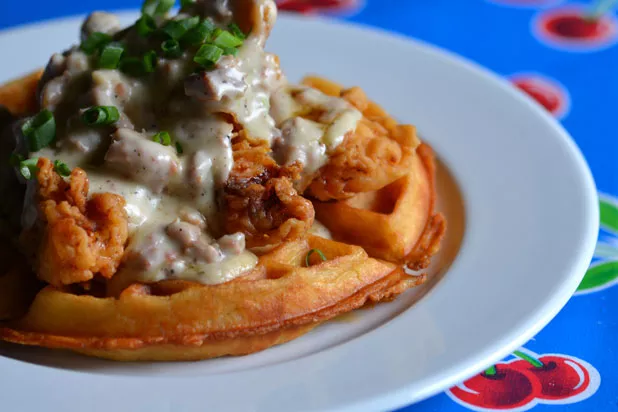 Chicken and waffles at Bluebird Tavern
Executive chef Michael Clauss has left the Bluebird Restaurant Group for the Essex Culinary Resort & Spa. The Daniel Boulud protégé will work the same culinary muscles he used as a contestant in the 2010 Bocuse d'Or USA at the Chef's Table at Amuse.
Clauss says that he's excited to return to his high-end roots in his new role. "It's really going to allow me to get back into the fine dining, Michelin-style food that I like to cook," he explains of the eight- to 10-course meals he'll be preparing Wednesday through Saturday. "[Executive chef] Shawn [Calley] and [food and beverage director] Arnd [Sievers] and all the guys over there have been very nice and very open about saying, 'We want you to do your food at the Chef's Table. We want people to have an amazing culinary experience' — they're really letting me run with it." He'll begin curing and making terrines early next week for a June 17 debut.
Back at the Bluebird Tavern, Matt Corrente has been named the new executive chef. Most recently chef de cuisine at Pistou, the Middlebury grad developed his chops in New York City and at Boston's Craigie on Main, where he worked under James Beard Foundation Award-winning chef Tony Maws. Along with new chef de cuisine Jeremy Cortez — Bluebird's former sous-chef — Corrente has been leading the kitchen at Bluebird Tavern for a couple of weeks now, says Bluebird owner Sue Bette.
"He's interested in bringing back a little more of the charcuterie, and we're on the same kind of page in terms of examining cured seafood," Bette elaborates. She says a tuna crudo dish Corrente added to the menu is already a hit. When he introduces his next seasonal menu in upcoming weeks, handmade pastas will be prominent, the owner adds.
Meanwhile, at Bluebird Barbecue, Paul Link has been promoted from chef de cuisine and pitmaster to executive chef. "I think he's really poised and ready to manage the entire operation," Bette says.
Link is already giving the business a new market. Next Monday, he'll begin parking a mobile smoker outside the Bluebird Coffee Stop at the Innovation Center weekly and serve barbecue alongside the food Corrente and Cortez create for the casual lunch spot. Now that's synergy.