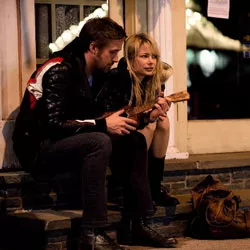 PERFORMANCE ANXIETY Gosling and Williams play a couple who wind up making not-so-beautiful music together.

For director and cowriter Derek Cianfrance, making this movie was literally a labor of love. He spent 12 years working on it, and his subject is, in fact, love. Or, more accurately, love's often evanescent nature.
Blue Valentine chronicles the final two days in the marriage of a working-class Pennsylvania couple, interspersed with scenes from their courtship six years earlier. Ryan Gosling is Dean. Michelle Williams is Cindy. The picture is all before and after — the answers to the questions it raises are, unfortunately, contained in its nonexistent middle.
The movie opens on the older version of the pair trudging through the motions of a typical morning. Dean jokes around with Frankie (Faith Wladyka), the 6-year-old daughter he's mad for and who is not his. Cindy, bone weary and near 30, clings to her bed for dear life. He's a house painter without an ounce of ambition to be anything else. She's an overworked medical aid who once dreamed of becoming a doctor.
The first of several inexplicable developments follows shortly: As his wife unsmilingly cleans the house, Dean picks up the phone and makes a reservation for the night at a cheesy fantasy motel. "Cupid's Cove or the Future Room?" he asks her. She is not amused. She is not, we soon learn, any longer in love. Yet she agrees to go. Something tells us this will not end well.
Next thing we know, we've boomeranged back to the couple's first date. Both Gosling and Williams are 15 pounds lighter, he's lost the receding hairline, and she's regained her glow. He carries a ukulele as they walk a dreary street at night and launches into (deep meaning alert!) "You Always Hurt the One You Love," as Cindy tapdances in the light of a store front. Ah, young love.
Then a flashback to Cindy's home life. We seem to be observing an ordinary family dinner when, suddenly and without explanation, her father (John Doman) begins hollering and hurling meatloaf as Cindy says in a voiceover (foreshadowing alert!), "I never want to be like my parents. I know they must have loved each other at one time. Did they just get it all out of the way before they had me?"
Whiplash alert! Cianfrance shoots us back to the future and the fateful night at the motel. Again, given what's about to ensue, Cindy's actions are hard to explain. She not only agrees to come, she goes out and buys a shopping cart of booze. Gosling's character is as unprepared as the viewer for her wrenching rejection of his advances and subsequent display of revulsion when the two do attempt drunken sex.
How the MPAA figured this sequence justified a rating of NC-17 is beyond me. There's more flesh in your average teen comedy. The rating has since been changed to R; I guess someone from the organization got around to watching the film.
From that point, things just get darker. How and why Cindy's love curdled is left to our imagination. One minute, they're head over heels. The next, they're at each other's figurative throats. What happened? Fill in the blank. Blue Valentine was a smash at Cannes and has earned great reviews, so maybe I'm missing something. I agree the actors do affecting, realistic work. The picture just doesn't offer a whole lot else, as far as I can see, and I've seen it half a dozen times.
What I see is a more or less point-free festival of depression. A bummerthon. Come on, does the family dog really need to die? Beats me how this movie made it even marginally into the award-season conversation. Of course, it would be another matter altogether if there were an award for feel-bad film of the year.