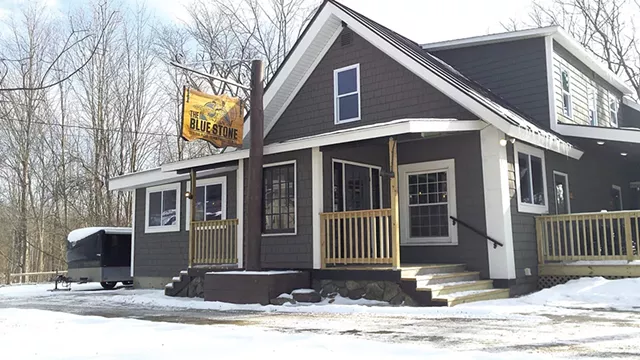 Melissa Haskin
The Blue Stone in Waitsfield
Waterbury pizza shop the Blue Stone is opening a second location, in Waitsfield, on Wednesday, January 27. The new shop will serve exactly the same food as the original location — innovative seasonal creations and classics, all cooked in a brick oven. Same recipes, same specials, same methods: "It's really just copy and paste," says co-owner Vinny Petrarca.
After three years running the first location in Waterbury, owners Petrarca and Chris Fish felt like they had hit a ceiling. "We have a good team, but if you want to keep them long-term, you have to give them more opportunities," says Petrarca. They were drawn to the space at 5351 Main Street in Waitsfield (formerly Akes' Den) because it had character and history, they say, just like their original location.
The new Blue Stone will start with 16 beers on tap; Petrarca and Fish say they would like to raise that number soon to 24, or five more than the Waterbury venue. They'll continue to use local food producers such as Misty Knoll Farms, Vermont Creamery and Vermont Smoke & Cure.
The only thing missing from the Waitsfield location will be the actual blue stone. The owners tossed around ideas for replicating the vintage resurrected well stone, the namesake for their eatery, but eventually decided against it. "It would have been disingenuous," explains Fish.
He and Petrarca say they are excited to bring their pizza to Waitsfield, where they'll be able to snag new local customers as well as tourists. "I think there are a lot of people in these areas that live here year-round that need a place to go," Petrarca surmises. Given that locals already know what to expect from the Blue Stone, Fish adds, the second location could be under a microscope. But "I think we're up for the challenge," Petrarca says. "It's stressful, but we're going to deliver."