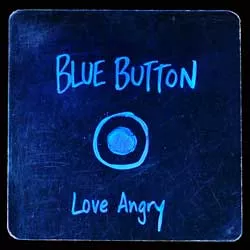 (Icebox Records, vinyl, digital download)
It's hard to discern Jason Cooley's age just by looking at him. I've seen the guy around town a few times, usually clad in jeans, a tee and a well-worn pair of sneakers. The fact that he's probably about 5-foot-6 only contributes to his youthfulness. But despite his appearance, Cooley (late of the Fags and James Kochalka Superstar) carries himself with a confidence that suggests maturity. The same can be said of Blue Button's new album, Love Angry. With Cooley on lead vocals, Eric Olsen (Swale) and James Belizia (PoolooP) on guitar, Rebekah Whitehurst (Cave Bees) on bass, and drummer Frank Zamiello (the Vacant Lots) Blue Button is one of those Burlington "supergroups."
The 11 tracks that compose Love Angry are straightforward, 1970s-style punk rock in both lyrical content and sound. It would not be farfetched to compare Blue Button with many of the New York City bands that immortalized the famed rock club CBGB.
The ABAB rhymes on Love Angry are simple, even predictable, but work well in the context of this band and this album. Undemanding and honest, Cooley's lyrics reflect youth so well that you can't quite shrug them off as lazy ("I wanna make you mine / I could make you laugh, you can make me cry / Make you wanna die / Make you wanna sigh"). This angst, when combined with the sing-along choruses on tracks such as "Hit" and "Destroying Everything They See," gives the impression that Blue Button's main goal is to play solid rock songs that are forceful and simple enough to stick.
While Cooley's heartbroken lyrics and pissed-off vocal performances are central to most of the songs, the most impressive elements of Love Angry are the rowdy guitar solos and classically punk-y drums. Mellow tracks here and there, such as "Woke Up," nicely balance the more rockin' jams. But Blue Button truly shine when they get up in your face and don't apologize.
As the title suggests, Love Angry is dedicated to raw emotions — the ones that people nearly kill themselves trying to mask after their adolescent years. Blue Button don't seem to care about being respectable, mature adults — curse words litter this record. And if that's not punk as fuck, I don't know what is.
Blue Button play the Monkey House in Winooski on Saturday, June 2.