Matthew Thorsen
Dave Newlands and Dan Riley
Dan Riley tiptoes slowly in a semicircle, holding a digital camera at his knees as he scans something on the floor of his Church Street print shop. As the camera feeds spatial coordinates into a computer, a partial 3-D image materializes on-screen.
"That's pretty good," says Riley, critically scrutinizing the fuzzy picture. "We can take another scan if you want more detail, or we can just mirror it over."
Riley, 23, is owner and cofounder of Blu-Bin, the first-ever 3-D print shop in Vermont — or the United States. The business launched in Poultney, where it stayed until it was successful enough to, as Riley puts it, "move to the big city." When the store opened last September at 20 Church Street, Riley claims, it was only the second 3-D print shop in the world; a Swiss firm barely edged him out as the first.
Riley and his business partner, Dave Newlands, also 23, have agreed to try a unique project for Seven Days, and they suggest a second scan to boost the digital resolution. As Newlands tinkers with the computer, Riley begins another slow orbit around our subject, holding the digital camera as steady as he can.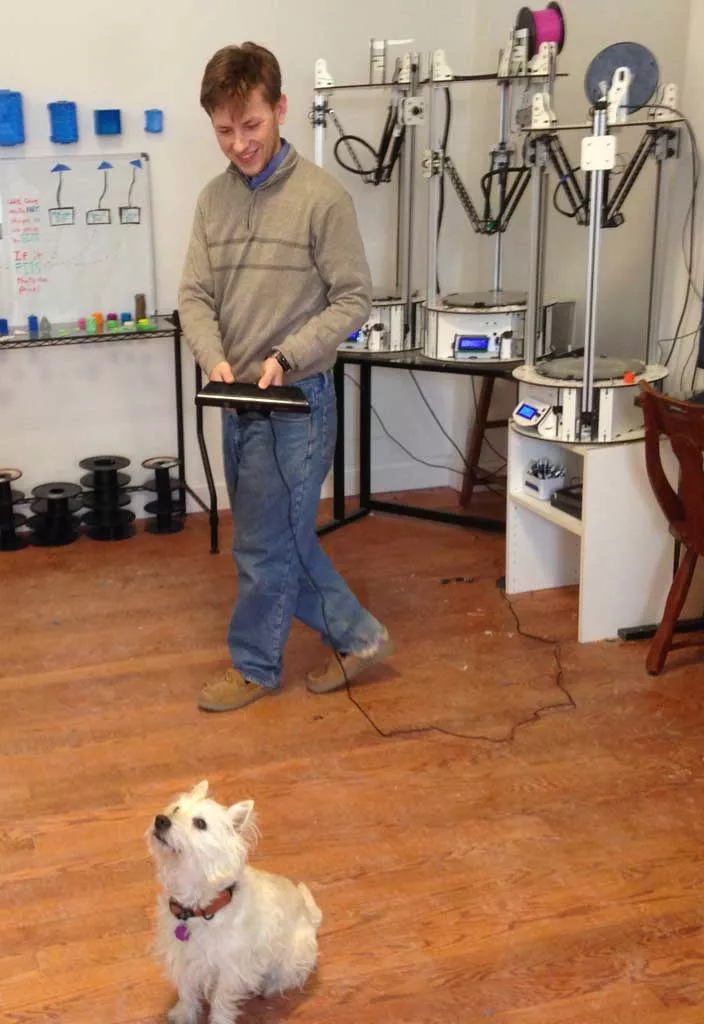 courtesy of Ken Picard
Dan Riley scans Rufus
Once the second scan is complete, an instantly recognizable 3-D image appears on-screen: It's Rufus, a West Highland white terrier belonging to Seven Days production manager John James, and the unofficial office mascot.
"That should do it," Riley says, smiling. "I've never scanned a dog before."
"Good dog!" says James, handing Rufus a treat he'd withheld to keep the dog from fidgeting.
It takes a couple of hours to print a small but detailed plastic Rufus replica — or partial one, anyway. Though Rufus did an admirable job of holding still, his slight twitches and body movements blurred some of the digital capture. So, instead of making a straight replica, Riley prints a composite character of his own creation: "Super Rufus," a 3-inch plastic action figure that combines a superhero's body with the Westy's head.
Though the 3-D printout isn't exactly what we expected — it looks like a 1970s-era green plastic toy soldier — the finished product demonstrates the vast potential of 3-D printing. It's now available to anyone who walks in the door of Blu-Bin, no experience necessary. Using nothing more than a quick scan of a physical object, or a downloadable 3-D digital file, Blu-Bin's proprietors can manipulate the image, modifying or combining it with other images and files, then print an entirely new and original object. Is this the first, primitive iteration of "Star Trek"-esque replicators?
"We call that one 'The Replicator,'" Newlands notes, pointing to one of the room's six 3-D printers, which he and Riley largely built themselves.
The technology is by no means new to Vermont. Inventors, artists, industrial designers and other "makers" have been playing with 3-D printing for several years. What's new is its ease, accessibility, affordability and speed. At Blu-Bin's print shop, anyone can scan and print objects of their own design for a fraction of the cost of doing it by more conventional means.
Blu-Bin sits nestled between Earthbound Trading Company and Halvorson's Upstreet Café, right behind the statue of Burlington saxophone legend Big Joe Burrell. Outside the shop, which is open seven days a week, a sandwich board reads, "Have you watched 3-D printing?"
The sign directs passersby to the front window, where a small 3-D printer cranks out plastic objects with robotic precision. It's surrounded by a variety of previously printed plastic doodads: swirly vases, palm-sized F-16 fighter jets, a sun-shaped flower, a tiny house, a Buddha statue.
Inside, the 500-square-foot shop is as spare as it is small. The white walls are bare except for a half dozen spools of plastic filament of various colors and qualities. There's a whiteboard for sketching ideas, but no display cases — just a small shelf holding earlier creations. Blue plastic bins on one wall list the costs of printing objects according to size. They range from $5 for a "tiny" object about the size of a Matchbox car, to $50 for a "huge" one roughly the size of a toaster.
Otherwise, the store is empty. In this sense, Blu-Bin's model for retail is unique: It keeps virtually none of its products in stock. Or, more accurately, nearly all of its stock is virtual. Many of Blu-Bin's customers store their 3-D designs in the store's online catalog — about 2,000 designs to date, which can be modified and printed as needed. Other websites, such as Thingiverse.com, offer designs that can be downloaded, shared, modified and printed.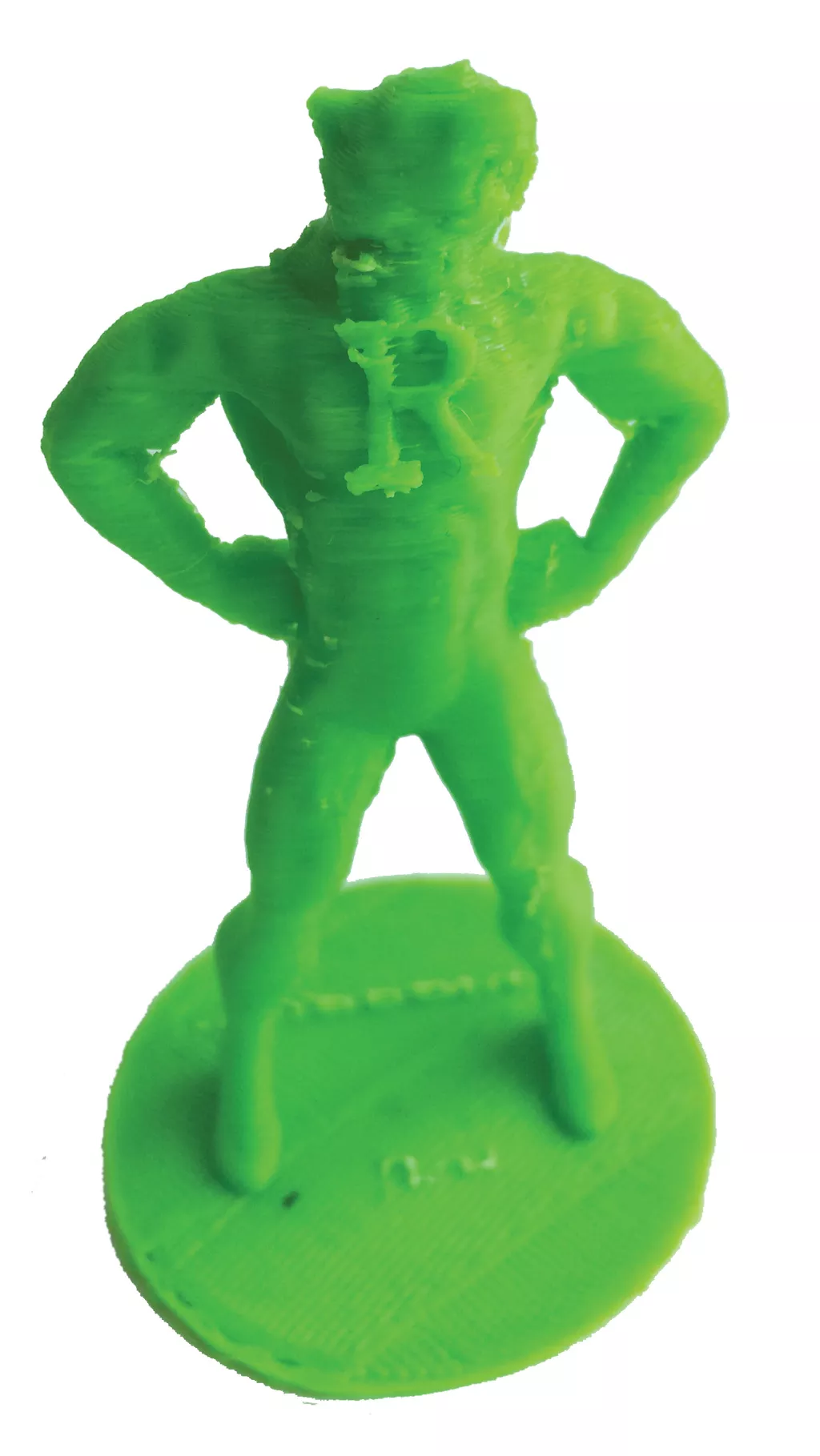 "Super-Rufus" action figure
As Riley explains, the technology is actually pretty simple. When an object is scanned, every point is assigned an X, Y and Z coordinate. A motor drives plastic filament through a heated nozzle, while computer software directs the nozzle exactly where it needs to be on the 3-D grid, determining how quickly it gets there and how much material it deposits. Riley describes it as "a glorified hot-glue gun."
One might assume that the Blu-Bin name refers to the recyclable nature of the plastic products. Indeed, the company now reclaims used spoons from the nearby Ben & Jerry's ice cream shop to make recycled plastic filaments.
In fact, however, the business was named after a blue bin Riley kept in the back seat of an old Volvo he drove in college. The utility bin contained duct tape, wire and other spare parts for fixing the beater. When Riley first conceived of the business in 2009, he thought, Whenever you need something, you just go to the blue bin. The name stuck.
Riley and Newlands met at Green Mountain College, where Riley first pitched Newlands on his business idea. After graduation in 2012, Riley took a job on Wall Street "flipping energy contracts," while Newlands went back to his native Turks and Caicos Islands to write for the Turks and Caicos Sun. Neither had an engineering or industrial-design background. What united them was a mutual interest in sci-fi and "bleeding-edge" technology. Says Newlands, "I'm a nerd, so the whole concept of giving people the ability to access a 3-D printer, I was totally down with."
Blu-Bin's customers have been diverse. An inventor may come into Blu-Bin and hand Riley or Newlands a computer file or a physical mockup of a prototype invention. A child may draw a crude sketch on a whiteboard, which the staff then transforms into a 3-D computer image and prints.
One Blu-Bin customer was a musician who needed to replace a missing black key on his piano but didn't want to pay for an expensive and time-consuming repair job. Another was an electrician who drove halfway across the state to print 30 plastic rectangular levels he'd invented to allow him and his staff to install electrical outlets perfectly square. A day before the Rufus scan, Magic Hat Brewing Company founder Alan Newman came in to print a new beer-tap handle.
"That really gets to the source of why we started this company in the first place," Riley explains. "To make people's ideas real."
Kip Steele, a 39-year-old self-described "computer geek" at C2 in Colchester, says he uses Blu-Bin for both work and play. Steele, who also works for Google Glass, says he recently scanned a pair of the tech giant's augmented-reality glasses at Blu-Bin, then brought them to Revision Military in Essex Junction to find out what it would take to equip them with ballistic lenses.
Steele also uses Blu-Bin for "fun stuff." Recently, he downloaded a file from Thingiverse.com that replicates the helmet in the movie Iron Man, then modified it and had Blu-Bin print him one.
"I'm a giant fan of theirs," says Steele of Blu-Bin's creators. "For people who want to create, do or build, this is just another tool for artists to use."
Ben Lanza, a senior developer at Nathan Sports' product-development studio in Burlington, agrees. Lanza says he uses Blu-Bin when he's working on his company's new runners' gear, such as water bottles, waist belts, flasks and armbands for carrying smartphones. He says quick, cheap and easy 3-D printing is invaluable for both prototyping and "concept validation" — especially when he wants to make sure a physical object will perform as expected.
"The old concept that a picture is worth a thousand words?" posits Lanza. "Well, that goes even further for a product in your hand versus trying to sell something on-screen or on paper."
"The most interesting thing to me about the technology," notes Ken Howell, assistant professor in the MFA in Emergent Media program at Champlain College, "is that it has the potential to do for manufacturing what the internet did for information — namely, to have this tremendous, democratizing force by lowering the barrier of entry to anyone who has a good idea."
Howell is quite familiar with Blu-Bin: Riley and Newlands consulted with him prior to launching their business. Howell is also involved with two new "maker spaces" scheduled to open shortly in Burlington: one at Champlain College and an affiliated one at Memorial Auditorium. The 1,000-square-foot maker space at Champlain, due to come online in the next few weeks, includes plans for new educational curricula involving 3-D printing.
Currently, Howell calls this technology "the wild and wooly West," where entrepreneurs such as Riley and Newlands are still experimenting with their business models. Already, others are using 3-D printers to build houses, design their own prostheses, even print simple models of human organs, skin and body parts. Howell says that, as the technology and print resolution shrink to the molecular level, 3-D printers could very well become capable of manipulating elements on the periodic table.
"We've had people come in who see the 'Star Trek' replicator name on our printer and go, 'Can you make me coffee?'" Riley says. "No, but we can make you the coffee mug."
At least for now.