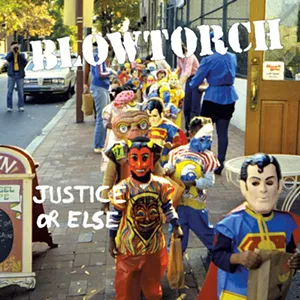 Blowtorch, Justice or Else
(Self-released, digital download, vinyl)
By the time I arrived on Earth in the early 1990s, punk music was already in the throes of an awkward and possibly well-deserved death, its coffin lined with clearance-sale Hot Topic T-shirts. The formula was stretched too thin, the scene too toxic, and almost everyone needed a break from thrashing in mosh pits. More than a decade before that mess, however, Blowtorch's Bill Mullins and Clark Russell were fostering Burlington's early punk movement in the basement of the University of Vermont's Christie Hall with a band called No Fun. Later, the two participated in Safari 500, a performance art and musical improv ensemble.
After following separate paths for several years, Mullins and Russell reconnected in, of all places, Egypt. "Sipping tea in ancient Thebes," writes Russell, the duo conceived Blowtorch as an act of Cold War-era rebellion against the Reagan administration. Although the band has since played venues from Burlington's 242 Main to Manhattan's CBGB, Justice or Else is its first album release. These 16 tracks are both a time capsule and an interesting case study of an aging countercultural movement.
Blowtorch aren't breaking any creative ground on their belated debut, but they certainly understand their influences. Justice or Else blends the best bits of '80s Cali art-punk and D.C. melodic hardcore. This makes sense, considering that Russell attended art school on the West Coast in 1983 and Mullins originally hails from the D.C. area.
The tracks on the album are nostalgically formulaic and heavy with stylistic similarities to '80s icons the Dead Kennedys, the Adolescents and the Descendents. Blowtorch had a revolving membership aside from its cofounders, so Mullins plays every instrument on Justice or Else. In concert, brothers Noah and Justin Crowther (both ex-Waylon Speed) currently hold down the band's rhythm section on bass and drums, respectively. The layers of instrumentation on the album are tight and edgy, favoring dynamic control over chaos. We get it, Mullins: You can shred on anything you pick up. Sick guitar solos pop up all over the album.
Russell's clever, politically motivated lyrics contain the expected dark humor and the distaste for capitalist absurdity that make listening to punk a fun and subversive experience. His vocal style holds no trace of the immature whine or over-the-top egomania of certain punk vocal icons. It all feels genuine, well aged and refined rather than a youth-reclaiming product of a midlife crisis.
Perhaps that's because the injustices that have plagued society and inspired punk from the beginning remain woefully relevant decades later — perhaps even more so in the current climate. As young and inventive modern bands such as Guerilla Toss and Downtown Boys push punk, sonically and idealistically, into new terrain, there's a temptation to view the classic sound and message of bands like Blowtorch as dated or out of touch. But it's worth remembering that certain bands have carried the (blow) torch for a long, long time. And, if nothing else, longtime fans of the band will be stoked to finally have a recording to add to Blowtorch's legacy.
Justice or Else is available at blowtorch1.bandcamp.com. The band plays an album-release show on Friday, November 10, at ArtsRiot in Burlington in support of Rough Francis.