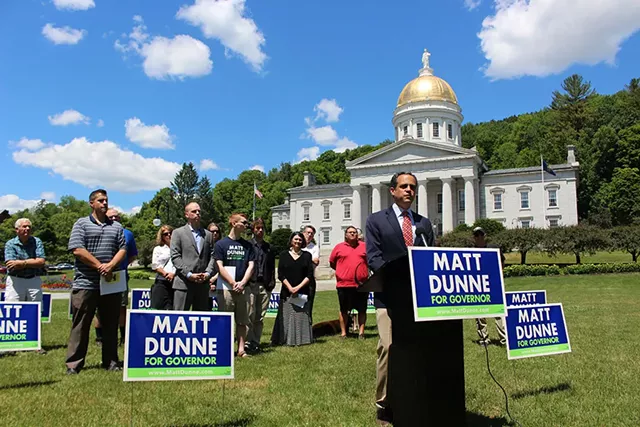 Paul Heintz
Matt Dunne holds a press conference in June at the Vermont Statehouse
No more than two hours after Gov. Peter Shumlin announced in June 2015 that he would not seek reelection, Bill McKibben sent me an unsolicited email saying he hoped former senator Matt Dunne would run.
"I thought he was the right guy last time," the Ripton environmentalist wrote, referring to Dunne's unsuccessful 2010 bid. "And it seems doubly clear this time. We could be doing great things in this state, not just treading water."
On Sunday, just nine days before the Democratic gubernatorial primary, McKibben wrote again — this time to say he'd "made a mistake." Two days earlier, Dunne had issued a Friday afternoon press release "clarifying" that he believed a host community should be able to veto a large-scale wind project by town-wide ballot. Though the Hartland Democrat had previously expressed support for local buy-in, McKibben saw the move as "an about-face."
"If at this point in this saga anyone still gives a flying fish who I'm voting for, that would be Sue Minter," McKibben wrote, referring to Dunne's principal opponent, adding that "there's something to be said for consistency in public life."
It was a stunning blow. The Vermonter with perhaps the most credibility on climate change was accusing his former candidate of having none. Fellow environmentalists quickly piled on. By Tuesday, the Vermont Conservation Voters, which had previously decided to stay neutral, threw its support behind Minter.
Dunne's "change in position," VCV political director Lauren Hierl argued, would "undermine" the state's new renewable energy siting law.
Minter herself called it "an 11th-hour flip on a very important issue."
"It makes me wonder why he is making this change, and certainly I want to be a candidate who people can depend on — to commit to a policy position and commit to it even when it's a difficult one but is in the public good," she said.
Dunne denied he'd made a switcheroo.
"I see this more as a clarification than as a significant change, although I certainly articulated it in stronger language than I had before," he said Monday, adding, "I regret that it took some people by surprise."
Flip-flop or not, Dunne had a bigger problem on his hands: the perception that he'd issued his clarification for cynical political purposes, not substantive reasons. Included in his press release was a highly unusual quotation from a third rival, former senator and ambassador Peter Galbraith, an ardent foe of ridgeline wind.
"Matt Dunne has consistently shown that he listens to Vermonters," Galbraith said in the statement, praising his opponent for taking "a big step" in the right direction.
Both men denied they'd struck a deal. But both admitted they'd spoken the day before Dunne sent his release.
"We first talked about the whole thing on Thursday and his approach to wind," Galbraith said.
Asked if he or his staff had encouraged Galbraith to drop out of the race, Dunne would only say, "I'm not going to comment on those kinds of conversations."
It would make sense if Dunne made such an appeal. He and Minter appear to be running a close race, while Galbraith lags behind. After spending more than $200,000 on mass media, the self-funding ex-diplomat pulled his television advertising off the air last week — a tacit admission of defeat.
"Let's see: It costs money," Galbraith said when asked why he'd gone dark. "I am pursuing the election in the most effective way possible with the resources that are available."
He would not, Galbraith insisted, drop out. Nor would he stick with Dunne for long.
"I don't even know what Matt Dunne's stance is anymore," Galbraith said Tuesday.
Dunne's last-minute appeal to anti-wind voters could yet bear fruit — particularly in a low-turnout primary. They are, for sure, a motivated bunch. But it risks alienating a broader constituency that thinks wind should be in the mix.
Worse yet, it risks reminding Vermonters of the age-old perception that Dunne is too clever by half — and as slick as Shumlin.
They wouldn't be wrong about that.
Haterade
Lt. Gov. Phil Scott briefly awoke from his somnolent gubernatorial campaign Monday to scold his Republican primary opponent, Bruce Lisman. During a debate that evening on Vermont PBS, Scott accused the retired Wall Street banker of taking "the low road" by airing a series of "deceitful" and "false" television ads during their race for the GOP nomination.
"That's not the Vermont way," Scott said.
Corny and clichéd as the expression is, the LG has a point. Lisman has invested more than $1.8 million — much of it out of his own pocket — in a slash-and-burn campaign unbefitting of the office he seeks. As of Tuesday, he'd spent more than $835,000 on TV, radio, print and mail, mostly designed to trash an honorable public servant.
While there have been kernels of truth in Lisman's hit pieces — that Scott's excavation company has made millions off state contracts, for example — most have relied on innuendo, exaggeration and outright falsehoods.
The notion that Scott's hoping to raise taxes on drivers? False. That he wholeheartedly supported single-payer health insurance? Ridiculous. That he's been working hand-in-glove with Shumlin to spend, spend, spend? Total bullshit.
Saddest of all is that Lisman refuses to recognize what he's doing.
"They're not negative ads," he insisted Tuesday to Seven Days. "These are informational ads."
Actually, what they are is an embarrassment — to Lisman and to those who have chosen to work for him. They seem to have forgotten that when the campaign is over next Tuesday — and Lisman has flushed his millions down the toilet — he will still own the lies he's sown. And so will they.
Donald Duck, Pt. 7
Speaking of embarrassing, Lisman — who once described himself as a lifelong Democrat — still can't figure out whether to support Republican Donald Trump for president.
"I'm simply watching to see how the campaign unfolds," he said Tuesday.
Here's how it's unfolding, Bruce: In the past week, Trump has invited Russia to hack rival Hillary Clinton's emails, said that those facing sexual harassment in the workplace should "find another career" and denigrated the Muslim parents of an American soldier killed in Iraq.
Since those parents, Khizr and Ghazala Khan, assailed the GOP nominee last Thursday at the Democratic National Convention, Trump has repeatedly slurred their Islamic faith. Though many Republican politicians have denounced those comments, Lisman offered a meandering response when asked about them.
"What I've said was, even when he says the right things and we're fascinated by it, we're sometimes dismayed by other things he says that seem inappropriate," he told Seven Days, employing his favored first-person plural.
Asked again, Lisman clarified that he was, in fact, displeased with the remarks.
"Just on Mr. Khan and his wife, I found it completely dismaying that he would say it," the ex-banker said. "I was as stunned and surprised as anyone else."
But not stunned enough to condemn Trump. Asked if the comments would keep him from supporting the Republican nominee, all Lisman would say is, "I hope he restrains himself and doesn't say things like that."
Don't we all.
Bernie Bomb
For all his talk of a "political revolution," Sen. Bernie Sanders (I-Vt.) has been strangely silent about the election going on back home. After endorsing Rep. Chris Pearson's (D-Burlington) state Senate campaign in May, Sanders has kept his nose out of Vermont political affairs.
Maybe he had something else going on?
That changed Tuesday when Sanders endorsed Sen. David Zuckerman (P/D-Chittenden) for lieutenant governor, calling him "one of the outstanding members of the legislature." Zuckerman, a longtime ally of the progressive icon, hailed it as a game-changer in his race against House Speaker Shap Smith (D-Morristown) and Rep. Kesha Ram (D-Burlington).
It might be. But the endorsement came late in the game — and it wasn't clear whether Sanders would do more than offer a quotation. Even if he sent a fundraising appeal to his yuuuge email list, it would be hard for Zuckerman to spend the cash in the seven days before the election.
Not to be outdone, Smith rushed out his own endorsement later Tuesday afternoon: that of former governor Howard Dean, another past presidential candidate.
"We were actually going to wait until later in the week," Dean explained. "But when Bernie did this, we figured, 'Why not do it now and be in the same [news] cycle?'"
Smith and Dean have something in common. Unlike many Vermonters, they supported Sanders' opponent, Clinton, in the Democratic presidential primary.
"He's incredibly competent, and he knows the Statehouse inside and out," Dean said of the speaker. "I'm looking for a team that's going to get a lot done."
Lest Ram feel left out, she's got her own former governor: Madeleine Kunin endorsed the state rep at her campaign kickoff last October.
A Real Race
In a debate Monday afternoon on Vermont Public Radio, Zuckerman and Smith summed up their differences in a single exchange.
"I'm proud of my record as speaker," Smith said, citing his work legalizing gay marriage, increasing the minimum wage, providing paid sick leave to workers and allowing terminally ill patients to end their own lives. "You know, a lot of things that had been proposed got across the finish line under my record as speaker."
A moment later, Zuckerman noted that many gay-marriage advocates supported his campaign — not Smith's.
"Why?" the Hinesburg farmer asked. "Because I led on that issue and helped work with them across the state, so that Shap could get it across the finish line."
Both candidates are right. Since he first won a legislative seat in 1996, Zuckerman has been a persistent voice for progressive causes that, these days, find themselves in vogue. And since he took over as speaker in 2009, Smith has — cautiously and incrementally — converted many of those from cause to law. (Ram, the third candidate in the race, is somewhere in between, but public opinion polls suggest she hasn't made her case.)
Zuckerman's and Smith's differing approaches to politics have made theirs a more interesting race than the gubernatorial, which is admittedly more important.
Here's another reason it's more interesting: Unlike the three Democrats running for governor, the LG candidates all currently serve in the legislature. That means they've all had to defend real records on the issues of the day. Don't like school district consolidation? Tell it to Smith. Don't wanna legalize marijuana? Tell it to Zuckerman.
Even the candidates agree about how they differ.
"The people are ahead of the political folks," Zuckerman said in an interview. "Ultimately, my approach is about organizing."
Said Smith, "I think it's important to raise issues, but I also think it's important to get them done."
Media Note
A month after the Rutland Herald and Barre-Montpelier Times Argus dropped from daily publication to four times per week, the family-owned papers appear to be struggling to pay the bills.
Sources say that writers aren't being reimbursed for expenditures — and freelancers aren't being paid at all. One columnist, who declined to be named, recently departed the papers after waiting three months for a check.
Editor-in-chief Rob Mitchell, whose family owns the papers, and publisher Catherine Nelson promised meetings Friday and Monday to address the situation, but both were canceled. Neither of the bosses responded to requests for comment.