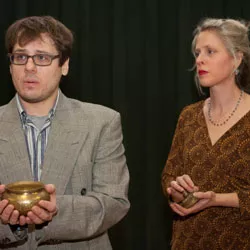 Seth Jarvis and Monica Callan
It may seem like damning with faint praise to start a play review by lauding its set design. But the appeal of the setting in Champlain Theatre's production of Charlotte Jones' Humble Boy can't be overestimated. During a bone-cold, nearly snowless February, there's nothing like stepping into an auditorium to find oneself gazing into a flourishing garden in England's Cotswolds, bathed in mellow midsummer light.
Set designer Jim Lantz has given this tiny Eden a watercolor backdrop suggestive of heat-shimmering woods and hills, and filled the foreground with bucolic details: pampas grass, a wicker beehive, even an apple tree. Rodney Van Deusen's lighting completes the illusion.
On the page, Jones' 2001 tragicomedy is a play of too many labored literary conceits and too few spontaneous discoveries. But in this production, with its strong cast under Joanne Farrell's nimble direction, the symbolically laden setting frames a social comedy that's deliciously arch even when Jones' larger ambitions fall flat.
The Humble family's well-tended garden is thematically central to Humble Boy, because its title character is essentially a mild-mannered, modern-day Hamlet. Disgusted by his mother's speedy remarriage, Shakespeare's Dane groused that life is "an unweeded garden / That grows to seed..." Thirtysomething Cambridge physicist Felix Humble returns home for his father's funeral to find his diva of a mother, Flora, occupying a luxuriant real garden and an unweeded metaphorical one: She's already carrying on with another man. To make things worse, this version of Claudius is a vulgarian (he owns a bus fleet) and the father of our hero's embittered ex-girlfriend.
But every time Felix works himself into a judgmental or suicidal tizzy, Prince of Denmark-style, the glorious garden blunts his rage. Jim, the soft-spoken gardener, calms him with disquisitions on the plants and consoles him on the loss of his biologist dad's beloved bees, which Flora ordered removed following Humble Senior's abrupt demise.
Marvelous, undervalued and endangered as bees are, they are also one of the most overused metaphors of 21st-century literature (so far). Theoretical physics belongs on that list, too: Putting a protagonist in this rarified line of work allows an author to (a) convey his or her emotional unavailability; and (b) use the wilder speculations of quantum mechanics to give macrocosmic weight to standard plot twists. Yes, it's amusing when Felix compares his narcissistic parent to a black hole, or professes his desire to disappear into one. But when his aforementioned ex tells him, "Love embarrasses you; it can't be turned into an equation," Jones' point seems groaningly obvious.
While the playwright's characterization is a long way from Shakespeare's, the actors still give their conflicts a powerful comic snap. As Flora, Monica Callan initially has a thankless role to play. Fretting about her recent rhinoplasty with her husband's corpse barely cold, Ma Humble displays about as much depth as Patsy from "Absolutely Fabulous." She gains dimensions as the play progresses, though, and Callan shows us that this brittle former Playboy bunny, who ruthlessly mocks everyone around her, can be surprisingly perceptive — and fun. Callan gets significant comic mileage from her timing and delivery of lines such as Flora's response to a question about suicide methods: "I'd put my head in the oven," she snaps. "Better than cleaning it."
If his mother is a sharp, pointy instigator, Felix is a mass of fanciful ruminations and inchoate dissatisfactions that manifest in tics of social awkwardness, including a stutter on (of course) the letter B. Seth Jarvis makes the character's cerebrality plausible and even borderline endearing. Felix's weakness as a character is that, without an angry ghost instructing him to seek bloody revenge, he lacks a motivation beyond working things out with Mummy. But when he goes toe to toe with Flora and her paramour, insulting them with all the resources of erudite passive-aggression, comic sparks fly.
The other performances are equally effective. As George Pye, the play's Claudius, Mark Alan Gordon gives this potentially stock character a Falstaffian girth and such blustering bonhomie that this viewer was rooting for Gertrude to get with him. There's a lot that's dodgy about the conception of Rosie, Pye's daughter; she seems less like a full-fledged character than a wholesome therapeutic device. But Alexandra Hudson makes her a brisk, earthy and likeable foil to Felix. Larry Connolly gives the gardener a beautifully Zen presence. Kelly Jane Thomas initially seems wasted in the role of Mercy, the dithery spinster friend everyone ignores. But Jones has a trick up her sleeve, and Thomas comes into her own when she delivers the play's most sad and startling speech.
It's also a laugh-out-loud moment, one of the few when Jones' aspirations to combinie tragedy and absurdity really click. (She's not as original when milking black comedy from the family's cavalier treatment of Mr. Humble's ashes.) Humble Boy eventually builds to a catharsis that doesn't feel earned, but the moment takes such a visually stunning form, thanks to an adroit lighting effect, that it works anyway.
The play, like Felix, is far from humble, and its intellectual reach exceeds its grasp. But a garden where high-flown allusions and cutting jokes bloom as thick as roses is a lovely place to spend a frigid winter evening.
"Humble Boy" by Charlotte Jones. Directed by Joanne Farrell, produced by Champlain Theatre. Wednesday through Saturday, February 8-11, 8 p.m. at Alumni Auditorium, Champlain College, Burlington. $10-20; free for Champlain College students. Info, 865-5468.