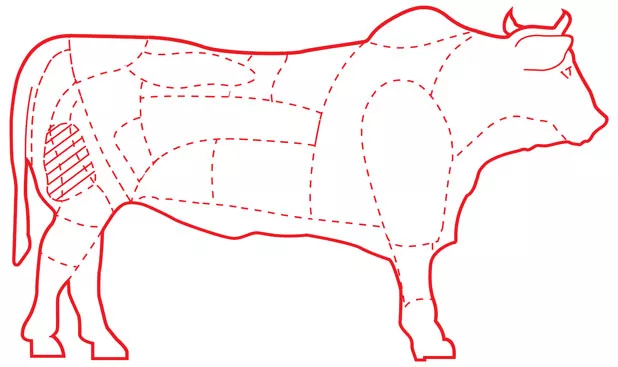 "It's not the size of the gun. It's the accuracy of the shooter."
So explained Mark Kimball to a roomful of farmers Saturday afternoon in the basement of the University of Vermont's Fleming Museum. The lanky Kimball paced energetically in front of a long blackboard that was covered with notes on animal slaughter and butchering technique. (Under "preparation" were the words "emotionally ready.")
Outside, 10 minutes later, Kimball, of Essex Farm in Essex, N.Y., donned a white jumpsuit and dragged a freshly killed calf to a discreet alcove behind Kalkin Hall. There, he pulled out a knife and sliced, showing dozens of onlookers how to dismantle an animal.
Motorists passing by the university were no doubt unaware that steaks were being extracted in the snow, or that farmers had converged there as part of the 29th annual Northeast Organic Farming Association of Vermont Winter Conference. Attendees trekked through a biting wind to scattered workshops on root cellaring, cheese making, food labeling, herd health, lactofermentation, insects, agricultural policy and even social networking ("Farming, Tweeting and You").
Though the exact numbers aren't in yet, NOFA outreach coordinator Caitlin Gildrien thinks more than 1300 people showed up. A glance around during the opening keynote revealed the flush of youth — in both farmers and their offspring. Gurgling, rosy-cheeked babies rolled around on the floor while opening speaker Shannon Hayes, author of Radical Homemakers: Reclaiming Domesticity from Comsumer Culture, accused "mainstream consumer culture" of being disconnected from the life-death cycle of the farm.
Between workshops, figures clad in Carhartts, boots, woolly sweaters and skull caps grabbed root vegetables roasted in an outdoor oven, as well as apples, hunks of Red Hen bread and chunks of Cabot cheddar.
On the cerebral end of the spectrum were talks such as "Exploring the Taste of Place," led by UVM assistant professor Amy Trubek. She's been working to develop a tasting wheel for Vermont maple syrup, which she says can have dizzying variance. Trubek's rainbow-colored beta tool guides tasters through such flavors as "confectionery" (molasses/light brown sugar/toffee) and "earthy" (oats and mushrooms) in a quest to pinpoint their sensory uniqueness.
The sugar makers seemed intrigued but undecided on using such terms to market their products. "The syrup is so different every day," said one, agreeing with Trubek that flavor can be affected by the elevation or orientation of the sugar bush, time of season, containers and even whether the sugar shack's heating source is oil or wood.
In contrast was a session called "New American Food," aimed to share culinary stylings of Bhutanese and Somali immigrants who are participating in the New Farms for New Americans project. They create native dishes with the mustard greens, amaranth, lambs quarters, daikon, snake gourds and onions they till on three acres in the Burlington area.
Plastic shopping bags, reclaimed containers and various bowls cluttered the classroom's front counter. As the Bhutanese group added mysterious spice mixtures to the sauces they'd brought along, a rice cooker steamed on the floor at their feet. Their recipes, passed through generations, were challenging to explain through the language barrier and lacked specificity. For instance, measurements were elusive for an orange salsa rendered from ground-up tomatoes, cucumbers and daikon, and seasoned with turmeric, cumin, salt and mustard oil. A spice blend stored in a Coffeemate container was described once as curry, then, a few moments later, as masala. Yet an eager audience asked questions and scribbled notes.
When the presenters offered samples, most of us sprang forward. The flavors were powerful — bitter and spicy pickled green beans, acidic and nutty ground pumpkin seeds, creamy and cool tomato salsa. A dish made of rice stir-fried in butter, boiled in milk, and flavored with coconut, cardamom and sugar, was warming.
The Somali Bantu group that followed was deft in their prep style and direct in their answers. Charged with breaking open a coconut, a hijab-clad Maryan Kerow knocked one a few times with a pestle and inserted a small knife in its side; the fruit split with a small "plink." (Grated coconut combined with cooked plantains makes a popular Somali breakfast dish.) When an audience member asked if samosas could be baked rather than fried, Abdullahi Hassan answered simply, "No, only fried." In a deep pool of oil.
It was refreshing to find Asian and African faces among the sea of white ones at NOFA. The immigrants' dishes make for an exciting new chapter in the local food scene, even if some use ingredients from far, far away.