Oliver Parini
Heidi Viens
Heidi Viens' mac and cheese has a piquant pairing of Cabot Seriously Sharp cheddar and mustard with a buttery crouton topping. But if customers at Burlington's Courthouse Café want a portion of that popular dish, they'll need to reserve it. The taste of home is at a premium among diners seeking refuge from their business in the same building — the Edward J. Costello Courthouse.
The Courthouse Café is located on Cherry Street, just across from Hen of the Wood, Juniper and Bleu Northeast Seafood. But it isn't the home-style comfort food that separates the tiny eatery from its peers. It's the people creating it.
Viens, 38, is blind. The Essex native lost her vision at age 22 owing to medical complications following a car accident. With the aid of a staff that includes people both visually impaired and fully sighted, Viens has been operating the café and feeding courthouse employees and visitors since October 2014.
The Courthouse Café exists thanks to the federal Randolph-Sheppard Act, passed in 1936, which guarantees blind people the first right of refusal on all vending operations in federal facilities. According to the act, a person with eyesight not better than 20/60, or whose field of vision extends no more than 20 degrees, receives priority when he or she applies to run the cafeterias, snack bars and even vending machines in all U.S.-run buildings.
The act doesn't exactly generate a groundswell of opportunity in a state as small as Vermont, where few government buildings can financially support vending machines or a restaurant. The state has only two Randolph-Sheppard cafés; the second, the Overlook Café, is located just up the street from the Courthouse in the Vermont Health Department headquarters. Three other federal buildings have vending machines, including the White River Junction post office and the U.S. Citizenship and Immigration Services offices in St. Albans. According to Fred Jones, director of the Vermont Division for the Blind and Visually Impaired, a new Randolph-Sheppard café will open early next year in the state offices set to reopen in Waterbury.
Before the Courthouse could open its doors, Jones had to find someone to run it. And Viens thought she might be a good candidate. "I went to a meeting where he was talking about having gotten clearance from the courthouse and looking for an operator," she recalls. "I mulled it over. I have a degree in finance from Champlain College and was having no luck finding a job."
Oliver Parini
Safi Felekeni
Viens' business background made her the best applicant, Jones said. "She didn't have the food-service part of it, but I could see her running a business. I saw potential," he said.
Though Viens originally wanted to work in investment portfolio management, she had a passion for cooking. Now much of her everyday menu — basic sandwiches and other simple dishes — borrows from the year that she spent training at the Overlook Café. By contrast, the Courthouse's daily specials tend to be mainstays of Viens' own home cooking. Over the years, Viens has tweaked her family's mac and cheese to suit her tastes. A meal dubbed Heidi's Famous Meatloaf is a take on her boyfriend's recipe.
"I don't want people to get bored," Viens says of her ever-changing bill of fare. Each Thursday's menu embraces a theme, such as Asian or Mexican entrées. Last week, the café went all-American with chicken pot pie, pulled pork, apple pie and milkshakes.
Any sighted person can attest that cooking without sufficient light is challenging. So how does Viens, who is totally blind, cook a turkey breast for her hot turkey sandwich without watching the skin brown, or find what she needs in the café's refrigerator?
In some cases, there's an app for that. When customers pay cash, Viens scans each bill using a program that reads the money's value to her. If it doesn't read, she knows that the bill is counterfeit. The cash registers and meat thermometers have audio features that speak aloud dollar amounts and temperatures.
But many of Viens' solutions are much lower tech. The café's microwave has Braille buttons, while the oven's dial has its most frequently used temperatures marked in orange puffy paint, much like the kind kids used to decorate T-shirts in the '80s.
Viens memorized the location of each type of drink in her cooler and each snack hanging behind the register. Sighted employees place muffin batters in the refrigerator in alphabetical order, from blueberry to orange-cranberry, so that Viens and cook Taylor Flood, who is vision impaired, can grab a container to bake as needed. To differentiate between similar packages — say, mozzarella cheese from cheddar — Viens closes one with a laundry clip so it feels different to the touch. She uses the same clips to hold together her 4-year-old daughter's outfits so she can grab one and know the components will match, she says.
The day Seven Days visits the café, Flood is experimenting with a potential special he calls a "pizza sandwich," part of his constant research and development. He began working in the courthouse just before Christmas. "I was wicked excited," Flood says of scoring the job through the Vermont Association for the Blind and Visually Impaired.
The kitchen veteran was born with achromatopsia: His eyes are missing the cones that help control long-range vision, color and the ability to see in bright light. "I'm actually kind of lucky in that I don't need too many adaptive technologies in our kitchen," Flood says. "The only problem in our kitchen is the light. I squint, but it doesn't actually affect my vision too much."
In natural light, Flood wears special glasses to see anything more than a wash of white. When chopping food, he uses contrast to create clear outlines: light-colored foods such as onions and garlic on black cutting boards, and darker foods on white boards.
People with vision impairment aren't the only ones benefiting from the café's existence. Take Felicia Pollard, who's working there as part of a six-week experience program with Vermont Works for Women. Like Viens, Pollard can only work when her young daughter is in school. The Courthouse Café is open daily from 7:30 a.m. to 1 p.m. — hours that allow for single mothers to work without requiring extra childcare.
Before working at the café, Pollard says, she planned to pursue a career in administration; she's since switched her goal to food service. Working at the Courthouse, she's realized that working in the community of a kitchen may be right for her. She's bonded with the team and says the only extra help she needs to offer her blind colleagues is being organized and alerting them when a customer approaches.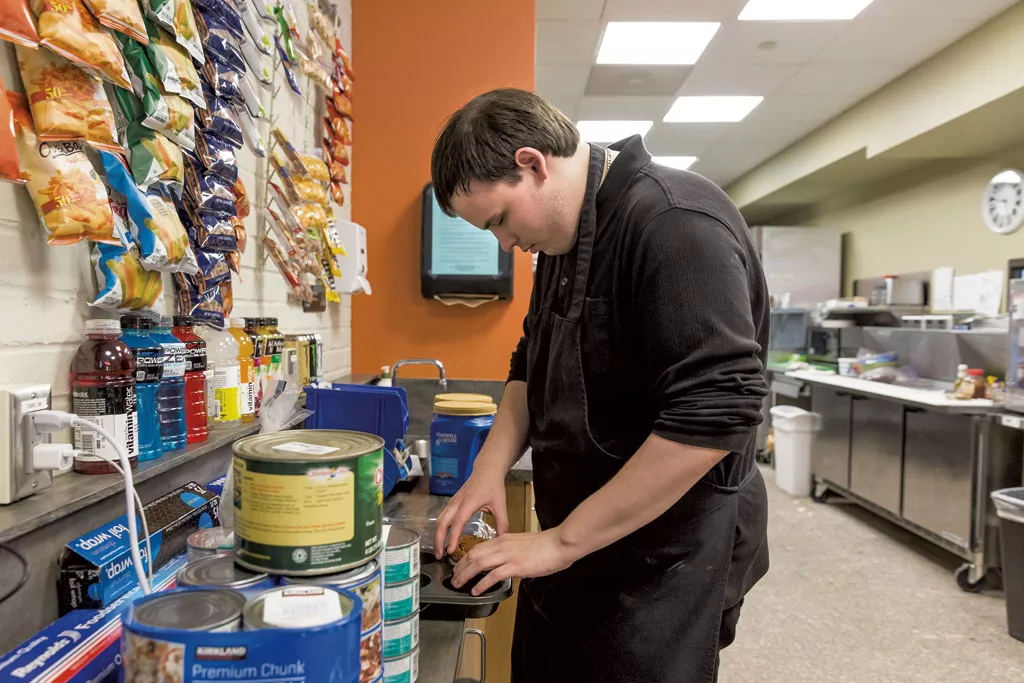 Oliver Parini
Taylor Flood
Viens takes orders ahead, especially for popular items such as the mac and cheese, and knows dozens of courthouse employees by voice and first name. Those workers know her, too. "She knows I really hate onions," says defense attorney Harley Brown. "I said to her, 'Everybody puts onions in their meatloaf.' And she said, 'Harley, I will make a special meatloaf for you.' So I have my own little meatloaf with no onions."
According to Jones, the beauty of the Randolph-Sheppard program is that blind and sighted people interact. "I think it's a great opportunity for a person who's blind to operate a business and grow professionally, and it's a great way to educate the public," he explains. "When the public sees a person who's blind running a business, it takes away a lot of those unknowns of what can a blind person do."
Working at the café can also help a blind person realize his or her potential. Jones mentions one former café operator who gained so much confidence from the job that she went on to attend college and law school.
For her part, Viens has learned that there's more to life than crunching numbers. "This is a lot more fun," she says, contrasting the café experience to her business background. "I'm not stuck behind a desk, I'm not tied to my phone and I don't have to wear nylons every day." What could be better? Perhaps taking a break from courtroom drama for a side of salty, gravy-covered fries?