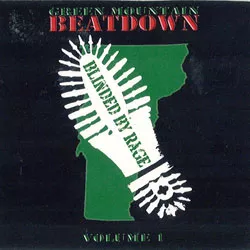 (Self-released, CD)
You know who could use a good beatdown? The Green Mountains, apparently. Fortunately, local hardcore stalwarts Blinded by Rage are only too happy — or, perhaps, unhappy — to oblige with their latest release, the aptly titled Green Mountain Beatdown Volume 1. Like any good ass-whoopin', it's a little scary at first. But ultimately, it's short and sweet, and over before you know what hit you. So come on, Vermont. Straighten up and take your medicine like a man. A mincing, pitiful little man.
The aural onslaught begins, appropriately enough, with opening track "With Broken Knees." Front man Trevor Rushford delivers bone-rattling howls and growls amid a bruising maelstrom of guitar crunch, punctuated by rapid-fire double-bass drum pugilism.
The melee continues on "The Fault Is Your Own." Blinded by Rage grew out of, and is heavily influenced by, the mid-1990s East Coast hardcore scene. And there is no better example of those roots than this cut, which fuses merciless metal riffery with a non-stop bloodletting of breakdowns and time changes. Drummer Tony Broginni is the group's unquestioned backbone and holds these myriad rhythmic shenanigans together with impressive technical prowess.
Guitarist Mike Prue shines sinisterly on the slow-simmering "Arbor List," aided by Dennis Decarmine's devious bass licks.
"Created Hate" follows and features my early vote for Hallmark sentiment of the year with this line: "Fuck you and everyone who looks like you / I make no excuses for the way I feel." Rushford is nothing if not direct. And angry.
"Blood Red Massachusetts Sun" brings this sonic donnybrook to a close in brutishly violent fashion. And though the disc measures a scant 14-and-a-half minutes from bell to bell, by the time you reach the final round, it will leave you bloodied and gasping for air — metaphorically, at least.
Shiny, happy people among us will almost certainly cower before Blinded By Rage's, well, blind rage. And though the band's aggro exhortations could rub sensitive types — read: emo kids — the wrong way, there is no denying their chops. Hardcore and metal are not easy to play, let alone to play well. And BBR work with the dexterity, aggressiveness and precision of the veterans they are. As hardcore continues to be watered down by sub-genre contrivances, it is comforting — yes, comforting — to see bands that stick to their guns and deliver no-frills rawk with furious aplomb.
Blinded by Rage release — unleash? — Green Mountain Beatdown Volume 1 this Sunday, as the headlining act at the "Hardcore & Metal Showcase XII: Localfest" at the Higher Ground Showcase Lounge.