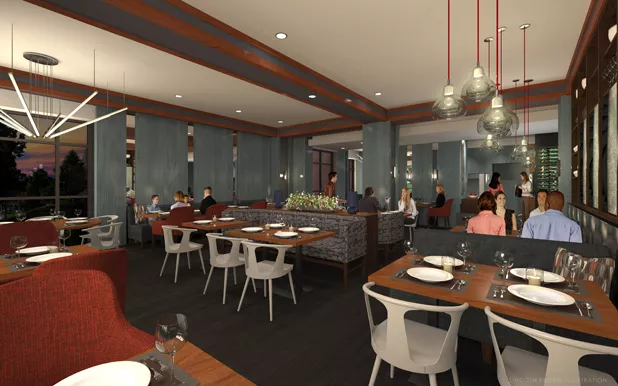 Conceptual design for the dining room at Bleu
Back in August, we shared a plea from Jay Canning and Chuck DesLauriers: They asked the public to help them name the new restaurant they plan to open in the Marriott Courtyard Burlington Harbor. After receiving more than 200 entries, the men who also own Hotel Vermont have made a choice.
The seafood restaurant, run by chef Wayne Freeman, will be called Bleu. But the promised $500 reward won't go to the party who came up with that moniker. Despite heavyweight contenders from the general public, including Cockles and Flatfish, Canning says the winning name idea came from Kim Deetjen, Nancy Ruben and Keith Nelson — the restaurant's design team at TruexCullins Interiors. The money went to a hotel employee on maternity leave.
Canning says that, by adding Bleu to Juniper and Hen of the Wood at Hotel Vermont, he hopes to round out "a food scene with great and varied options for our community." The Bleu team will soon meet with Ethan Wood of Wood Mountain Fish to discuss seasonal offerings and create conceptual menus. Construction, which entails adding contemporary, structural chandeliers and a solid oak floor, is expected to wrap up in January.
*****
Last week, Frida's Taqueria and Grill said "adios" to Stowe. Co-owner Jack Pickett says he and partner Josh Bard are "in a legal situation" with the building's owners.
They plan to move operations to a space on Stowe's Mountain Road once they are disentangled. "Chef Josh and Jack are not gonna let it get us down," Pickett says. "We'll start something else — we're not quitting."
Though the restaurateurs hope to return to feeding Stowe soon, Pickett notes, they won't do so as Frida's. Will their new restaurant be Mexican? "I kinda doubt it," he says.
The original print version of this article was titled "Entrées and Exits"