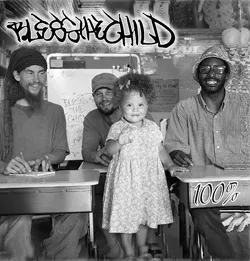 (Jenke Records, CD, digital download)
100%, the debut record by local hip-hop outfit Bless the Child, has reportedly been in the works for 20 months. In other words, the album has been a laboratory experiment for almost exactly as long as the label that released it has been around: Jenke Records itself is an experiment in cooperative ethics.
There's an interesting parallel in that innocuous little fact. Since its inception, Jenke has served as an advocate for segments of the scene that might otherwise go overlooked. But by employing a strength-in-numbers approach, the label/collective is making an increasingly indelible imprint. Under the direction of founder Tommy Alexander, Jenke has grown from a small, ragtag crew of musical misfits to a burgeoning mini-empire whose colorful umbrella shades dozens of local artists, a robust catalog of records, a studio space and — coming soon — a raft of community-centric arts and educational programs.
It hardly seems a coincidence, then, that Jenke would release 100%, its most ambitious and substantial record to date, just as the label is realizing its potential as an artistic cornerstone in Vermont. The record, with its high-minded lyricism and spunky, collaborative spirit, echoes the label's fundamental ideals of community and togetherness.
From start to finish, 100% bristles with vibrant energy that radiates from old-school and new-jack-swing beats, calling to mind Kool Moe Dee and Slick Rick, two acknowledged influences. Thematically, the record is rooted in a socially conscious ethos — the group is like a local answer to Brand Nubian — but never ventures too far into self-righteous preaching.
Whether on the triumphant opener, "Victory," or in mellower moments, such as "Love Is On My Side" and "Travel," MCs Humble, a staple in the local reggae scene, and Rajnii, a National Poetry Slam champion, display a rare kind of symbiosis. The former employs an insistent, punchy flow that balances the latter's more deliberate, contemplative tack.
In orbit around those binary stars is a solar system of local talents, including producers D. Parker, Zeke Bower and Co-op; and rappers Entricut, eSkae and Question the Emcee, among others. Local hip-hop stalwarts Face One and Zach Crawford mixed the record; Crawford also mastered it. 100%, while a compelling showcase for Humble and Rajnii, is, like Jenke, a community effort in every sense of the term.
Bless the Child release 100% with a show at ArtsRiot in Burlington this Thursday, November 21.