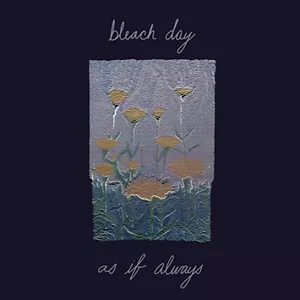 (Birdwatcher Records, LP, cassette, CD, digital)
Sometimes, a band's name hints at what it sounds like. Punk and metal groups often choose words and phrases that align with certain touchstones of the genre — Slayer, Megadeth or Social Distortion, for instance. But it's rarer for rock and pop groups to adopt monikers that suggest to potential listeners what they'll hear before they drop the needle.
Burlington's Bleach Day, purveyors of misty analog psych-pop, are an exception. If a "beach day" is a lighthearted, sea-sprayed, carefree day of bliss, then a "bleach day" is a trip to the shore when it's overcast. And, like, maybe you took too many drugs.
Bleach Day started in 2016 as an experiment in analog recording between sonic masters Louie Kiley and Vinny Marksohn. Three and a half years since the duo's debut, Where to Dream, they're about to release a full-length LP titled with another confounding half sentence, as if always. They've also solidified their live act, which has become a five-piece with the Bubs' Jon Kraus and Mitch Manacek, as well as avant-garde composer Amelia Devoid.
The beauty of as if always, and Bleach Day's approach to songcraft in general, is world building. The eight new tracks emerge from a vaporous universe, one that clouds, stains, blurs and manipulates its inhabitants. Various instruments — guitar, synth, human voice — are warped, soiled and smeared with a concoction of effects. The final products sound as if they were unearthed from a vintage vinyl hoard that's been stashed away since 1972.
After the gentle rush of ambient opener "daylilies," tropical vibes emerge on "the calm." Radiant synths and guitar provide a foundation for the song's silvery vocals.
"Talking in circles" features some of Kiley's most delicate vocal work. Though the song's emotional core is furious and elemental, it rests on a soft bed of piano and atmospheric synth. Kiley breathes, "Talking in circles / But I can't walk away / Every breath kicks like a hurricane."
One especially chilled-out, bleary-eyed number, "no wonder," contains a lyric emblematic of Bleach Day's overall aesthetic: "Where do we fit in / To this game that we're all playing / Harmony mixed with collision / It's no wonder I've been aimless." It's the "harmony mixed with collision" bit that aptly defines this band's sound. It fits together beautifully at one moment, then seems to buckle and bleed into itself at the next. It's not an easy line to walk, and Bleach Day do it exceedingly well.
As if always will be available on Friday, March 6, at bleachday.bandcamp.com. The band celebrates its release the same day at the BCA Center in Burlington.