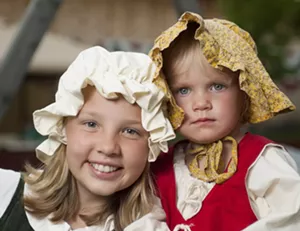 You'll be able to revisit the past this weekend with a handful of events that take you back in time.
The
Vermont History Expo
at the Turnbridge Fairgrounds on Saturday and Sunday transports families to the days of small Vermont farms, rural country stores and homespun clothing. Children's activities, including a "musical petting zoo," a 19th century games area and a hands-on archaeology dig, make the past come alive.
On Sunday afternoon, attend the grand opening of
"Walk Through Time,"
an educational exhibit along a nature trail in Isle La Motte that illustrates 4.6 billion years of evolution.
Across the lake at Fort Ticonderoga, a
Living History Weekend
on Saturday and Sunday allows visitors to imagine what it was like to be a soldier onboard a boat in the summer of 1776.
Finally, go back to your
own
childhood on Saturday with a trip to Buttered Noodles to
meet Brother and Sister
from the beloved Berenstain Bears books — a series that got started way back in 1963 — and participate in crafts and story times throughout the day.
Have a great weekend!